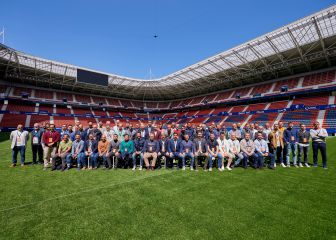 LaLiga has a plan and wants to revolutionize Spanish grassroots football. They have learned that as a result of some collective pillars the clubs can be stronger (the sale of TV rights, financial control or the Impulse Plan). From the employers' association, with the leadership of Luis Gil (director of LaLiga competitions) and Juan Florit (director of sports projects), the aim is lay common foundations for Spanish quarries to grow and become a great world power. It is intended that in 2025 there will be more youth players in the first squads of the LaLiga clubs, which will increase their presence in the rest of the major leagues and also in the National Team.
To carry out the Academy Optimization Plan, LaLiga brought together all the football directors of the First and Second Division teams in El Sadar. At the VI Meeting of Quarries, which has been held since 2016, the main lines of the project were presented. "Spanish grassroots football has a high level, but it is not enough, we must continue to promote it," explained Florit. To support this growth, the project will be included in the Impulse Plan (almost 2,000 million euros to be distributed among the clubs).
The plan has several pillars: the professionalization of grassroots football and its workers; they should improve infrastructure (such as sports cities and residences); use of new technologies (LaLiga Academy Manager and learning to read Big Data) and that there is a methodological model in the clubs to apply in all its categories. The philosophy of each club will not be touched, only a working method will be requested.
In addition, emphasis will be placed on reinforcing the comprehensive development of the players. They should be given greater support in different facets such as psychological, nutritional, emotional and in studies. The goal has been set that by 2025 80% of the youth squads over 16 years of age are enrolled in Baccalaureate and 40% have university training or similar. "We know that it is very difficult for all the clubs to achieve it, but we want to be demanding in this section. Even if we have not achieved the goal 100%, we will have advanced a very important way if we achieve homogenization," explains Florit. And he adds: "There are clubs that are very close to those parameters. The Royal Society is an example in this regard. It has exemplary sports results in the academy and is the club with the highest percentage of players in high school and universities. This from Real is the consequence of initiatives from five or six years ago."
LaLiga is ambitious in its plan to retain talent and increase the profitability of its academies. But first they will have to homogenize the level of all Spanish grassroots football, since they affirm that each club lives a different reality of strengths and points to improve. "We have to go from the 42 realities or quarry levels that exist now to three or five levels." If all goes well, throughout the decade fans will see more teams with homegrown players in their squads and a greater presence of Spanish players in major league teams. If this increase occurs, it will be a key indicator to confirm that all the initiatives and strategies put in place by each club are working.
[