The rich snippet appears in Google search results to provide additional information to users.
But if this enriched content brings real added value to Google, it also has advantages for your website. Without further ado, let's find out what these famous enriched extracts have in store for you.
What is a rich snippet?
Rich snippets are search results enriched with additional data.
These are extracted from structured data embedded in the HTML code of the source page. They provide visual elements (simplified URL, stars, image, etc.) that quickly differentiate rich results from traditional results displayed by Google.
Note that the display of a rich snippet does not depend on its position in the SERPs. It is thus distinguished from the featured snippet (featured extract) which appears at position zero, before the start of the results.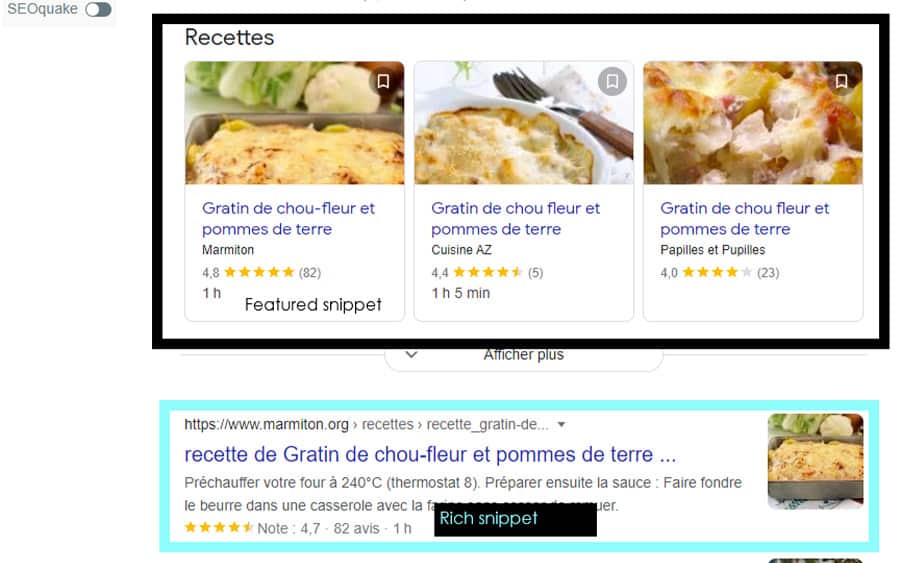 Rich snippet: what interest for Google?
Google's goal is to provide the best possible search experience to its users.
The American firm continues to work on UX in order to offer the most relevant results to queries. It thus aims to improve the user experience in the SERPs. So he developed rich snippets in 2009 to help with that.
This type of result presents a lot of information through a mix of text, images, favicon, etc. With these, Internet users find relevant answers to their queries more quickly.
Benefits for SEO
Google is very clear about the impact of rich snippets and positioning in the SERPs: it does not consider them a ranking factor.
We can therefore conclude that they do not have a direct impact on SEO. However, their indirect impact is very present and is also very beneficial for your natural referencing.
Indeed, enriched descriptions appear differently in search results:
they present notices and visual elements that quickly differentiate you from blue links,
they also occupy more space and thus capture the attention of users.
What's more, a rich snippet provides more information than a simple ad. This makes it a real gold mine for Google robots. If this information is relevant and accurate, they will not hesitate to position the content well in the SERPs.
Therefore, you get more clicks on your pages and therefore more traffic. And the more your site is visited, the more likely it is to rank well.
Analytics show that rich results increase click-through rate (CTR) by 5% to 30%. These figures are valid for the rich snippets and demonstrate their interest in SEO.
What are the uses of rich snippets?
Rich snippets can be used to present different types of content. Depending on your industry, you can use them to showcase:
People
Surely you have already seen profiles of "known" people appear in Google or Bing.
You can also achieve similar results with your own site by featuring someone with influence. This type of rich snippet takes into account name, title, contact information, and professional affiliation.
Companies and organizations
Similar to people profiles, rich snippets also display information about a business or organization.
The data includes the name of the company, its logo, its contact, its address (website or physical) and its geolocation.
consumer products
E-commerce sites can showcase popular commercial products and offers using rich snippets.
They will then display the name, description, brand, seller, price, image and stock status.
cooking recipes
Rich snippets markup is used by recipe site owners to display a wealth of data such as:
Ingredients,
cooking time,
the sugar or fat content,
the opinions…
You can include almost anything in it.
The events
Rich snippets have their uses for popular events, but only for upcoming ones.
They inform about the name, date, duration, place and about the details of the tickets. Other popular types of rich snippets include videos, music, podcasts, and apps.
How to integrate rich snippets into your website?
Implementing a rich snippet on a page requires the use of specific code to mark up structured data: Schema Markup. No, the appearance of rich content is not magic.
The major search engines have teamed up to create a reference library called schema.org. You will find the different types of markup and tools available to implement semantic tags in HTML code.
Schema.org is indeed the reference standard of Google, Bing and Yahoo.
More concretely, you must generate your code, test it on Google's test tool. If all goes well, you can integrate it into your HTML code as:
JSON-LD file,
microformats,
or RDFa.
But if you're not comfortable manipulating code, we're here to help!
What is a rich snippet used for?
One rich snippet is used to highlight a result in search engines.
It quickly captures users' attention and improves visibility of your site. They therefore click much more on this type of result, which increases your click through rate and your traffic.
All this contributes to improving your natural referencing.
How does a rich snippet work?
Rich snippets work thanks to the integration of semantic tags in the HTML code of a page.
This tag is used to mark items that will then be picked up by Google and presented differently in search results. Tagged content usually comes in the form of enriched line or with a special display.
What are the different types of rich snippets?
There are two types of personalized display for rich content:
the

rich snippet Breadcrumb,

and the

rich snippet AggregateRating

.
The first is used to mark up a breadcrumb and to represent the path of the URL with chevrons (in green). The second concerns the markup of an article or a product review in order to display the rating with stars (in yellow).