Key facts:
Setting up a validator node costs more than $92k or 32 ETH, plus hardware equipment.

Staking pools, like Lido, have created a new centralization problem in Ethereum 2.0.
Ethereum 2.0 is not yet here, and it is already presenting centralization problems, which could harm the network.
Lido, a staking pool, currently holds 29% of all ether (ETH) locked in the Ethereum 2.0 contract. Should its growth continue, could "erode" the decentralization of the network if it were to be dominated by a "monopoly" pool.
The problem with this, as explained by the researcher identified as Dap, of the SureSats specialized portalis that, with this centralization, Ethereum would become more vulnerable to censorship. Lido validators can decide which transactions to accept and which not.
Advertising

In a centralized system, a cartel of block producers (validators or miners) can decide which transactions are processed. This means that whoever is in control of block production can blacklist or censor addresses based on their views.

Dap, writer for SureSats.
Lido's strategy by which it attracts investors is its "liquid staking" system. They make it possible to invest in Ethereum 2.0 staking but without the need for the money to be blocked, without being able to withdraw until after the merger (The Merge).
There are other decentralized pools with a similar system, but Lido dominates 90% of liquid staking, as seen in the following graph: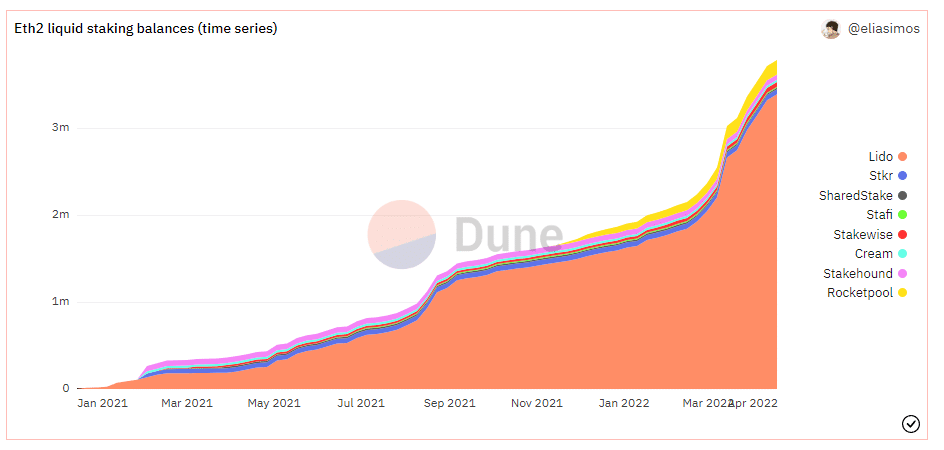 Data provided by Lido show what, in the last month, 75% of the ETH locked in Ethereum 2.0, have done so through its platform. The business of this staking pool seems to continue to grow. It can be seen that the ETH allocated to staking are increasing at an increasingly faster rate as the merger approaches, a fact reported by CriptoNoticias.
Questioning the decentralization of Lido
In addition to criticizing the "monopoly" that Lido could become, Dap also questions whether it is really a decentralized entityas advertised.
This researcher criticizes the fact that more than 75% of the governance tokens have been distributed between the platform's treasury and early investors. Only the remaining 25% was made available to other users.
Lido's response to criticism
In the midst of these accusations, Lido brought to light a roadmap in which it is shown which are the paths to follow to leave behind the path to a possible centralization.
Advertising

One of the steps to be taken by Lido will be, as they explain, to improve its validator system. They will seek to create a more independent system, thus avoiding the creation, as is currently the case, of centralization over them.
In addition to this, Lido also proposes to improve its governance, in order to avoid mistrust caused by the way in which the tokens were distributed. The pool has stated that they will introduce measures to avoid arbitrary control of validators, and that will allow the fork of the platform in case the community requires it.
What is Lido? A solution to the problem of running a validator node
To run an Ethereum 2.0 validator node, you need to deposit 32 ETH (approximately $96K as of press time) into a smart contract. This money will not be able to be withdrawn until a few months after Ethereum 2.0 is up and running..
As an alternative for those who do not have 32 ETH, staking pools arise. They allow smaller amounts to be deposited, and then the pool is in charge of executing the validator node and delivering the rewards to the investors.
AND, For those who do not want to keep their ETH blocked until the arrival of Ethereum 2.0, "liquid staking" arises. Lido gives its users the stETH token, which has a 1:1 equivalence to ETH. If they wish, they can sell their stETH and thus recover the initial investment at any time.
As Dap explains, the growth of staking on Lido was due to the investment ecosystem it created around stETH trading. Currently this token can be deposited on platforms such as Curve or Aave, which provide returns of up to 6.6%.
Ethereum 2.0 remains decentralized… for now
Although there are criticisms of platforms such as Lido and the possible problem of centralization, the Ethereum 2.0 validator network still remains decentralized. This because of more than 70% of validators currently working do not belong to any platform or staking pool.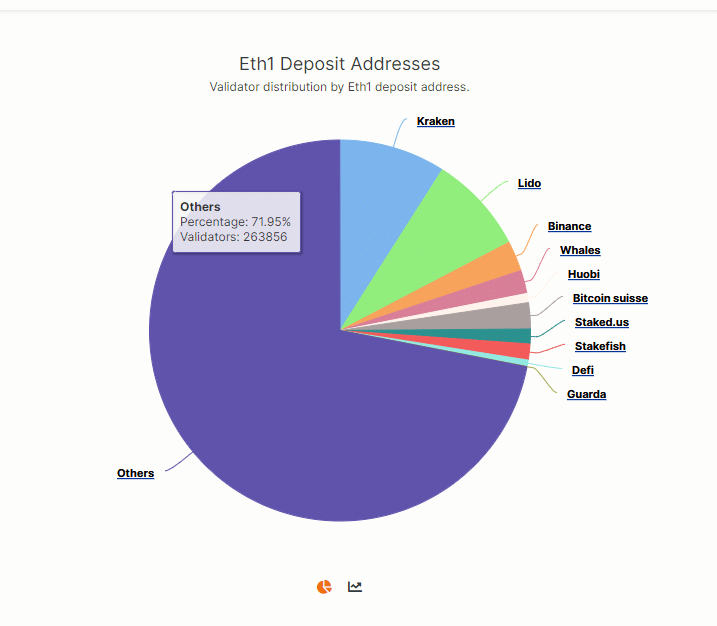 However, it is worth noting that these independent validators may or may not belong to a central entity, since the Beaconcha.in web portal only registers those that have publicly declared belonging to a staking pool.