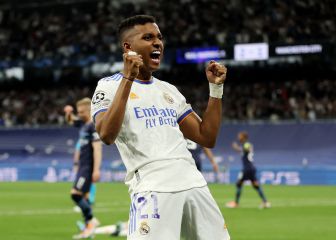 In case someone thought that the white comeback against Manchester City was not practically a miracle, the executing arm of it does see a touch of providence. "God looked at me and said, 'it's your day'". The author of that sentence is Rodrygo and pronounced it minutes after making a double to the citizens in just 89 seconds, which gave rise to Real Madrid completing its great work towards the final in Paris. It is no coincidence with Rodrygo. He has something special with the Champions League, he has it bewitched.
There is a fact that reflects it perfectly. In 26 games in the European Cup he has scored 11 goals… and only 6 goals in the rest of the competitions he has played with Madrid. If there are footballers who seem to have been born with an almost exclusive destiny in a competition, such as the German Klose and the World Cups, the simile could be applied to Rodrygo.
Because until the first goal against Guardiola's team, the Brazilian striker had only touched the ball five times in 25 minutes. The sixth was to put the right boot in front of Ederson's nose. Practically next was his flawless header less than two minutes later that made it 2-1. His second goal with the head (he measures 1.71 meters) with Madrid. Where could the previous one be? Yes, after listening to the Champions League anthem. It was in November 2018, against Galatasaray, in Rodrygo's second match in the highest European competition. As a touchdown, it's hard to beat. more than anything because At 18 years and 301 days that night Rodrygo entered history with the second hat trick earliest ever achieved in the European Cup.
Important part of "an assured future"
Madrid is comforted by this Rodrygo because, just as Vinicius has definitely blossomed into an important footballer, the same did not happen with his partner and compatriot. That changed from the second big night of this almost supernatural 2022 of the white team in Europe, that of Chelsea. That goal opened Pandora's box for Rodrygo and it seems that it is not going to close. "Camavinga, Rodrygo, Vinicius… all three are going to continue and Madrid's future is assured," Ancelotti advanced. In the case of Rodryas it is treated in Valdebebas, has positioned itself to be an active part of Madrid's next offensive arsenal that is drawn from the top of the entity with this imperishable Benzema, the unleashed Vinicius… and with Mbappé.
[