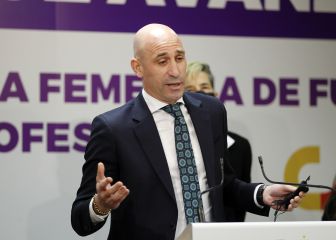 If on Monday Gerard Piqué came to the fore to give explanations about the audios and documents published by El Confidencial, which link him to commissions for taking the Spanish Super Cup to Arabia together with Luis Rubiales, president of the RFEF, this Wednesday will be the head of the Spanish Federation who appears before the media. The first words of the president, after the scandal of the last hours, have been offered through OK Diario, which caught him at the exit of the GC Legal law firm. "I know who is behind all this. First we had to consult many things. We have a confidential contract, fortunately in Saudi Arabia they already allow us to give certain information and that was essential. I have always acted honestly, the management of the Federation is impeccable. Everyone is clear about it. So I'll talk soon"Rubiales said.
As announced by the RFEF this Tuesday, Rubiales will be accompanied by the general secretary, Andreu Camps, in an appearance that will take place in Las Rozas, at 10:30 a.m., and that it will be open to the media.
Private audios of conversations between Luis Rubiales and Gerard Piqué, in his role as president of Kosmos, revealed that both would have agreed a commission of 24 million euros to bring the Spanish Super Cup to Saudi Arabia.
These audios indicate that the RFEF introduced two clauses in the contract to force Saudi Arabia to pay Kosmos four million euros per year as a 'success fee', a figure that, if not paid, would have the consequence that the Super Cup would stop being played in the Asian country.
Thus, in addition to the money that the RFEF would receive from the Saudi public company, Sela, for each edition held in Arab lands, Piqué's company would charge four for each of the six years signed, a total of 24.
Rubiales himself already assured at the time that Kosmos had intervened in the negotiations with the Arab leaders, but that he had not paid any commission to the company, while Piqué already offered his version, making it clear that there was "nothing to hide" because everything was "totally legal" and that he also put "his hand in the fire" for the president of the RFEF.
[