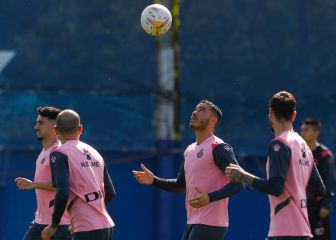 Espanyol traveled to Madrid this afternoon where on Saturday at 4:15 p.m. they will go out to the Bernabéu pitch to spoil the party for their rival. That would mean a victory that would prevent the whites from being mathematically champions, on the one hand, and on the other, that Vicente Moreno's team would certify salvation and could look up in the remaining four games. "I'm only focused on these three weeks," said the Valencian coach, who has one more year on his contract.
There are three notable absences on the squad list. Keidi Bare, with a left knee injury, has fallen this week after a time with discomfort and will miss the rest of the season. The Albanian had become the linchpin of midfield and, although he had only featured in 18 starts, his presence away from home has contributed to the best of an irregular Espanyol when he travels.
To the loss of Bare is added that of Óscar Gil. The right-back had established himself since January, when he recovered from an injury that kept him out for quite a few days. His absence is just as delicate, since Aleix Vidal, who came to be a winger, has not finished offering guarantees playing in the line of four. While the loss that nobody counted on is that of Adrià Pedrosa, injured this week. Both disrupt the variants of the technician.
Precisely the game system is one of the unknowns of Espanyol. Always used to 4-3-3, he surprised at the Wanda Metropiltano with a line of five. "We can't compare one match with another," Moreno said, but he is not very likely to serve clues about the drawings or the lineups, and who slipped that one of the possible absences would condition the game plan.
The complete official list is made up of Diego López, Oier Olazábal, Joan García, Miguel Llambrich, Aleix Vidal, Dídac Vilà, Sergi Gómez, Fernando Calero, Leandro Cabrera, Manu Morlanes, Yangel Herrera, Sergi Darder, David López, Fran Mérida, Óscar Melendo, Nico Melamed, Tonny Vilhena , Javi Puado, Adrián Embarba, Raúl de Tomás, Loren Morón, Nany Dimata and Wu Lei. The line-up has some doubts, such as who will take Pedrosa's place (Leandro Cabrera, Dídac Vilà or Tonny Vilhena are the only options), but there are permanent players. The drawing will mark the 11 men chosen by Moreno to witness Madrid's title or, on the other hand, surprise and consolidate one more year in First Division in a mathematical way.
[