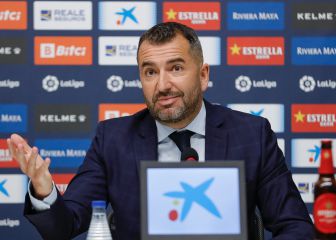 "The star will be the team", said Diego Martínez, who intends to "excite" the fans and who is convinced that Espanyol "can achieve things that we did not imagine." The CEO, Mao Ye, opened this presentation by talking about a "new stage" and praised the new coach, whom he described as "one of the most prestigious and promising coaches in the Spanish League."
Along the same lines, Domingo Catoira, who has been in office replacing Francisco Rufete for a few days, commented that "We had a clear direction and the person. The chosen one was Diego. We can be very satisfied. He is a natural leader due to his personality, knowledge, courage and ambition. We all need him". Later, with a speech in which he did not dodge questions but dodged the most demanding ones, the one who will be Espanyol's coach until 2024 was presented.
Answers by Diego Martinez

Presentation. "Good afternoon to tothom. I am tremendously excited to be here. Thanks to the club, the president, Mao and Domingo. I join a club with prestige in Spanish football. The convictions in my life are important. And I think the syntony was magnificent and we are tremendously convinced that this is the step we want to take. We share a vision of the present and the future. And we are passionate about that. We want to get down to work and continue growing together."
Feeling. "When you make a decision, you must feel that it is your project. It not only has to do with an argument, but with many factors. I spoke with cradle parakeets and they told me about this feeling, they described it to me as something unique and special, and it was attractive. It's a concern that was there. And then, I'm attracted to being able to build something together. I feel proud to have the freedom to take steps that I felt I should take. It will be a sowing year, not a sabbatical. The shared values ​​were key: wanting to claim and give the best, our moments fit perfectly. What Espanyol transmits fits with what I feel".
The conversations. "The processes need time, they must be carried out naturally. We all had it clear from the first day. My wife told me: 'I see you excited, I see you happy'. That is generated little by little. More than asking I think that it is better to fit the ideas. Growing up goes beyond a way of playing, it has to do with the structure, with the vision and with managing adversity".
improvements. "I was seduced by Domingo's frontality. He told me:" We are this and we want to be better ". We want to focus on the process, on that path that must be followed. It has to do with many factors. The phrase is to grow by growing."
year in England. "We are more complete as a technical team. We are nourished by other disciplines, cultures and not just football. That impregnates you and we feel that we are more complete. You have to take advantage of opportunities, you don't know when they will come to you".
What is Spanish? "We are a club that wants to grow. I value the work of Vicente and his coaching staff. Getting promoted and staying is not easy. That makes it possible to have solid foundations now. It allows us to continue advancing. There must be many entrances and exits , many things have to be tied together. We want a template that supports an idea, that excites, transmits, that we all feel represented".
Goal. "We will not put the goal at the end, we will put it in the process. The score is the consequence. The goal is the present. Build a game identity, a mentality that excites the fans. And what we do in that process will give a result. I think we can achieve things that we didn't even imagine, but they have to do with the day to day".
First sensations. "I'm eager to learn more, I want to soak up the staff. I feel 'La força d'un sentiment'. Those everyday situations tell you a lot. We want to investigate, but it's a club with a lot of history. It's a singular, special and unique club. It's a privilege, the opportunity was irrefutable".
The quarry. "The youth academy is part of the essence of Espanyol, it is a pillar of the club. I come from there, and beyond young or older players, the aspiration is for the players to be better, to multiply. That is one of our responsibilities. We have to give each player the encouragement they need. It's nice to see how a player climbs the steps, grows and establishes himself in professional football. And that comes from many paths. We have to give quality to that process. I don't differentiate youth from seniors, we are all".
The current template. "I like to start from scratch, with a blank sheet of paper. We have to make our way. I'm not going to go into proper names, I don't know the squad we can configure. The team will be the star, everyone at their service. And get excited and broadcast as a team. It's the most important thing."
Granada, also Chinese owners. "I am anti-comparison. It is not elegant and it does not make sense. I believe in authenticity. That each path is unique. What has been transmitted to me has come to me. We can make a good path together."
ROT. "We want to have the best squad. We will fight for that."
Template making. "It would be inconsistent if I talk about having more weight than the club or the sports director. We align ourselves with a club idea, we will go hand in hand. I am one more element, a coach at the service of a club".
Grow in your career. "I've been breaking stone for 22 years. It's a gift to a coach. It's an honor, not because of the process but because of the opportunity. The next thing is always important."
Positions to reinforce: "Now we have to do a puzzle, we have many factors. We want a team that transmits."
Message to the fans. "As a team we have to offer, not ask. That they have confidence, that they believe in the team and from there we can shape a path together. I'm sure it will be good and positive. It will make us feel. My personal commitment is very high. It's my way of living. And here the club is a way of feeling".
invincible ideas. "Enhance the characteristics of the players and adapt to different contexts. The idea should be that. If you have to press high, or counterattack or in a middle block or have the ball… You have to be the most complete. The day is non-negotiable to day, is the key to grow".
[