How to improve your content with Search Console Insights? This is the question we are going to answer in this article.
What is Search Console Insights?
It is essential to produce excellent content to attract readers. However, it is just as important for the publisher of a website to have the data to answer questions such as:
What are the best performing content on your site?
What is the most popular news content?
How do users find the most popular content?
What are your least read content?
What are the specific technical issues that exist on your site?
You can have all of this information on Search Console Insights. The latter is a brand new feature from GSC that helps to understand how people discover your website content and what attracts their interest in your content. Search Console Insights is based on data from Google Search Console and Google Analytics to help you answer the above questions.
Search Console Insights Features
This new application is therefore equipped with several options such as:
Analysis of the best performing keywords on your website, as well as trend keywords from Google Trends for possible optimization on Google search engines.
The specific affiliate social networks perfect for your specific activity practiced on the web.
Networking on friendly websites with which a possible collaboration could arise.
The means of access to your site that Internet users visit most often and the time they spend on websites before changing sites.
Technical issues that exist on your website, such as access speed, page load time, dynamism issues, etc.
All of these options are combined on Search Insights Console and that's what makes it performant. Especially for companies that know how to profit from it. It is only after analyzing all this information that publishers will develop an overall strategy to improve the visibility of the website.
Who is Search Console Insights for?
Above all, this feature is intended for content creators and publishers, more specifically for website owners.. The purpose of each differs from the others, such as:
promote a company,
a blog site for advertising use,
or even just for events.
All this converges towards a single goal: to increase the visibility of the website so that it benefits from more interaction at the customer level. Search Console Insights is the perfect tool for this. It will help the website owner to make decisions on the areas of improvement of his web content to have more visibility on Google. As a result, this tool mainly benefits:
To the editors of the website, because it easily finds a report on bugs, website dynamism and loading issues.
Website content editors, as the data provided by Search Console Insights is important for content writing. This remains valid for popular keywords in order to optimize the website for SEO searches, but also for the networking of affiliate websites on its content.
And finally to the owner (business or personal site) of the website who will need statistical data on the performance of the site. Based on the information he has, he will take the appropriate decision to make his website as visible as possible on the Internet.
How to use it ?
This tool can be found within the service of Google Search Console. So, to use SCI, you need to have it. However, to have more in-depth information, you need to combine it with Google Analytics. To get there :
Click directly on the "search.google.com/search-console/insights" website link if you are already registered with Search Insights.
Or go directly from Search Insights by clicking on the link in "Overview"
Or if you are using an iPhone, you will access it directly from the menu.
Now, to manipulate it as you wish, you have several techniques.
Most popular content
With the option "what are your most popular contents", you will open the pages and blogs that generate more visits (web traffic) on the subject. You will therefore establish internal links to these blogs.
The marketing strategies of companies differ according to the activity they carry out. In this case, it is necessary to clearly distinguish the most qualified and efficient social network channels in the field. You're not going to post a job posting on Instagram if you're a business offering work.
Social networks
To identify which social networks are sending more traffic to your site, check out the Social Media Report. You will find statistical data on the platforms that generate more or less commitments and traffic. The time of their presence on your website before leaving it will also be marked.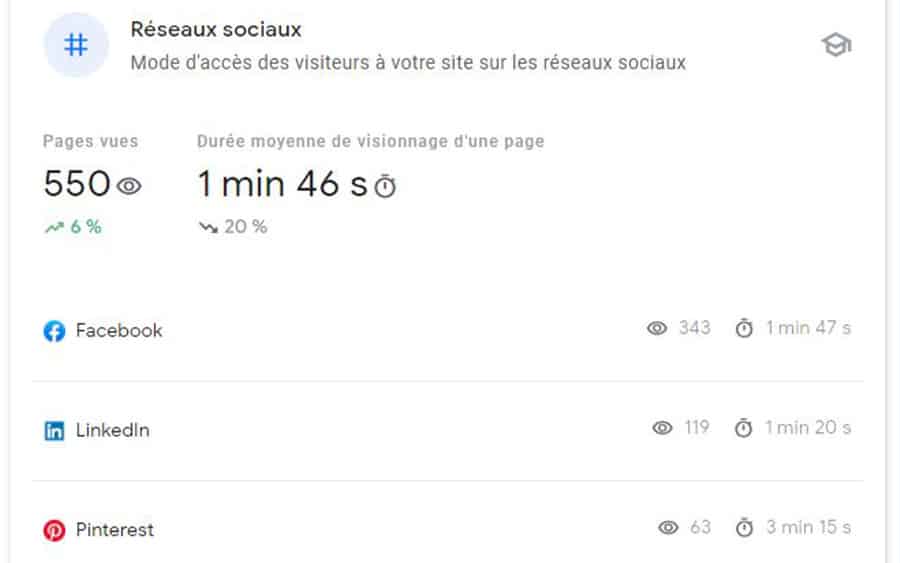 By taking the links from other referral websites, you will more easily detect the referenced website. You will therefore contact him for a possible collaboration. Thus, you will develop your own networking.
Search Console Insights research reports tell you which keywords were used before reaching your website. Thanks to these reports, you will optimize the content of your site around the most popular keywords. You will find this report on Google Analytics, in the "Acquisitions ˃ Search Console ˃ Queries" option.
ARE YOU CURIOUS? DOWNLOAD THE REPORT FROM OUR AGENCY.
Incorporating new options helps publishers correct errors related to this issue. These tools make it possible to know the metrics on the average display time of pages.