For a site to be visible on search engines, it is necessary to rethink the optimization of editorial content. Semantic analysis is then placed as a fundamental reference for building effective natural referencing strategies. It makes it possible to create relevant content, sought after by Internet users and in accordance with the needs of the target. Here is the impact of semantic analysis on SEO, the steps to perform it and the three best tools to rely on.
> Download this e-book on pillar pages and internal networking"/>
Definition of semantic analysis
Semantic analysis is the first step in an SEO (natural referencing) strategy. It makes it possible to determine the keywords, the requests and the research intentions around a theme, to be used in web content. In the form of an Excel list, it contains all the queries searched by Internet users, with the search volume, the competition index and the current position.
SEO impact of a semantic analysis
To attract traffic to a site, it is necessary to rely on an inbound marketing strategy. But be careful, writing texts and blog articles by repeating a keyword is no longer enough to become visible.
With the emergence of voice search, users have new search habits. Their queries are getting longer and more specific, pushing them towards conversational search. It is therefore necessary to write content with high added value, by drawing on the lexical field that relates to the main keyword. This not only helps Google and other search engines better understand the content, but also keeps the visitor happy.
Content with a real semantic richness is much more efficient and allows you to position yourself better in the search results (SERP). A semantic analysis therefore makes it possible to strengthen natural referencing by finding main and secondary keywords that enrich the content. If this strategy is frequently used by an SEO agency, it is quite possible to adopt it yourself.
Performing a semantic analysis makes it possible to precisely define the expressions, words and terms used by Internet users on search engines. This is the concept of search intent, which is fundamental. When a user types a query, he expects in return to receive a relevant result, responding to his request. Search engines like Google will no longer base themselves on the primary meaning of the keyword, but will determine the meaning behind the request to provide a precise response to the Internet user. By determining the search intent behind each search, it is easier to produce relevant content and thus create pages that will reach the podium of the SERPs.
Depending on the user's purchasing behavior, there are four research intentions :
commercial : the Internet user seeks information on a targeted product or service. In general, he is looking for opinions or comparisons. Typical searches are for example: "best Nice SEO agency" or "what is the best smartphone 2022".
Transactional : the user has the firm intention to proceed to the act of purchase, it is thus necessary to place keywords which convert. The content type corresponds to product or service pages. Keeping the examples, it can be "SEO service price" or "buying a cheap smartphone".
Informational : the visitor is looking for information, he wants to learn something. The contents he favors are therefore blog articles, guides or tutorials. He formulates his request in the form of a question "how to become visible on Google? or "reset your smartphone".
Navigational : the Internet user is looking for a particular site, but does not know its exact URL. It is sent to the home or category page. Often the brand name is included. For example: "HubSpot CRM".
This semantic analysis work can also make it possible to redesign the tree structure of the site, to structure it according to the different types of search intentions.

How to do a semantic analysis?
Determine relevant semantic keywords
The first step of a semantic analysis is to establish a list of expressions which represent a potential for the positioning of the site.
For this, it is necessary to define the terms used by Internet users. Tools like Google Keyword Planner, Yooda, Ahrefs or Semrush provide valuable information on monthly search volumes.
Do not forget that the objective is to answer a question from the audience. It is therefore necessary to succeed in finding its concerns. It is possible to use free tools like Ubersuggest or AnswerThePublic, to complete the starting list. At this stage, it is also necessary to define the user's search intentions.
Looking at the competition is also interesting to extract the keywords and the lexical field referring to the desired theme.
And finally, it is important to work on long tail keywords, because these are less competitive, but more relevant. They are therefore more likely to stand out in the SERPs and bring in qualified traffic.
Write content that responds to the problems of the target
In web writing, the important thing is to create content with high added value, which interests users and provides an answer to their question. Stuffing keywords is over, texts must now be rich in vocabulary.
This requires extending the semantic field around the main keyword, using synonyms to avoid repetition and developing long-tail expressions.
The more a content is enriched at the semantic level, the better it will manage to position itself in the SERPs.
Prioritize a silo structure and internal networking
Building an architecture in a silo reinforces the themes within the site. The content of child pages will send traffic to the parent page. These pages will therefore have additional semantic consistency. They will form what is called a semantic cocoon.
The silo structure organizes the on-site content, in order to link the pages together and to help the user to better find himself on the site.

3 Best Semantic SEO Analysis Tools
SEOQuantum
This tool makes it possible to conduct an effective semantic study to optimize its content as well as possible. From a keyword, SEOQuantum establishes semantic relationships to help produce content. It provides information on the habits of Internet users to define the search intention, and offers a semantic universe to not forget any important word. It also suggests semantic cocoon trees and analyzes competitor semantics.
It is available in several languages ​​and from 89 € HT per month.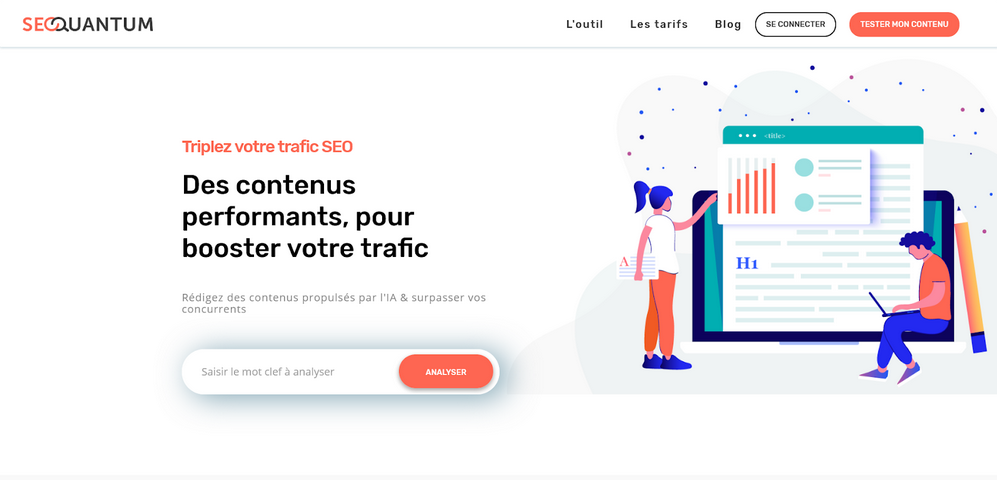 YourTextGuru
YourTextGuru offers many features to generate keywords. Its semantic analysis algorithm optimizes written content. It suggests topic ideas, analyzes the competition, and identifies missing expressions in the texts.
This tool, available in 12 languages, is acclaimed by web editors and content creators. Its subscription starts at 90 € HT per month.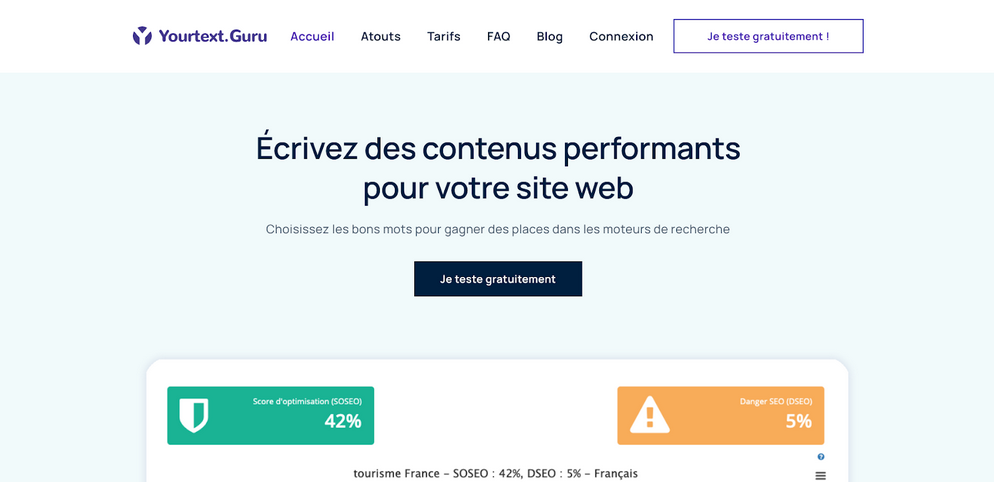 1.fr
This tool makes it possible to strengthen the optimization of content to achieve better positions in search engines. It mainly focuses on Google and Bing. It allows you to add or remove keywords according to their level of relevance, and offers a rich lexical field depending on the query.
1.fr is an editorial assistance tool that meets the expectations of search engines, available from €60 excluding tax per month.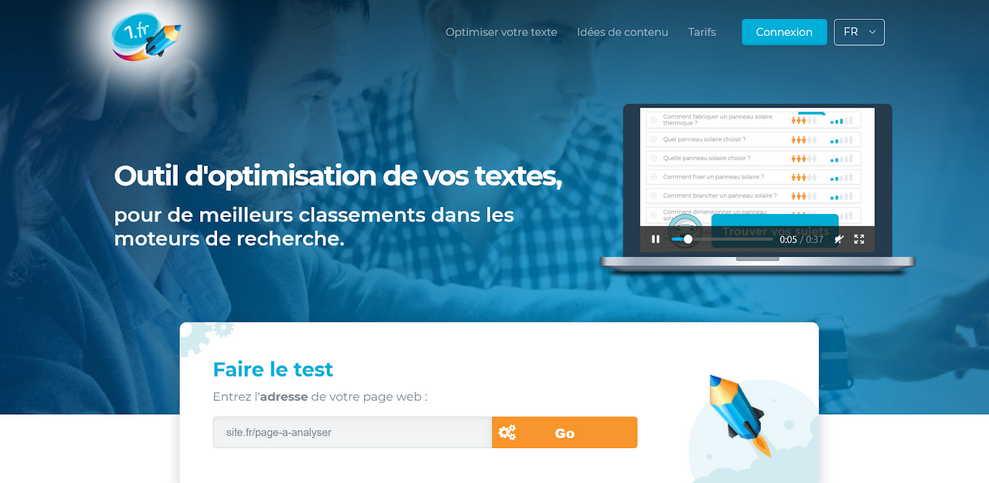 To start creating your pillar pages step by step and set up an internal linking strategy, tdownload this e-book in order to increase the online visibility of your business.