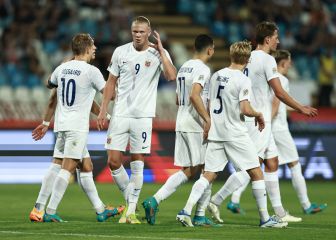 Haaland unbalances the balance
The first part had little history. From the start, Serbia tried to take the initiative in the match, but Norway played their cards better. Those of Solbakken handled the tempos from the defensive solidity and launching counters to the space of the Serbian defense. Haaland warned in a one-on-one against Milinkovic-Savic, but his shot went over the goal. Rare for Haaland to miss such a clear chance. The second time it was not going to fail. The Norwegian striker drew a perfect clearance at the second post for Pedersen to put a perfect ball for him to push it into the cage. From the goal, Serbia had a lot of possession trying to get there, especially on the wings, but they did not have clear chances to score.
The second half began with a more aggressive Serbian team in the first quarter of an hour. Jovic's entry gave Stojkovic's men a little more dynamism in attack in the first few minutes, but Norway withstood the downpour. Mitrovic had a pretty clear one after a rejection by the Norwegian goalkeeper to Jovic's shot and Jovic himself had one right after after a shot by Mitrovic in which Nyland made a wall to avoid the tie. From then on, the Norwegian team defendedjoined lines and desperate to the Serbs, who percussed by bands and inside, with shots from medium distance, but without creating too much danger.
The three points fly to Norway with a goal from Haaland and a good defensive approach. The Serbs tried until the end with a clear chance from Jovic, but they couldn't equalize.
[