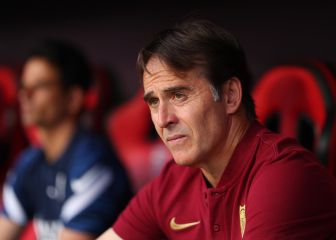 Sevilla coach Julen Lopetegui assessed the preview of the match that his team plays tomorrow at the Wanda Metropolitano against Atlético de Madrid. "We are going to face these last two games with the ambition of making history. We played against one of the best rivals you can find, with great footballers and a coach who is beyond any doubt what can be said about him".
Athletic. "It is a consolidated team among the greats of the World. Its coach has been leading an important moment for many seasons, it is world-class. When they have had bad moments, the forcefulness in their reaction has been very good, because they are very good. From there we focus on ourselves. We want to give the game the best".
Fear of running out of Champions. "Things are not done until they are done. Hopefully we can make history for the third year. Nothing is easy, things have to be earned on the field. Now it's Wanda's turn and we will give that game the best as a team. We are busy for continuing to face what is missing from the League".
Excess nervousness. "I don't analyze what is not under my control, that is part of the context of football. What we can do is give the team confidence and peace of mind and create the best possible scenario to compete, which is what we have done these three years. We must isolate ourselves from everything that doesn't help to practice the profession well and take the rest normally. It's not easy to play the Champions League twice in a row, and three less".
Nursing. "We've had a problem with a player. Maybe we got one back and lost another. We have to wait. Navas? He's improved but we won't know who will play until tomorrow."
One ending. "Each game we play at Sevilla is of the utmost importance. We have played other important games that have made history. The assessment of the campaign will be done at the end".
[