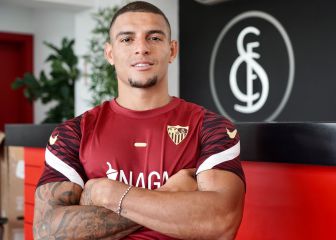 Sevilla and Aston Villa officially announced this Thursday the transfer of Brazilian central defender Diego Carlos. In a figure that is estimated between 35 and 40 million euros, as As has learned, the Brazilian central defender will go to Birmingham to pass a medical examination and complete his arrival at the villains.
Diego Carlos has played 136 games with the Nervionenses. He landed in Nervión in the summer of 2019 from Nantes and has completed a prolific stage of three seasons with the Sevilla team, with which he won the Europa League in 2020. It so happens that the decisive goal in that final against Inter from Milan It was scored by him, with a Chilean that ended up in the net after touching the Belgian Lukaku.
Diego Carlos completed 35 league games in 2019-20, 33 in 2020-21 and 34 in 2021-22. In addition, he completes his statistics with 14 Champions League games, 10 UEFA Europa League games, 9 Copa del Rey games and one European Super Cup game. As a Sevilla player, the Brazilian received his first call-up to the absolute Brazilian team and was summoned to play the Tokyo 2020 Olympic Games last summer, in which he won the gold medal with the canarinha.
[