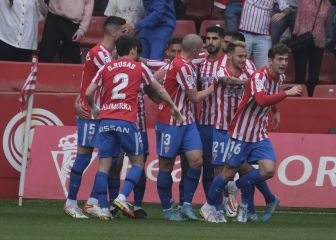 Sporting breathes and caresses staying in the Second Division thanks to two headed goals, the work of Jose Gragera and Uros Djurdjevicwhich served to break a Girona in crisis that had equalized the initial goal of the youth squad from Gijón with a goal from Cristhian Stuani but who barely had chances to beat Cuéllar despite his overwhelming control of the ball.
Two headed goals and a lit El Molinón stadium, as in the best afternoons pushing their team, served for Sporting to achieve the first victory with Abelardo back on the local bench of the Gijon stadium. Four out of six points has been achieved by the rojiblanco team after the change of coach, which brings closer the objective that is none other than saving a year that has been getting more complicated over the months.
Girona had the ball in their possession much longer (69% against 31% for the Catalans) but hardly found any loophole in a more organized Sporting defensively and that sought the visiting goal with more danger. Juan Carlos ended up becoming the most outstanding player on the field of play thanks to three interventions in shots with the scent of a goal that prevented a broader defeat of his teams; two went to shots by Pedro Díaz (8′ and 79′) and another by Djuka (52′).
The first part was more spectacular than the second, with a higher pace of play and alternatives in the game. The second half, with home advantage at half-time, passed with Sporting defending in order against a Girona team that moved the ball from one side to the other, but with little depth. The team from Gijón sought to surprise the contras without finishing the job, which caused suffering until the last play, a Stuani headerweak and at the hands of Cuéllar, who did not take advantage of Jony's gift by failing to move the ball away from the area.
Thus ended an agonizing game for Sporting that start to see the light at the end of the tunnel. With a five-point advantage over Amorebieta and Real Sociedad B, with the last six points remaining to be played, permanence seems on track.
Girona, on the other hand, has seen its fight to be at the end of the promotion playoff complicated. Míchel's team suffered in El Molinón a second consecutive defeat that can hurt him in your aspirations.
Changes
Jairus Left (30′, David Junca), Nahuel Bustos (71′, Santi Bueno), Christian Rivera (74′, Fran Villalba), Paul Perez (77′, Aitor), Jony (77′, Jose Luis Rodriguez), valery fernandez (83′, Arnau Martinez), Eric Ramirez (86′, Djurdevic), Nacho Mendez (86′, Pedro Diaz)
goals
1-0, 11′: Joseph Gragera1-1, 21′: Stuani2-1, 43′: Djurdević
cards
Referee: Juan Luis Pulido Santana
VAR Referee: David Pérez Pallas
Aleix Garcia (49′, Yellow) Stuani (92′, Yellow
[