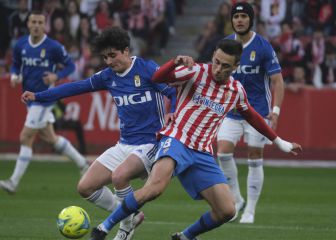 Oviedo
The Blues land in El Molinón with full confidence after accumulating two weeks in the play-off positions. The sixth position is the result of things well done in recent weeks: there are 13 points out of the last 15 at stake. Oviedo is the fittest team in the championship and Ziganda's team is already talking openly about the goal of the playoff.
To be closer, they arrive in Gijón with the aim of maintaining their good numbers and leaving El Molinón with something positive. As usual since the second round began, Ziganda has some doubts about the system to be used in the match. He always spends away from home. At the Tartiere, the 4-4-2 is non-negotiable. Options open up outside. For this reason, the most normal thing is that Cuco bets on the 4-3-3 that has given him such good returns lately outside, as in the second part of the Anxo Carro, where the team reacted until achieving a tie, and in Cartagena, with a huge win.
Ace to follow: Borja Bastón. The other killer of the duel, more plugged in than the Serbian. They are the team to beat right now in the league, and Bastón the most fearsome striker.
[