For
DailyBitcoin Editor
1 in 4 investors in the United States reported owning cryptocurrencies, according to a survey by Morning Consult. In other countries, including Argentina, Brazil, Colombia and Mexico, the number of users also increased.
***
A new study highlights the increasing adoption of cryptocurrencies among United States citizens, as one of the preferred investment alternatives compared to traditional means. Likewise, the report indicates that this is not only happening in the northern nation: crypto adoption is growing in Latin American nations as well.
According to the report The State of Consumer Banking & Payments published on January 25, 2022 by Morning Consult, 24% of Americans owned cryptocurrencies in 2021. Interestingly, the proportion is quite high relative to those who own other means of preserving money. In fact, there are more Americans who declared own crypto than those who claim to have certificates of depositthat is, savings accounts that keep a fixed amount of money for a specific period.
The graph demonstrates it: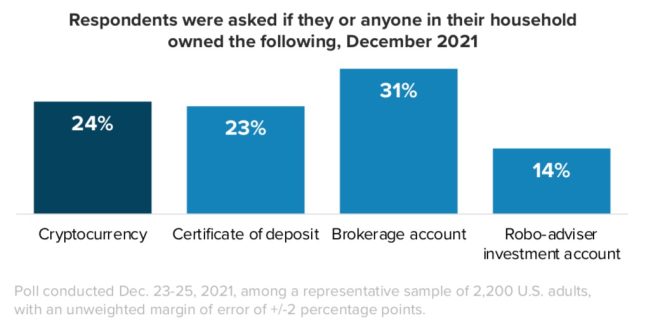 As seen in the graph, 24% invest in crypto and only 23% in certificates of deposit. Likewise, 31% of the 2,200 respondents had brokerage accounts (or traditional stock investment), while 14% had an investment account. robo-advisor (which are automated portfolio platforms that make investments in consideration of the personal circumstances of the investor).
young white men
The study, which was conducted between December 23 and 25, 2021, also reaffirms what other studies have done: the majority of American investors are male, white and of the millennial generation.
For investors, keeping money in the bank and investing in cryptocurrencies offer opposite scenarios based on factors such as risk and reward. Bank savings accounts are insured and considered to be of stable value, but they make little profit (even in cases of high inflation they would have losses); while cryptocurrencies are volatile and have no clear backing. However, digital currencies have offered the opportunity to earn quick money to many.
Latin Americans
The study also highlights that Latin American countries still have the highest rates of cryptocurrency ownership, and that European nations such as Germany, Spain and the United Kingdom (not so much France) have grown significantly in the last six months. In Asia the same does not happen, both in China and in Japan the adoption decreased between August and December 2021.
Sources: Morning Consult, Finboldarchive
version of DailyBitcoin
Picture of unsplash
WARNING: This is an informative article. DiarioBitcoin is a means of communication, it does not promote, endorse or recommend any investment in particular. It is worth noting that investments in crypto assets are not regulated in some countries. May not be suitable for retail investors as the full amount invested could be lost. Check the laws of your country before investing.