Key facts:
Up to $6,000 in bitcoin can be purchased and deposited into that wallet.

To buy bitcoin, you need to register with a neobank based in Estonia.
The TON Foundation, an old project abandoned by Telegram, revived and enabled a bitcoin (BTC) and toncoin (TON) wallet on that social network, through which these cryptocurrencies can be bought, exchanged, deposited and withdrawn. It is a wallet guarded by that organization, but it is linked to the user's account on that platform.
On Twitter, TON reported also enabled a service that allows to send toncoins directly in the chats of the platformsomething for which no transaction fees will be paid and it will be practically automatic.
"With this service, you no longer need to enter long wallet addresses and wait for confirmations," they explain.
The service will be enabled for 550 million users and although toncoins can only be sent between chats, bitcoins can be bought, using a bot called @wallet. The system is in charge of guarding the holdings of the users and they can only withdraw them or exchange them for other currencies.
This means that the private keys of said purse are not in user controlbut are guarded by the TON Foundation server, but without there being –until now– any direct relationship between the two organizations.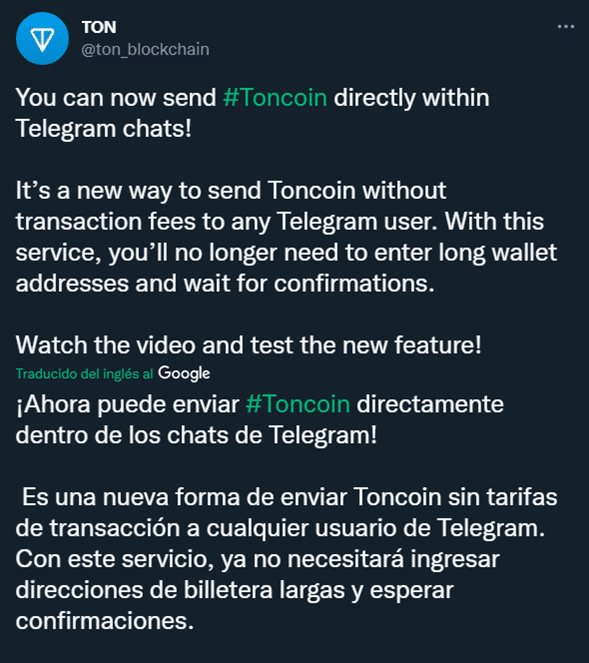 The TON Foundation expressed that the objective of this authorization is that sending toncoins is as simple as sending a text message, according to CoinDesk.
Advertising

We anticipate that this functionality will be extended to consumer-to-business payments, so that people can easily purchase goods and services by sending toncoin via bots in the Telegram app..

TON Foundation.
A bot without official Telegram endorsement
Although it seems like an easy process, keep in mind that this application or wallet does not have the official support of Telegram. Although it is a project born within that company, the founders have no direct relationship with it, despite the fact that they have condition in favor of various initiatives.
In May 2020, Telegram abandoned its TON blockchain project, after two years of designing, planning, and managing investments. From that moment on, there was a fork in that chain and the project changed hands, with the developers who are directing it until today's sun.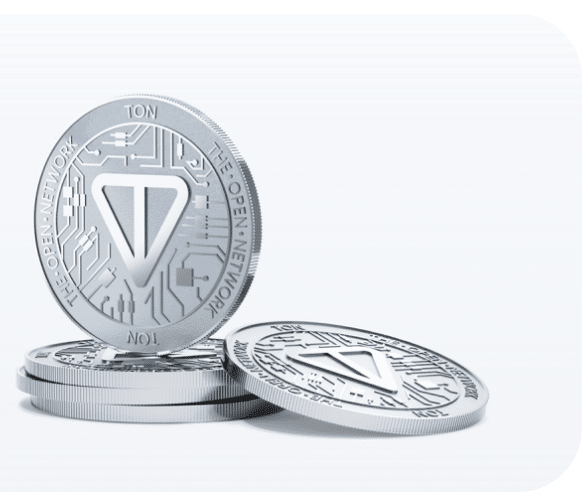 CriptoNoticias sent a series of messages to the founders of Telegram to get their impressions, but at the end of this article we have not received a response. This news will be updated if required.
Testing the TON wallet
To confirm the information, CriptoNoticias accessed the TON wallet. The first thing that caught your attention is that the telephone number registered in Telegram is requested as a requirement for the creation of the portfolio. This happens at the moment when, for example, the option to deposit cryptocurrencies is selected.
From there, we noticed that the product was centralized and guarded by the TON Foundation. According to the message, they need the phone number "to verify your account and provide access to financial transactions."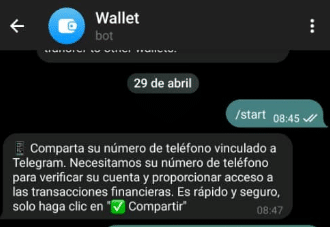 They clarify that the transaction will be executed through the main chain of Bitcoin and that the funds will be credited to the wallet "within 30 to 60 minutes«, due to the confirmation of blocks that must go through the operation of the miners.
The Bitcoin address has something interesting and it starts with a 1. This means that is created under one of the oldest formats on the net: Legacy. These addresses, in general, do not have the updates that have been given to improve key aspects, such as the performance, reliability and security of the transactions offered by SegWit and Taproot, for example.
We confirm that the created wallet exists. In Blockchair's block explorer, we paste the address provided by the bot, and sure enough, it's mirrored. There is no movement in BTC.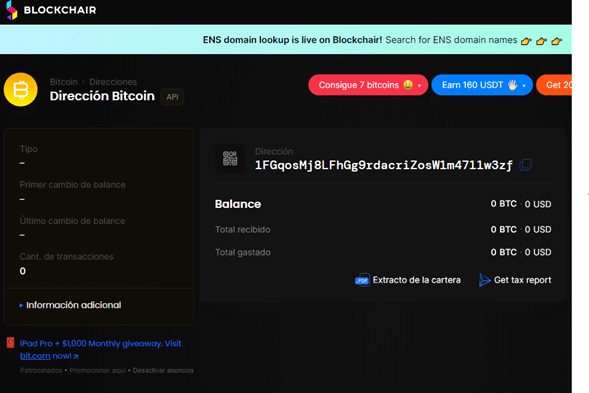 We decided to try to top up the wallet. For that, we clicked on the option to buy cryptocurrencies and opted, again, to buy BTC. The wallet is preset to buy BTC with US dollars (USD), euros (EUR), and Russian rubles (RUB).
TON Foundation allows the purchase of cryptocurrencies using fiat money through a neobank. This is Neocrypto, based in Estonia. This company allows the purchase of these assets with a bank card, which are deposited in the wallet in question, "without making initial deposits".
Logically, when trying to do so, the consignment of an identity document or a selfie type photograph is required, in order to be registered in the systems of this international neo-banking entity.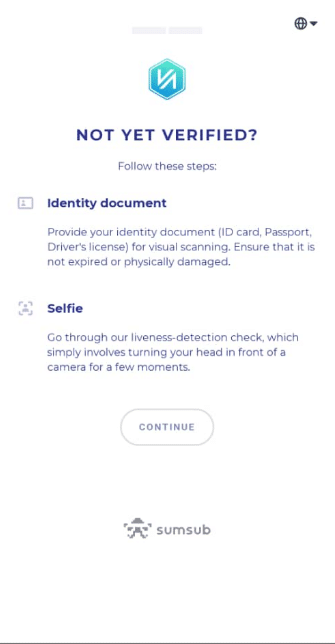 This makes it clear that for to be able to buy bitcoins, and move them in this wallet, you necessarily have to face a KYC verification process, where you have to provide personal information to an entity. It is already at the mercy of each one if they take or leave the option.
Other similar projects Telegram
It is good to value the efforts of other developers, who, also based on Telegram, They have carried out projects that are directly related to the Bitcoin ecosystem.
An example is Francisco Calderón, a Venezuelan programmer who developed a bot that allows BTC trading through the Lightning network, without custody, and directly on Telegram.
The project, which goes by the name lnp2pbot, has already been on the social network for some time. In fact, it was recognized in recent days. Calderón, for that program, received a grant from half BTC, which will be used for the development, updating and improvement of this application.
In conversation with CriptoNoticias, Calderón praised the recognition of the Human Rights Foundation for lnp2pbot, whose nature is to be "against censorship." "We are aligned in search of the same goal," he commented.