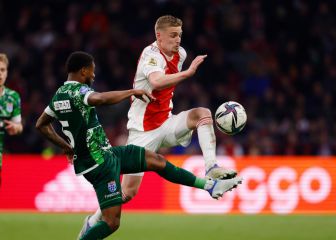 Ajax's academy is one of the best in the world and there is always great expectation when a teenager makes it to the first team, but there are some players who generate special attention. Kenneth Taylor is one of them and the impressions could not be better.
This midfielder, who turns twenty in a couple of weeks, made his debut with the first team in December 2020 but it was not until these last two days when he has managed to be a starter in the league (In the Cup it was also, but in two games against amateur teams with a lot of rotations). Against NEC he was one of the best players in the game and was included in the ideal eleven of the day in the media. "He has played outstanding," Ten Hag said.. Against PEC Zwolle last Saturday, in addition to giving an assist, he has once again earned praise.
Several commentators in Amsterdam agree that his entry into the team is contributing the care of the ball that the team often lacks with, above all, Klaassen and Edson Álvarez. Not since De Jong and Schöne have Ajax had such a good midfielder with the ball. With these two performances, he is asking for a starting position next season, even more so with the more than possible departure of Gravenberch. At the moment, one of his pending tasks is to find his ideal position, since this last weekend he played as a right inside in a 4-4-2 in which he moved with a lot of mobility towards the central lane, being at a practical level a midfielder
Taylor is demonstrating in these two games everything he pointed out in the lower categories of Ajax and the national team, where has been one of the leaders in recent years. With the Netherlands he won the 2019 U-17 European Championship as captainn. This season he has alternated calls with the first team and with the subsidiary of the Second Division, demonstrating when he has dropped in category that is ready to go one step further with 7 goals in 11 games.
Interestingly, Ten Hag has begun to bet heavily on him in recent days, just after the painful defeat in the Cup final against PSV Y the official announcement of the manager's departure to Manchester United. Precisely when they began to talk about "five finals" to win the league title. The adaptation of Kenneth Taylor to the first team may be the last gift that Ten Hag leaves to his successor.
[