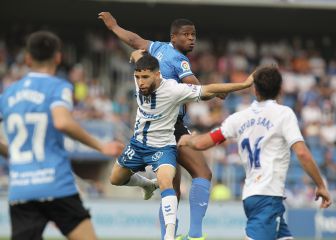 The run-run in the stands began to be heard more and more strongly. Since Tenerife decided to wear their Centenary shirt for the first time, on March 5 against Real Valladolid, they had not won No match. The word jinx was already in the mouth of more than one fan until against Fuenlabrada, at last, they were able to win and break the 'hex'.
The three previous meetings ended badly. In the aforementioned duel against the pucelanos they lost by a clear 1-4, then Almería stepped on Rodriguez López to win 0-1 and then came Zaragoza who took a point (1-1), but he was close to scratching all three. Until this past Sunday the joy returned to the stadium that keeps the team in the fight.
Another statistic was also cut with 3-1: two days were missing to complete two months without wins at home. The last time was on February 19 when they defeated Ibiza 2-0. Ramis's men are having a hard time commanding Rodriguez López this season, where they have already let many points slip away.
"At Heliodoro we must be strong and ambitious because our rivals suffer a lot with our people," said Álex Muñoz in the press room. "We are noticing the support of the fans, and we try to restore that confidence on the field. We left everything, it could be better or worse, but the results are coming, and we appreciate the support and it motivates us to continue".
The return of the left-back was another of the good news of the clash since he had not participated since February 26 in Anduva due to an injury. "I am very happy to be back with the team, this month and a half that I have been out due to inconvenience has been a long time. I am happy to return home with the fans, the push they have given us to achieve a very important victory to consolidate ourselves at the top", he said.
[