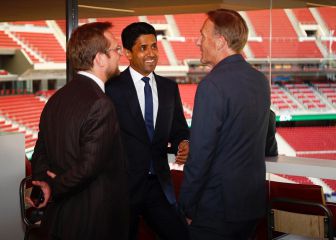 The new Champions is about to be announced and the format brings tail. The expansion of teams from 32 to 36 will mean that the traditional group system will be changed to a league system with a Swiss format. That is, everyone will compete against everyone in the same classification, even if they only play 10 games in the first phase. UEFA intends to announce the reform during this week's Executive Committee and Congress in Vienna, although there are obstacles.
The big problem is finding an adequate solution to the way in which the 4 new clubs that make up the tournament will qualify. The plan included a measure whereby two teams would enter by UEFA coefficient. This form of classification "by finger" finds the support of the ECA (Association of Clubs) and is well seen by UEFA; not in vain, it would "save" from a bad season those important clubs not directly classified for the Champions League in their championships (they would have to be one place below, that is, fifth, never beyond).
But the Major Leagues and the Fan Associations are doing their best to prevent this from happening. They consider that sporting merits should prevail over economic interests. Over the weekend, banners could be seen at the Allianz Arena during Bayern-Stuttgart and at Greuther Furth-Dortmund criticizing this wildcard format for the new Champions League.
This Monday, in Madrid, the members of the ECA met to outline their position with a view to the UEFA Executive Committee that is held on Tuesday in Vienna. The president of the association, Nasser Al-Khelaifi, who is PSG at the same time, was in charge of commanding the meeting at the Wanda Metropolitano and with Atlético as host. If at the UEFA congress there is no concrete proposal that satisfies everyone, another Committee could be held with the same purpose in Paris during the days scheduled for the Champions League final. Ceferin already announced in this newspaper that the new Champions should be known before the end of the season.
[