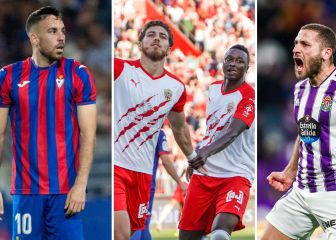 In the absence of the dispute on the last day of the Second Division, direct ascent and promotion still have to be decided and they are red hot. The descent has already become clear with the defeats of Real Sociedad B and Amorebieta with Huesca and Cartagena, respectively; and they accompany Fuenlabrada and Alcorcón, already relegated, to the First RFEF. Both teams have 40 points, so the 45 of Malaga, which marks the permanence and that despite his defeat with Burgos, he is already mathematically saved. Eibar, Almería and Valladolid compete for two direct promotion positions; and Girona, Las Palmas and Oviedo are fighting for two playoff spots.
direct ascent
Eibar (80 points): The new leader has it in his face to achieve direct promotion on the last day. He depends on himself. The Basques play at home, in the Alcorcón field, already relegated; and they have the goal average won with Almería and lost with Valladolid. In the triple tie he ascends as second. It is enough to draw.
Almeria (80 points): Almería, who could be promoted directly this day, lost the lead after their stumble against Alcorcón. Like Eibar, it is worth a tie to be a First team, as long as Eibar does not also tie and Valladolid wins. In a triple tie he would be left out.
Valladolid (78 points): With 78 points, he has it more difficult. Anything other than winning would condemn him to play in the playoffs. They need to win and that Eibar does not pass the tie or that both (Eibar and Almería) at the same time fail to win.
play-off
Tenerife (69 points): The canaries have the playoff assured and the only thing left to know is the position in which they will play it. They receive Cartagena.
Girona (67 points): Girona has the goal average beaten by its two rivals, so it will be promoted if it at least draws against Burgos.
Las Palmas (67 points): The Canaries are in the same situation as Girona and will be in the playoffs adding at least one draw with Sporting.
Oviedo (65 points): The Asturians need to beat Ibiza and Girona or Las Palmas lose, to be in the playoffs.
[