The HubSpot team is happy to announce that the app marketplace has passed the 1,000 integrations mark. This new course confirms the joint commitment of HubSpot and its partners to design integrated solutions to support business growth.
> Download: How to Accelerate Your Business Growth with a CRM" align="middle"/>
An ever-increasing number of software programs are designed for the same purpose and the trend is not about to be reversed. A recent IDC white paper commissioned by HubSpot forecasts growth for the cloud computing industry over the next three years.
According to a report published by Blissfully, the number of SaaS software will continue to grow, especially in the areas of IT, security, compliance and human resources. Businesses will definitely need to adopt more integrations that can unify their data across their technology environment and create a cohesive customer experience.
This need explains the central role that HubSpot's ecosystem plays within the CRM platform. Now featuring more than 1,000 apps for marketing, sales, and customer service, the App Marketplace helps you easily find and connect the integrations your business needs.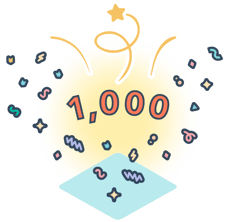 On average, HubSpot customers install seven apps, and more than a quarter install more than a dozen. HubSpot's goal is to unify the technological environment of companies within its CRM platform and thus offer them a quality and integrated end-to-end customer experience.
To this end, the company is focusing its investments in its ecosystem, to provide more choice to customers who make HubSpot their single clearinghouse for customer data and engagement activities from different SaaS software. HubSpot will continue to increase the quantity and improve the quality of applications in its ecosystem, in order to make them accessible to an ever-growing international audience thanks to new listings in several languages ​​planned during the year.
To give you an idea of ​​the variety of integrations on offer, here are several examples of popular apps listed by category.
HubSpot's 30 Highest Rated Industry Leader Integrations According to G2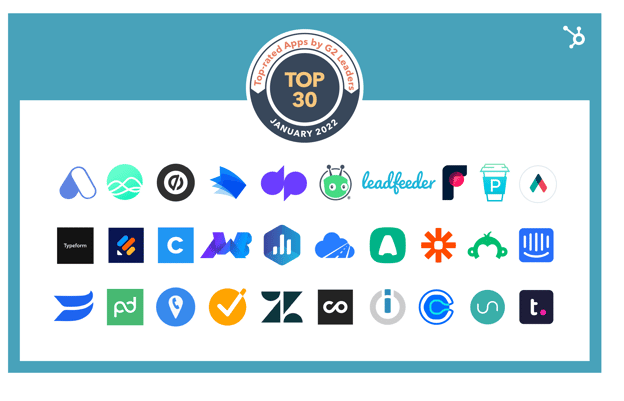 As the app marketplace has grown, the number of HubSpot integrations built by leading SaaS companies for customers has steadily increased. Here is a list of applications developed by companies recognized as leaders in their field by G2, certified by HubSpot and highest rated by customers:
Zapier : automates workflows easily and efficiently.
dialpad : connects your company's telephony to your tools and automates your activities.
Aircall : offers an advanced inbound and outbound telephony system.
Calendly : increases the speed of sales with an appointment scheduling system.
typeform : facilitates interactions with the target audience thanks to well-designed forms.
Integromat : connects HubSpot's platform to any API to automate workflows.
PandaDoc : Creates, tracks, and electronically signs business proposals and contracts.
CloudTalk : increases sales volume and improves customer service efficiency with a cloud-based phone system.
Jotform : allows you to create custom forms and get more leads.
Databox : allows you to create dashboards based on analytics and key performance indicators.
Qwilr : allows you to create commercial proposals and interactive quotes with a neat design.
Zendesk : syncs tickets with HubSpot contacts.
CallRail : syncs calls and texts into HubSpot and provides tracking and analysis.
Automate.io : synchronizes contact data and automates workflows.
Skyvia : allows data from major cloud-based applications and databases to be integrated into HubSpot without coding.
Propose : lets you create, send, sign, and track business documents.
Intercom : captures leads from a website through automation and live chats.
Unbounce : helps create landing pages and optimize marketing campaigns.
GetAccept : offers commercial interaction and electronic signature tools.
SurveyMonkey : offers customizable survey tools to fit customer needs.
lead feeder : makes it easier to manage leads and create new tasks, deals, and companies in HubSpot.
Vidyard : allows you to add videos to inbound marketing initiatives.
Unito Two-Way Sync : synchronizes transactions and tasks with the most used management tools.
Wistia : helps segment, nurture, and score leads based on video views.
Grow.com : gives total visibility on the pipeline and allows you to take the pulse of your organization.
ChurnZero : analyzes customer usage of the product to optimize customer experience and reduce churn.
Forehead : enables teams to communicate and collaborate by automating real-time data synchronization with HubSpot.
Team work : synchronizes projects and tasks to align marketing and sales teams.
The most popular new HubSpot integrations
HubSpot launched in 2021 new extensible integrations associated with new features and new categories in the marketplace. These integrations have allowed customers to integrate their SaaS tools with CRM in a new way.
The 8 Most Popular Data Sync Apps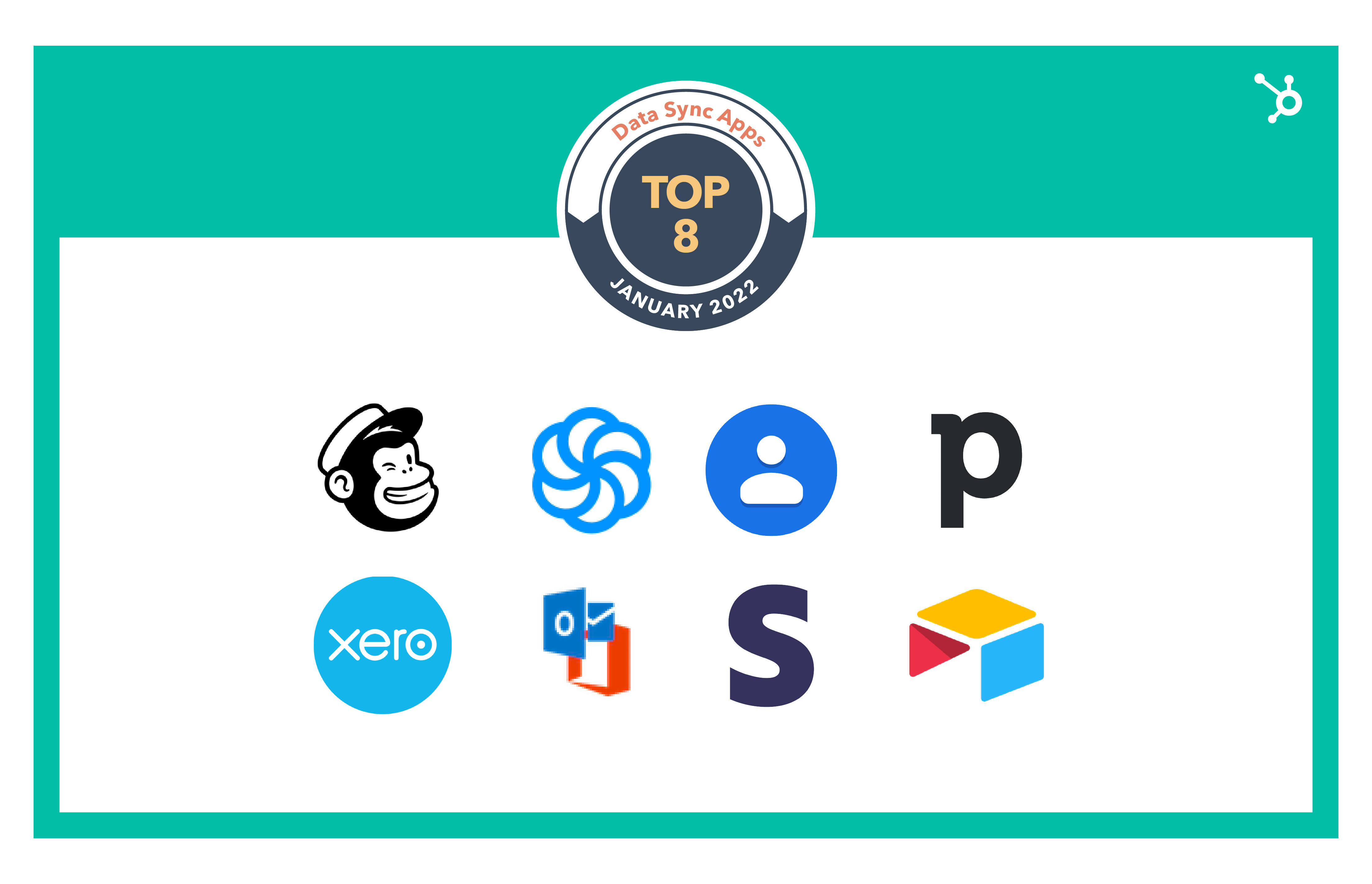 At the beginning of 2021, HubSpot launched the Operations Hub which is based on data synchronization. From bi-directional and multi-object synchronization to custom field mappings, data synchronization integrations pack all the power of a custom connector into an easy-to-use solution that requires no technical skills. The app marketplace now has more than 100 data synchronization apps. Here are the 8 of them most installed:
Google Contacts : synchronizes contacts in real time without using CSV files for imports and exports.
Outlook Contacts : synchronizes Outlook personal contacts without manual entry or import.
mailchimp : syncs Mailchimp contacts with HubSpot in real time.
Stripe : syncs contacts and adds a filter for any Stripe field like account balance or currency.
Pipedrive : syncs Pipedrive contacts with HubSpot.
sendinblue : configures a one-way or two-way sync with HubSpot.
xero : syncs Xero contacts with HubSpot.
Air table : syncs Airtable rows that represent contacts or companies.
The 8 Most Installed Media Gateway Apps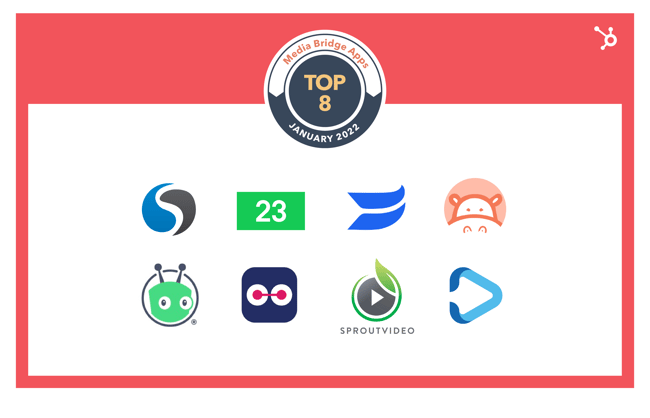 In 2021, HubSpot launched a dozen media gateway apps to allow customers to embed media like videos or podcasts directly into drag-and-drop content editors, and use engagement data in CRM and reports. Here are the 8 most installed media gateway apps by HubSpot customers:
Wistia : helps segment, nurture, and score leads based on video views.
Vidyard : allows you to add videos to inbound marketing initiatives.
Hippo Video for Sales : Easily save, share and track videos for sales activities.
TwentyThree : allows you to drag and drop videos directly into landing pages.
SproutVideo : allows you to capture promising leads using marketing videos and synchronize video content.
Cincopa : integrates generated leads and video view data into HubSpot.
Idomoo : makes it possible to interact more effectively with customers at scale through personalized videos.
Moovly : creates custom videos and embeds them in HubSpot emails and landing pages.
The 8 Most Popular Workflow Integrations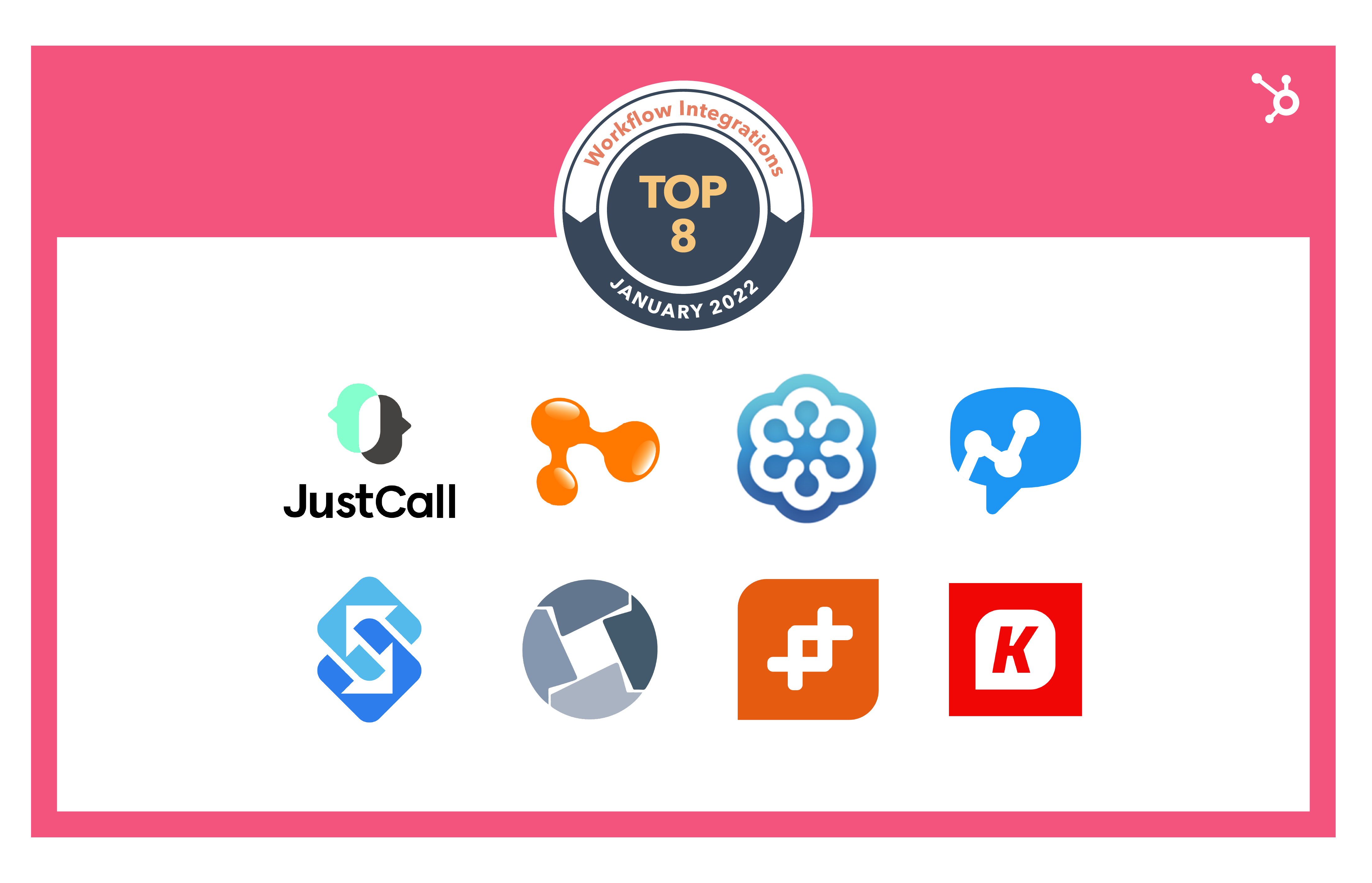 HubSpot launched over 50 workflow integrations in 2021 that embed HubSpot workflows directly into apps to more easily automate every company's processes. Here are the most popular workflow integrations that you can combine with your next workflows:
Kixie : automates calls and text messages to improve the performance of sales representatives.
WP Fusion : automatically imports new WordPress users.
Insycle : manages and cleanses HubSpot data using schedules and workflow integrations.
WhatHub : automates workflows based on the content of WhatsApp messages.
Salesmsg : triggers workflows when a customer calls or sends an SMS.
Sakari : lets you add SMS to deal-, ticket-, or contact-based workflows.
JustCall : allows you to add SMS and marketing messages to workflows.
GoToWebinar : configures workflow triggers based on webinar registration and attendance.
The 8 Most Popular Event Marketing Apps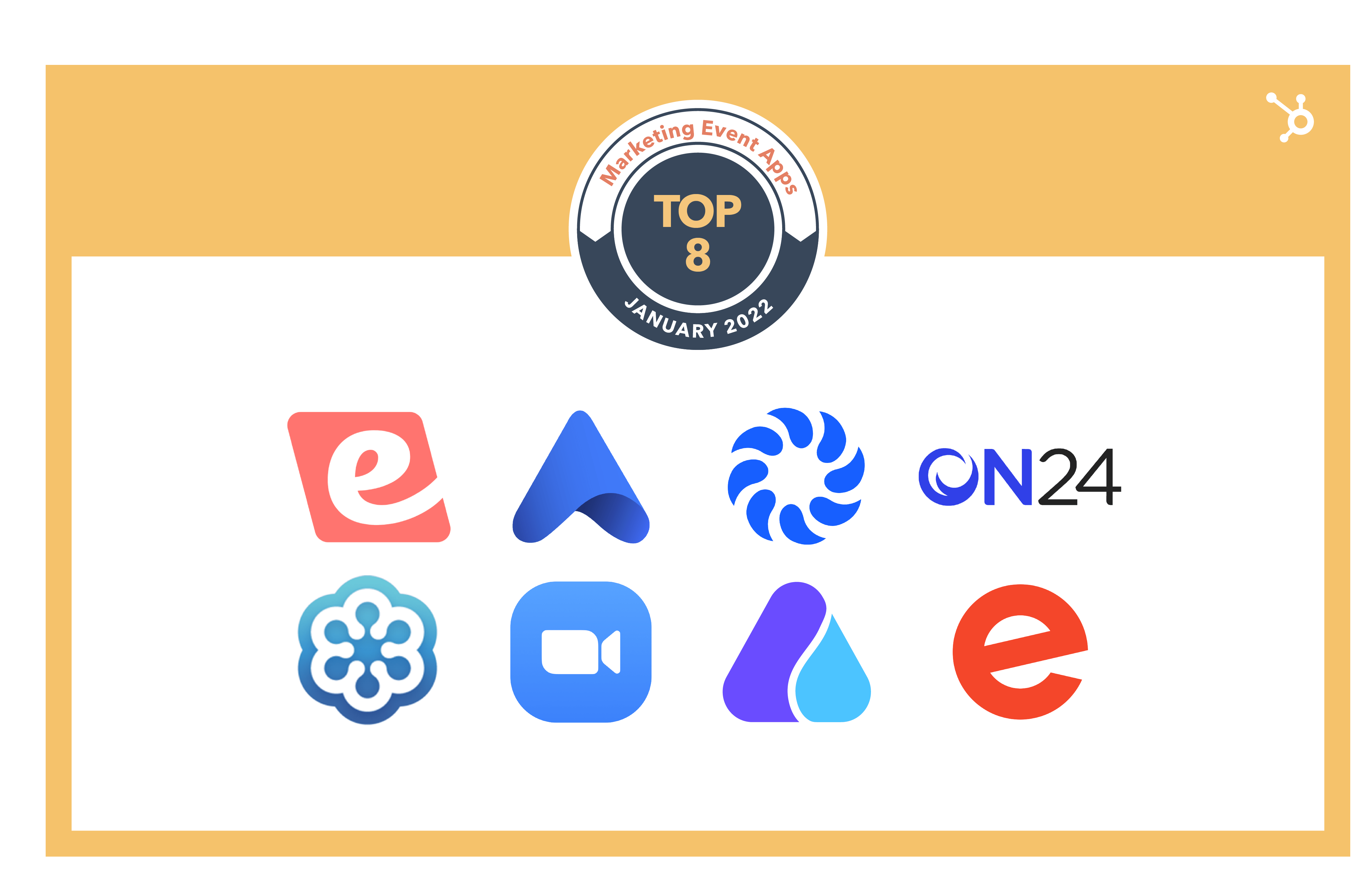 In recent months, HubSpot has added new event marketing apps. These apps sync your marketing event data with HubSpot so you can create attribution reports and get event ROI insights. Here are the most installed event marketing apps by HubSpot customers:
eWebinar : automates webinars by pairing pre-recorded videos with live interactions and chats.
GoToWebinar : syncs webinar and virtual event data with HubSpot.
Eventbrite : syncs event management and ticketing data with HubSpot.
Zoom : integrates Zoom video meetings with HubSpot.
Hopin : integrates events held in virtual locations with multiple interactive areas at HubSpot.
Airmeet : integrates the platform's interactive virtual events with HubSpot.
Accelevents : integrates virtual, hybrid or face-to-face events from the platform to HubSpot.
On24 : integrates virtual events and webinars with HubSpot.
HubSpot will continue to expand its app ecosystem over the next few years, and looks forward to solidifying its partnership with leading developers and partners to build solutions that support business growth. To learn more about the mentioned applications or to discover others, visit the application marketplace.
To go further, download this free e-book and discover the 6 reasons to adopt customer relationship management software.