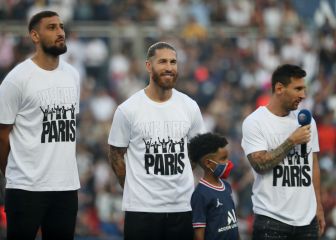 After a first post-COVID summer, in the 2021 transfer market several teams were already able to make large investments in players, either with large transfers or signing high chips at zero cost. However, many of the most mediatic signings have not given the expected level or have been, directly, a disappointment.
Curiously, the teams have known how to make adjustments in the middle of the season and great signings this January, such as Vlahovic, Ferran Torres, Luis Díaz, Bruno Guimaraes or Aubameyang have landed on their feet. A somewhat strange situation with respect to what is usual, being more normal for the footballer to adapt more quickly if he arrives at a new club in the preseason than with the competition in the middle.
Each case must be assessed taking into account its peculiarities and being aware that the conditions are different, but in this list we find from young promises with whom it is worth having patience to legends who are leaving much to be desired, passing through already established players who do not the stars that were the previous season have turned out.
Jack Grealish – Manchester City – €117,500,000
The most expensive signing of the summer has only five goals this season. Grealish is no longer a promise at 26 years old and City saw him as the offensive reference he needed, but the change in position has not been too good for him. He is asked to be more decisive and at the moment he is not.
In the two most important games of the season, the league match against Liverpool and the second leg against Atlético de Madrid, he only played 7 and 22 minutes respectively. There is still patience, but it is evidence that at the Etihad they are not seeing the 10 they imagined when they signed him from Aston Villa for that price.
Lukaku – Chelsea – €113,000,000
A scandalous figure for one of the best strikers in Europe in 2020-21. The Belgian returned to Chelsea after scoring 34 and 30 goals in the last two seasons in Italy and, this year, he has only scored 12.
He was almost unprecedented in the tie against Real Madrid and has left somewhat controversial statements regarding his future. It seems that both the club and the player are looking forward to summer so they can go their separate ways.
Sancho – Manchester United – €85,000,000
The signing of Jadon Sancho by Manchester United had been dreaming for years until last summer it became a reality. However, his return to Manchester is not going as expected. And it has not been for lack of opportunities, since he has practically always played as a starter.
At Old Trafford they still trust him and his age, just turned 22, is a good argument to accept that perhaps the pressure of arriving as a star at the biggest club in his country has been to blame for his poor performance. That United, as a collective team, has not had a good season is as much a cause as a consequence of their level.
Varane – Manchester United – €40,000,000
His last seasons at Real Madrid already left a lot to be desired and this year at United he hasn't done much better. Everything that the stands of the Bernabéu reproached him for can be reproached by those of Old Trafford. The Frenchman seems lost without a leader by his side, such as Ramos, he does not give any kind of security and has been singled out for several goals.
The status of this player, with an enviable track record, makes him trustworthy and for the moment there is no doubt that he could be one of the references of a Manchester United that has to keep reinventing itself.
Griezmann – Atlético de Madrid – Loan
The Griezmann who was fired at Atlético de Madrid in 2019 has nothing to do with the one they have found this season. Not only at the level of figures, but also at the level of sensations and leadership. The Frenchman seemed an ideal complement to a squad that only needed a couple of adjustments after winning the league and is not performing at the expected level.
Many Atlético fans are now wondering what they have to do with Griezmann after this season since, according to Laporta, the purchase option after the transfer is mandatory.
Messi – PSG – Free
It is totally a mystery to know how it is possible that a player like Messi, top scorer in the last five seasons in the League, has only been able to score three goals in Ligue 1 at this stage of the championship. His figures in the Champions League have been better, with five goals in seven games, but none in the tie against Real Madrid. In those two games it was Mbappé who proved to be one of the best in the world right now.
It is not expected that Messi will be able to leave Paris, but it is evident that in the French capital they had another image of the Argentine before he arrived at his team.
Ramos – PSG – Free
It is the bloodiest case on the list because the center-back has practically not played for PSG this season. The physical problems have been recurrent throughout the year and, at this point, he has only played nine games for his new club.
He continues to make statements stating that he can play for several more years at the highest level, but the club may have a different opinion taking into account the signs of rejection of the Spaniard in a match at the Parc des Princes.
Donnarumma – PSG – Free
The Italian was chosen as the best player of the European Championship before arriving in Paris, but in August everything went wrong. He has shared the minutes with Keylor Navas and the feeling is that he is not light years away from the Costa Rican, as one might think.
He is only 23 years old and aims to be one of the best goalkeepers in the world for at least another decade, but his first year in Paris has not been as satisfying as everyone hoped.
[