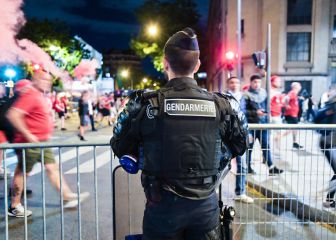 The British Minister for Culture, nadine dorries, asked UEFA this Sunday to open a formal investigation into the violent scenes experienced last night in Pariswhich delayed the start of the final of the Champions League between Liverpool and the real Madrid.
"The images and accounts of Liverpool fans and the media as they entered the Stade de France last night are deeply worrying," he said. dorries it's a statement.
the owner of Digital, Culture, Media and Sport of this country indicated that "thousands of people with tickets traveled to Paris in time to support their team in the most important match of the season".
"I urge UEFA to open a formal investigation into what went wrong and why, in coordination with stadium officials, the French Police, the French Football Federation, Merseyside Police and Liverpool Football Club," he added. .
As he remarked dorries"it is in the interest of everyone involved to understand what happened and learn lessons from these events."
The final, which Real Madrid won 1-0was marred by the violent scenes witnessed -and spread on social networks and by the media- before the start of the game, such as the launch of tear gas, robberies of fans, attacks and in general an alarming lack of security.
[