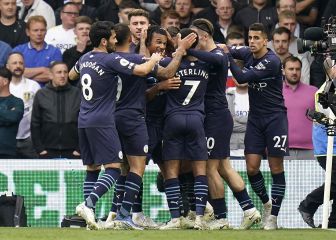 While Real Madrid celebrated its 35th League at the Santiago Bernabéu, Manchester City played the Premier League at Elland Road, the feud of Leeds United, who was unable to surprise Guardiola's team. The citizens prevailed over the locals without many complications with four goals from Rodri, Aké, Gabriel Jesús and Fernandinho with which they add 83 points, one above Liverpool, which is second in the Premier.
Klopp's team harassed City, but that didn't stop them Guardiola rested De Bruyne, Bernardo Silva and Mahrez against Leeds. Zinchenko did not start on the left side either and his position was taken by Aké, who played a commendable role in the 60 minutes he was on the pitch. Time before, the 'blue sky' they had opened the scoring with a header from Rodri.
The Spanish midfielder, who has scored five goals in his best campaign since signing for City, headed in a tense free kick taken by Foden. But the 0-1 did not intimidate Leeds, who tried to come out from behind with more intention than success: the escapes of Jesse Marsch's boys did not come to an end, despite the lack of consistency of the citizen defense, which conceded more from account.
Sterling was close to 0-2 before the break, but City had to wait for the second half to close the match. It was at that moment when the 'sky blue' team tamed the ball in that jungle of white legs from Leeds and got the goal of tranquility. Aké clinched an extension by Dias after a corner and asked to start next Wednesday against Madrid. That ended Leeds, who would still receive two more goals.
It was not his day, more lost than usual, but Gabriel Jesús saw the goal again and made it 0-3 with a good shot inside the area, which served as an appetizer for the fourth visitor goal. A whiplash by Fernandinho with which Guardiola's team locked up to the game and added three more points that took him back to first place in the Premier.
Changes
Daniel James (51′, Dallas), Zinchenko (59′, Ake), Joe Gelhardt (61′, Junior Firpo), Bernard Silva (79′, Foden), Fernandinho (82′, Rodrigo), Sam Greenwood (82′, Rodrigo)
goals
0-1, 12′: Rodrigo0-2, 53′: Ake0-3, 77′: gabriel jesus0-4, 92′: Fernandinho
cards
Referee: Paul Tierney
VAR Referee: Darren England
Junior Firpo (6′, Yellow) Grealish (13′, Yellow) I cancel (67′, Yellow
[