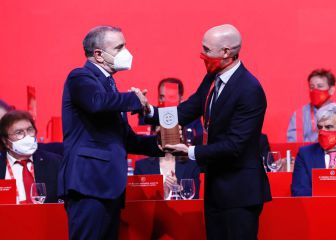 The Higher Sports Council has reacted to the latest information on the 'Supercopa Files'published by The confidential. In the last two days they have pointed out, although the RFEF has categorically denied, that President Rubiales and those around him had recorded members of the Government such as Irene Lozano and José Guirao.
José Manuel Franco, president of the CSD, in the face of this information on clandestine recordings, has asked Rubiales to offer data and his version to public opinion in the face of the commotion and while the justice investigates the facts. The Federation denied these accusations yesterday through a statement and pointed to a smear campaign against the figure of its president. But before the new publications of the Supercopa Files, the Government has requested more explanations and data. He already did it on a first occasion with the first batch of leaks (when the conversations with Piqué about the organization of the Super Cup) and now he does it again after the controversial accusations of recordings of members of the Executive chaired by Pedro Sánchez. The Federation affirms that Rubiales will answer Franco's letter.

The CSD states that these publications "which point to alleged irregular sharing" can lead to "harming the image and good name of the Federation". For this reason, Franco asks that in the time it takes for Justice to rule, Rubiales "provide public opinion with the data you have to mitigate the concern that some information has generated." From said body, it wants to respect the open investigation channels, such as the proceedings of the Anti-Corruption Prosecutor's Office, and a disqualification is not yet being worked on.

In recent days, in the information of the Files Super Cup, not only have Rubiales and the Federation been accused of several recordings of members of the Government, but also of espionage on David Aganzo, president of the AFE soccer players' union. From said institution they also requested the CSD to open an investigation into said conduct.
Letter from Franco to Rubiales
"Dear Mr. President,
the repeated publication of journalistic information that points to alleged irregular behavior in your performance as president of the RFEF can harm the image and good name of the Federation.
Your decision to put these facts in the hands of justice should help to dispel any doubts about it. As long as justice does not rule on the issue based on your complaint and those that other people may file, I think it is very convenient that you provide the public opinion with the data you have to mitigate the concern that some information has generated.
The Higher Sports Council is committed to defending the best values ​​of sport and the prestige of all sporting institutions and entities, objectives that we undoubtedly share with the Federation that you preside over".
[