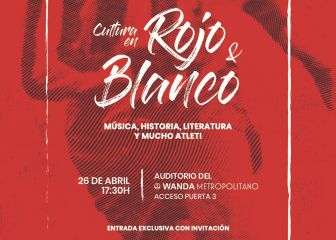 It has been two years of hiatus, like so many things in the world, but 'Culture in Red and White' returns in 2022 also. And he does it in a unique setting: the Wanda Metropolitano. The rojiblanco stadium will host for the first time these conferences that combine literature, culture and music around this axis, Atlético de Madrid, red-and-white passion. It will be on Tuesday, the day the club turns 119, at 5:30 p.m. and, to access, you need an invitation that is downloaded from free on the web Culture in Red and White (can be obtained at this link).
Organized by the 50 (José Manuel Tenorio is his father, creator and director), in this 2022, in addition, will revolve around a name, Almudena Grandes. Regular in his presentations since the 1st edition in 2015, this Culture in Red and White will have it all in mind. She was one of his great ambassadors. The rojiblanco filling everything, his life, his books, his words.
Veterans, poets, artists
"Taking advantage of the 75th anniversary of the club's current name as Atlético de Madrid, the red-and-white passion of the writer Almudena Grandes (who died on November 27, 2021) and the legends of the team will be the protagonists of the event," the club said in a statement. Legends like Adelardo, Pedraza and Roberto Fresnedoso. Cultural personalities such as Javier Olivares, Chus Visor, Julio Ruiz and Luis García Montero, widower of Almudena Grandes, present, filling the stadium auditorium. Always with a soundtrack. Because the music on Tuesday is provided by Pancho Varona. Pancho and 'The Band of the Lame Pirate'.


[