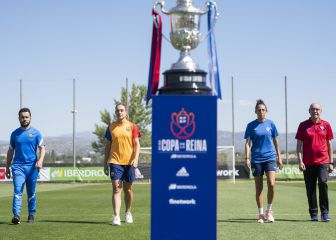 Santo Domingo hosts the grand final of an orphan Cup of Her Majesty Queen Letizia for the third consecutive year. In his absence —he does not appear in the official agenda of the Royal House— the footballers of Barcelona and Sporting Huelva will seek to be crowned in Alcorcón raising the last title at stake of the women's football season in Spain.
The Blaugrana team, great favourite, wants to remove the penalties of the Champions by winning his ninth Cup (he is the dominator of the list of winners), while Sporting will seek to give the bell as it did in previous rounds against Atlético, Madrid CFF or Granadilla, and thus add the second title in its history.
To do this, Antonio Toledo will have to restructure his defense due to to the loss of Ana Carol, injured during the semifinal on Tuesday, and maintains the doubt of a Mayra Ramírez that yesterday he returned to train on the sidelines. Ana Marcos (ten league goals) and Hannah Keane (five) will carry the weight in the albizul attack.
For its part, Giráldez added to his already extensive list of casualties (Graham Hansen, Bruna Vilamala, Jana Fernández and Cata Coll) Jenni Hermoso's, who was left out of the call again. In the center of the field remains to be seen if he continues betting on Engen, who played a great game against Real Madrid, or Patri Guijarro returns to his site.
The ones who will surely be in the middle are the incombustible Aitana and the captain Alexia, who is clear that they must win today: "As Barça it is our responsibility".
[