Goalkeeper
Fernando Martinez (Almeria)
Fernando Martínez had no rival in goal this day. The Almería goalkeeper kept a clean sheet against Burgos, for the second consecutive matchday, and he also did so by saving a penalty and his subsequent rejection.
defenses
Nolaskoain (Amorebieta)
Amorebieta beat Fuenlabrada and continues to dream of permanence (now four points behind). Nolaskoain was one of the architects of it, scoring a penalty that he himself suffered. His first goal of the season.
Juanpe (Girona)
Juanpe was omnipresent in Girona's victory against Alcorcón. The center-back was awarded the assist for the only goal, in a header to Stuani. Before, he could have scored with a shot from outside the area, which only the post prevented him from finishing inside.
Alex Sola (Real Sociedad B)

Another of those who want to continue waging war in the Second Division is Real Sociedad B. The txuri-urdines beat one of the favorites for direct promotion, Valladolid, who had gone five games without losing. Álex Sola, who already entered the eleven last week, was awarded the second goal.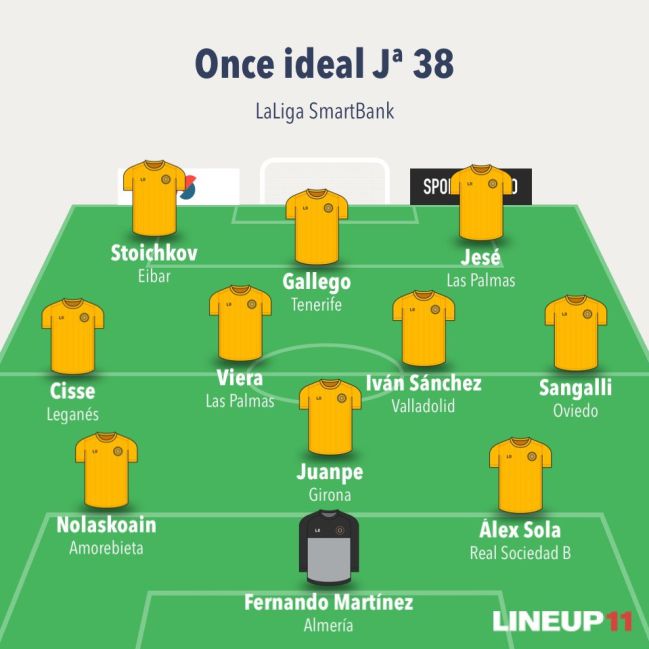 Midfielders
Sangalli (Oviedo)
Sangalli played one of his most complete games of the season, against Mirandés. He warned early, with a long run and cross shot that narrowly missed. He then claimed the assist for Obeng's goal, with a beautiful pass between the lines. And finally he received a penalty that made it 2-0.
Viera (Las Palmas)
Las Palmas has the playoff between their eyebrows and will rush their options to achieve it and of course, if you have Jonathan Viera in your ranks, everything is possible. The midfielder repeats in the eleven after another recital, rounded off with a nice goal.
Cisse (Leganes)
Cisse will not soon forget today's game against Huesca. The Guinean midfielder certified the permanence of Leganés with a brace, the first of his short sports career so far.
Ivan Sanchez (Valladolid)

Iván Sánchez played one of his most complete games since Birmingham. The midfielder was one of the few highlights in Valladolid's defeat against Real Sociedad B. His goal, a great goal, made us believe in a comeback. Excelent lash.
strikers
Stoichkov (Eibar)
Stoichkov returned to the pitch as he knows best, scoring. In fact, he did it twice, although the first one was annulled for offside. His goal, although a rebound, served to make it 1-0 on the scoreboard. A goal with a dedication to his father, recently deceased.
Jesse (Las Palmas)
Jesé is the other trick for Las Palmas to go to the playoffs. The Canarian striker has been scoring goals little by little, almost without making any noise and now has eleven. He made it 2-0 against Málaga, with a great shot with his right leg, adjusted to the right post.
Galician (Tenerife)
Strikers don't live only on goals. Gallego showed it against Lugo with a couple of assists, both with his head, in the two goals from Tenerife, the work of Mario González and Andrés Martín.
[