We hope that the start of the school year has gone well for your children, despite the health situation which remains complicated.
For us this year it's back in second for Léo, in fifth for Lou and in fifth grade for Lili.
And yes, our 3 children have grown up well and you could tell yourself that with parents who have been blogging on Benevolent Parenthood for more than 10 years, everything is running like clockwork today …
But nay!
Life is far from being a long calm river when you have children (you must know something about it if you read this email ;-).
There are ups and downs… and it's perfectly natural!
Because finally … a family is like a garden :
In nature, certain plants and vegetables are close together, that is to say that they grow better together and protect each other against diseases and pests.
But others don't always get along.
Each plant, flower, vegetable, tree… needs more or less water, more or less attention, more or less sun or shade.
Some seeds take longer to grow than others.
Each has its own particularities, and yet all are "necessary", unique, tasty and can combine in a harmonious way to form an abundant garden, where all the roots end up intertwining.
In a family it's the same.
Each person has their needs, their language of love, their energy, their desires …
There are the "good, simple and easy moments with the family" and the "moments of conflict, stress, incomprehension"… Some people work easily together, in all circumstances, for others it is more complicated.
To be a parent is to be a gardener.
Compassionate Parenting is not "a to do or be list," which we have to follow without ever taking a wrong step.
Not even a list of children's behaviors that would be good or acceptable.
There is no one-size-fits-all truth, no one-size-fits-all recipe.
Each family is unique. YOUR family is unique.
You have your own sensitivity, your own personality, your own functioning.
Benevolent Parenthood is a way of life, a way of seeing one's children, one's family, one's couple as a whole, as a set of people, living together, where each one is unique and precious.
It is a path of experimentation and learning!
What if that was the secret? :
EXPERIMENT
To test, to know by experience
***
Support your children with kindness, build a harmonious relationship, respectful communication, create a relationship with your children based on the bond of attachment …
It is an attention of every moment, of a lifetime !
We have to observe, discover, experience what suits us, every day.
It is wrong to believe that because something works in the moment, everything will be fine forever.
Everything is created and invented at every moment!
Moreover, even if they do exist, there are rare quiet days in the garden, where everything is "in order": There is always compost to bring, seeds to sow, plants to transplant… and flowers to admire.
And all this taking into account the weather!
Sometimes certain storms and thunderstorms require putting the garden in order, taking care of the plants, repairing …
Official Announcement! :
We would like to pass on to you today everything that has allowed us to look at the beauty, the quality and the importance of each one: cabbage, leek or strawberry …
We would like to introduce you to the favorable environment and everyone's needs for water and compost.
So that you can see your family as a big garden of all colors, with all the flavors and the diversity that life has to offer.
It is with this in mind that our Online Program "Growing Up and Raising as a Family" was born.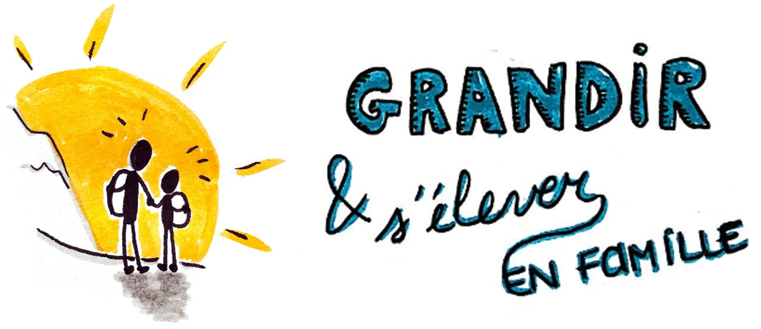 This program doesn't do the gardening for you. It teaches you how to garden!
We share there, after 10 years of experiments with our children, our library of tools and all the information that was essential to us, to build (and continue to build) a united, harmonious and supportive family team.
A team that tests and grows, together. For better and for worse ! 🙂
On the occasion of this new school year 2021, we suggest that you register for this program at a very preferential rate from Monday 20 to Sunday 26 September.
Whether you are interested in this program or not, we invite you to discover the series of articles that we will publish next week and in which we will offer you many gifts, extracts from the program!
See you soon…
Camille and Olivier