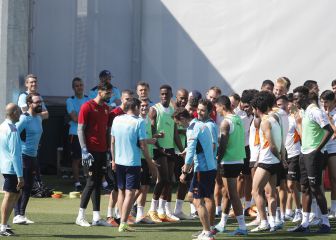 Betis and Valencia offered just two weeks ago an ode to football in Seville, a show in capital letters, a final that was resolved by penalties after 120 minutes of passion in the stands and with a physical and emotional waste on the pitch. Today Valencia and Betis meet again in Mestalla, although in an insipid version of the final, a low-cost remake, a duel without the salt and pepper that it had in La Cartuja, because Bordalás' Valencia threw in the towel a long time ago for Europe and Pellegrini's Betis burned their last cartridge for the Champions League against Barcelona. Mathematically, he can still reach fourth place (he is 6 points behind Atlético and there are 9 left to play), although he will do a lot -and he will have merit in his year- if he remains fifth in the table (he has Real Sociedad at 2).
In the last Bordalás press conferences there is much talk about the future and nothing about the game that is yet to be played. It is what it has to be in no man's land in the classification, for the third year outside Europe and with a planning conditioned by the sales to be made (Follow today's game live on As.com).
Valencia accumulates six days without winning -it has not done so since March 19-, it is signing a worse second round than it was its first and adds only 4 more points (44) than those that Valencia de Javi finished the season with Gracia (and Voro), to whom they sold to many and did not sign anyone, and 9 less than Celades (and also Voro), who had all of Marcelino's. At least the players show bullfighter shame and competed in their own way against Levante and Athletic, with Mamardashvili in giant plan.
Betis' trajectory in the league also asks that what will be a season they will never forget come to an end soon. Between Easter, Cup and Fair, four days without winning. This is how Champions escaped him, that the truth was not his war. But Pellegrini wants to tie the fifth place and will pull the best pieces from him. Rui Silva will continue after Bravo's injury, William Carvalho points to the starting eleven and Willian José wins ballots above.
[