During the last days, what they have dubbed the world's first electric fire truck has been presented and we have not been able to resist knowing all the details of this interesting model.
As we have done with the first electric ambulance or the first electric police motorcycle, the first electric fire truck is a challenge and there is nothing more important than the emergency services for them to be aware of autonomy of the vehicles.
From my humble point of view, a Emergency vehicle must be available 24 hours a day and must even do so or be able to do it on marathon days And it is that catastrophes do not warn or have an established calendar or schedule, they arise when they arise and you have to be prepared, not waiting for the car to recharge or for the equipment to have a certain autonomy.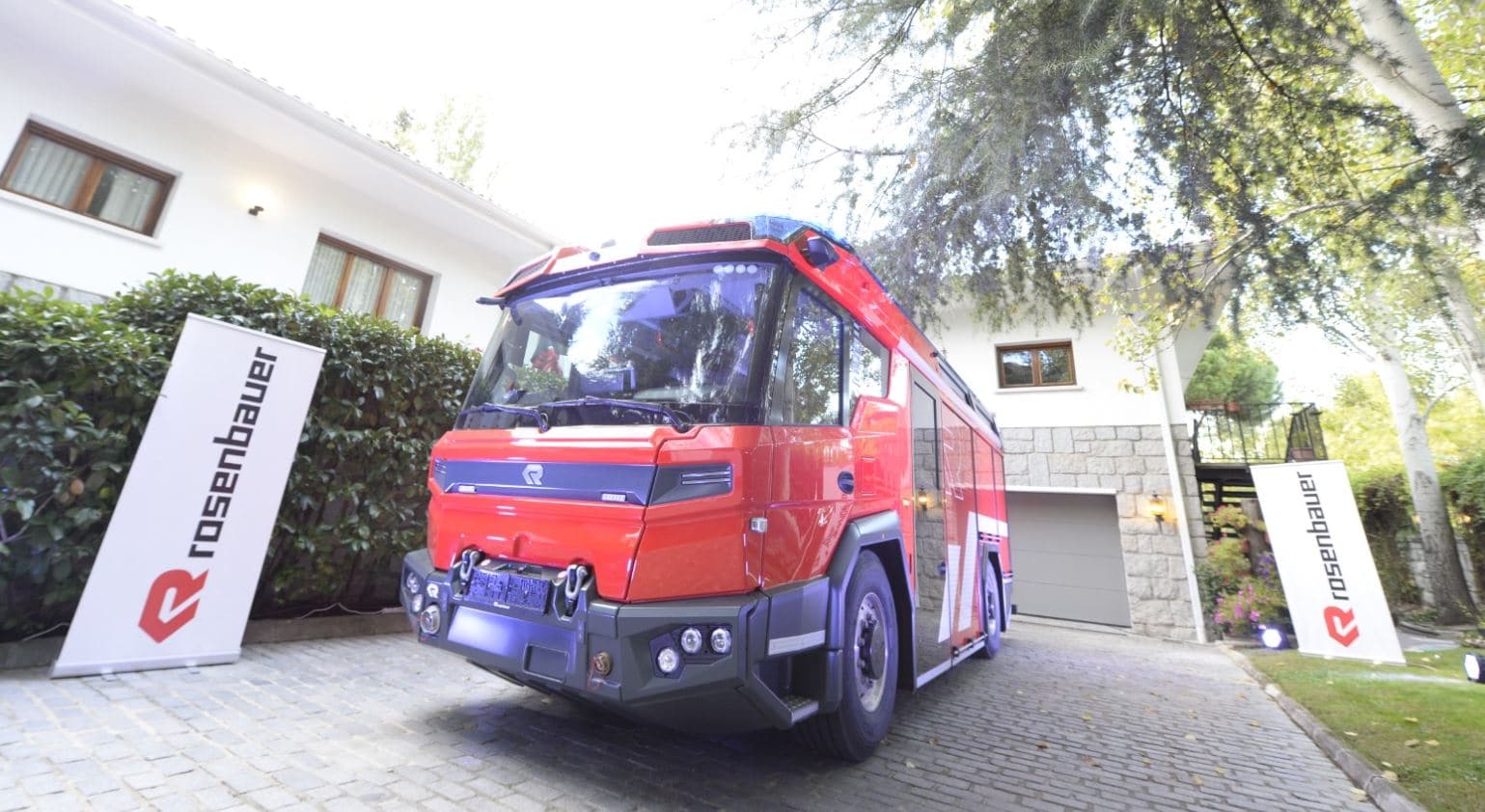 Despite this, the 100% electric fire truck we are talking about, he saves himself and does it, because not 100% electric.
Rosenbauer has designed this vehicle from scratch, without compromise, so the new construction concept that has been applied is revolutionary in terms of the architecture of a fire fighting vehicle, allowing for example a cabin that becomes a meeting room of command, a very low center of gravity and a more balanced distribution of weights between the axles, for which it is possible to have more stability and reduce the risk of accidents.
The (RT) has been designed with the latest technological advances in which special emphasis has been placed on reducing emissions. Both the movement and the pumping operation or the actuation of the extinguishing or rescue tools can be carried out electrically., feeding directly from the batteries – unfortunately they have not given us the autonomy with the batteries charged to 100% -.
The RT can be loaded with alternating and direct current, depending on the infrastructure available, without having to use a specific device and using a standard industrial outlet.

All RT models can be individually adapted to the intervention environment, especially with regard to fire suppression technology: the volumes of water tanks range from 1,000 liters to 4,000 liters and those of the foam tanks, between 50 liters and 400 liters. In addition, it has both normal pressure pumps and combined pressure pumps that in all cases can be driven by the electric motor powered exclusively by batteries or, especially for prolonged interventions, with diesel fuel thanks to a range extender and this is where the success of this electric fire truck will lie.
The RT – Revolutionary Technology Demo NISA-1 features air-type independent suspension and a height-adjustable chassis (175-250-350-470 mm). The model has a 4100 mm wheelbase and offers a turning diameter of about 13.5 meters.
The model moves thanks to two 180 kW electric motors powered by two 66 kWh batteries. In addition, the truck has a 200 kW diesel engine This will allow the battery to be recharged to make the truck's autonomy almost "infinite" (obviously depending on the state of charge of the batteries and the fuel tank).
With a cabin of Seats: 1 + 6 (2 front / 4 side / 1 rear), this interesting fire truck weighs 18,000 kg and is 7600 mm long, 2350 mm wide and 2900 mm high.
We see the future but it seems to us that it complicates the technology a lot. We believe that diesel fire trucks still have a lot to give.
What do you think?
Source | Rosenbauer