These days the marketing of the renewed Ford Focus starts in Spain, one of the most important compact in the segment. It lands with important improvements in the standard equipment, in the interior design and with the two well-known bodies, the five-door hatchback and the practical station wagon.
The initial offer of the renewed Ford Focus 2022 kicks off with the 1.0 Ecoboost of 125 hp with and without light hybridization, 1.0 Ecoboost of 155 hp and culminates with the 2.3 Ecoboost of 280 hp. In diesel, the 1.5 EcoBlue 120 hp both with manual and automatic gearbox, the latter also available for the rest.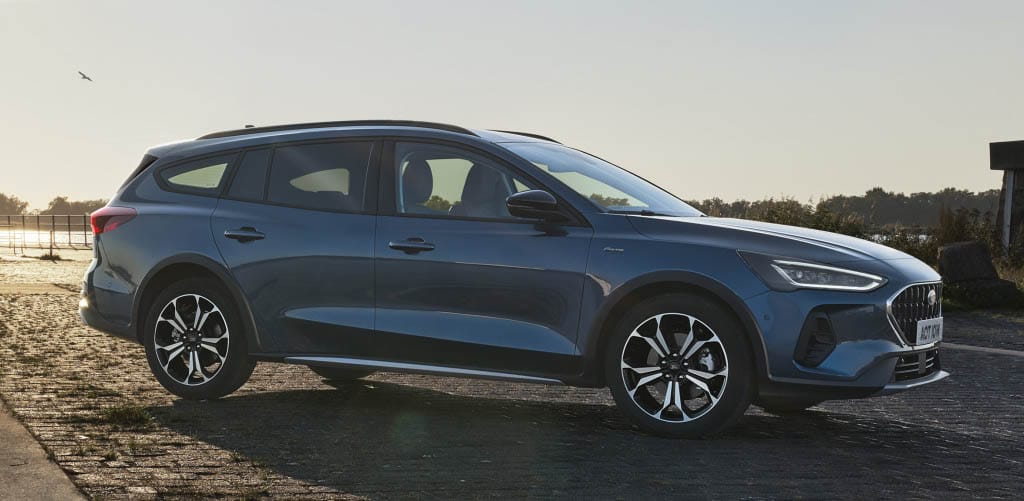 Trim levels They are called Trend +, ST-Line, ST-Line X, Active, Active X, and ST. From the simplest they already have EcoLED headlights, fog lights, pre-collision warning, alert and lane assistant, pedestrian, cyclist and fatigue detector, automatic lights, control and speed limiter, etc.
Also standard are air conditioning, four power windows and mirrors, trip computer, navigation system with 8-inch screen, DAB radio, Apple CarPlay, Android Auto, multifunction leather steering wheel, alloy wheels, driving modes, electric handbrake, etc.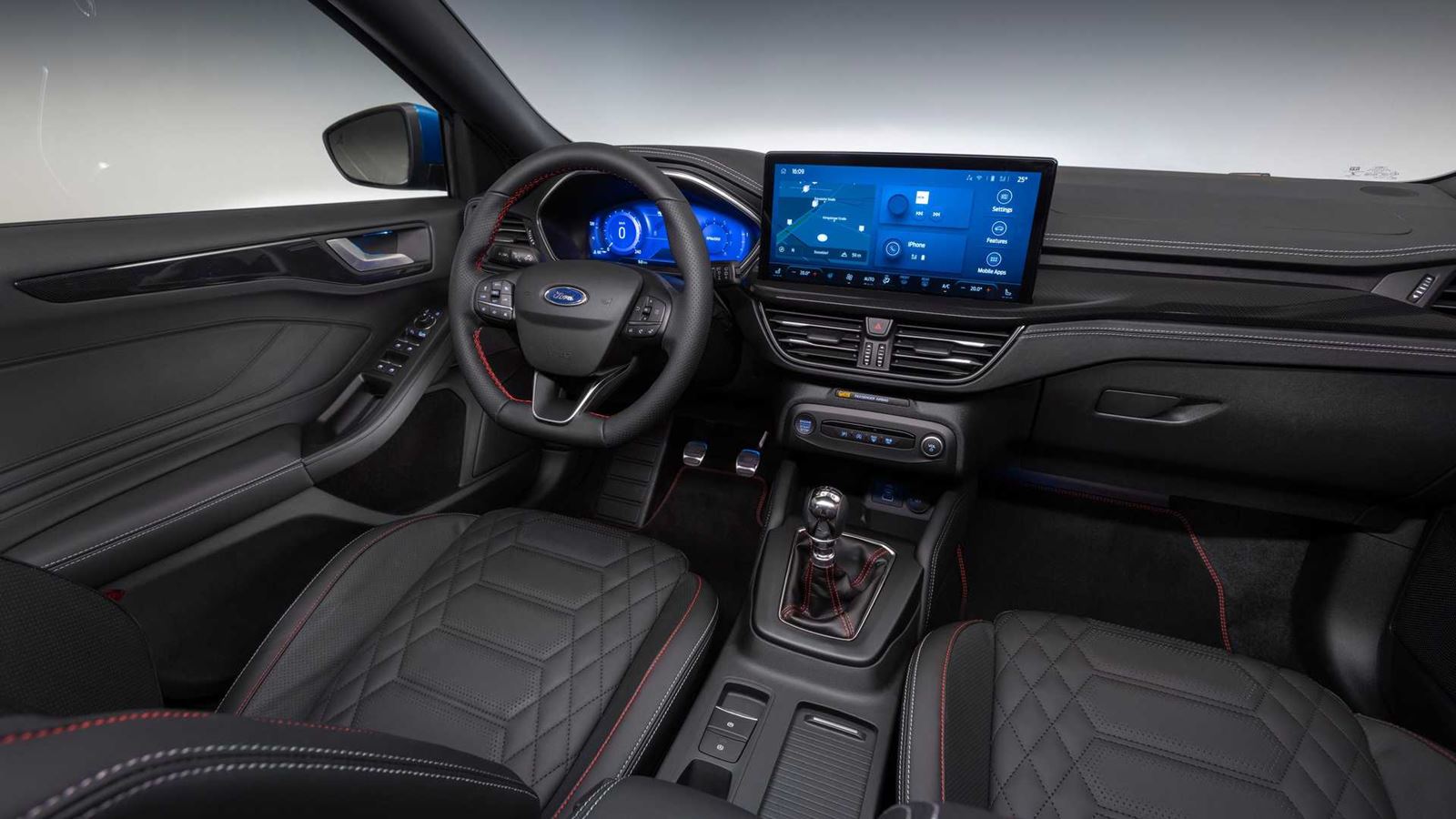 In the most complete they can include the 12.3-inch display for instrumentation, dual climate control, automatic parking assist, blind spot detector, Head Up Display, heated seats, keyless access, alarm, body protectors (Active), over-raised suspension, etc.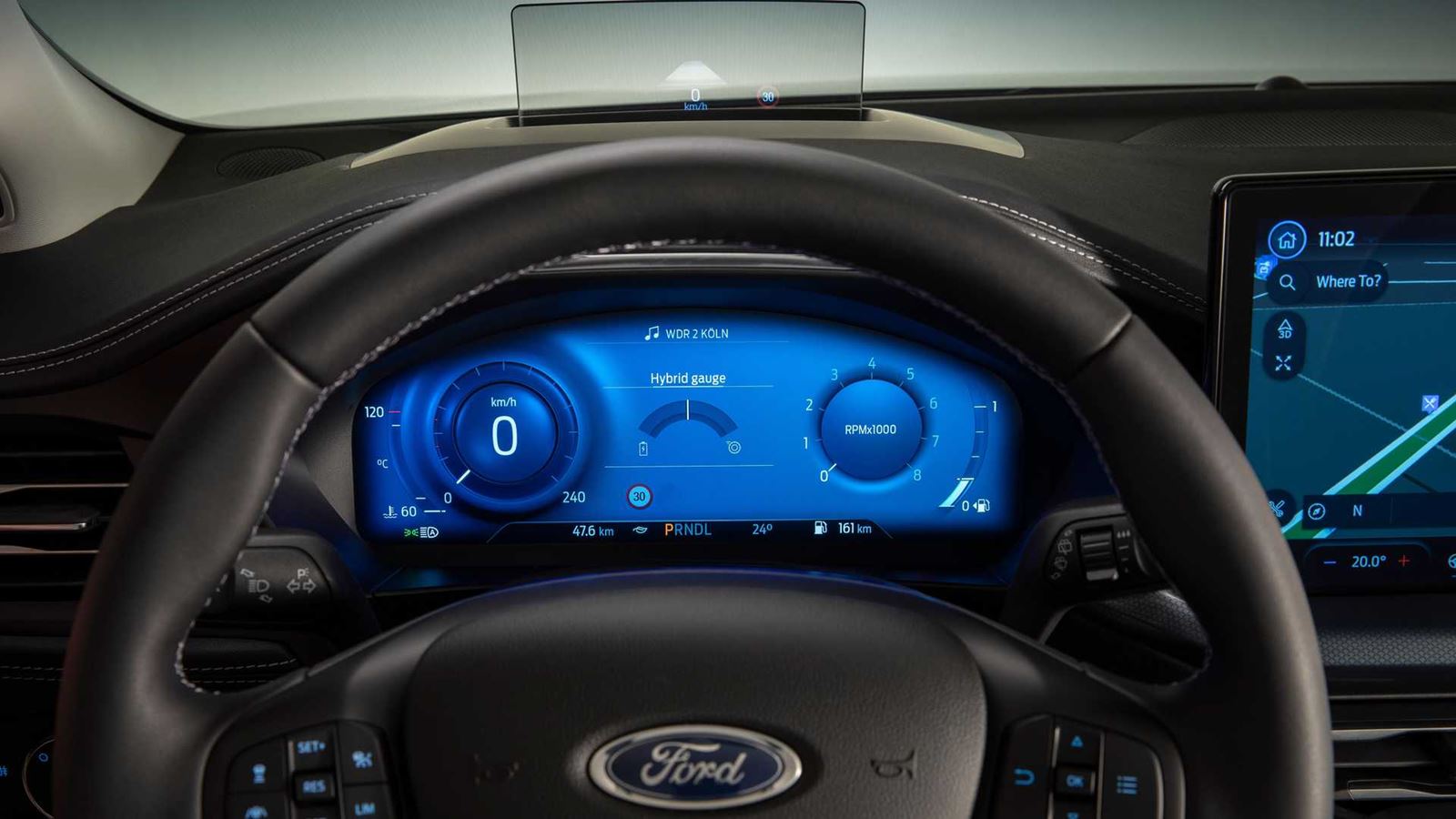 The recommended prices are as follows:
FORD FOCUS 5P
| | | | | | | |
| --- | --- | --- | --- | --- | --- | --- |
| MOTOR | TREND + | ST-LINE | ST-LINE X | ACTIVE | ACTIVE X | ST |
| 1.0 ECOBOOST 125 CV 6MT | 24,282 | 25,974 | 26,967 | 26,299 | 27,292 | – |
| 1.0 ECOBOOST 125 CV 6MT MHEV | 25,376 | 27,096 | 28,096 | 27,421 | 28,421 | – |
| 1.0 ECOBOOST 125 CV 8AT MHEV | 26,977 | 28,691 | 29,653 | 29,003 | 29,966 | – |
| 1.0 ECOBOOST 155 CV 6MT MHEV | – | 28,296 | 29,296 | 28,614 | 29,602 | – |
| 1.0 ECOBOOST 155 CV 8AT MHEV | – | 29,845 | 30,808 | 30,158 | 31,213 | – |
| 2.3 ECOBOOST 280 CV 6MT ST | – | – | – | – | – | 37,809 |
| 2.3 ECOBOOST 280 CV 8AT ST | – | – | – | – | – | 40,449 |
| 1.5 ECOBLUE 120 CV 6MT | 26,376 | 28,096 | 29,096 | 28,421 | 29,421 | – |
| 1.5 ECOBLUE 120 CV 8AT | 27,651 | 29,335 | 30,328 | 29,661 | 30,654 | – |
FORD FOCUS SPORTBREAK
| | | | | | | |
| --- | --- | --- | --- | --- | --- | --- |
| MOTOR | TREND + | ST-LINE | ST-LINE X | ACTIVE | ACTIVE X | ST |
| 1.0 ECOBOOST 125 CV 6MT | 25,378 | 27,071 | 28,071 | 27,396 | 28,348 | – |
| 1.0 ECOBOOST 125 CV 6MT MHEV | 26,476 | 28,196 | 29,134 | 28,498 | 29,450 | – |
| 1.0 ECOBOOST 125 CV 8AT MHEV | 28,073 | 29,749 | 30,663 | 30,075 | 31,027 | – |
| 1.0 ECOBOOST 155 CV 6MT MHEV | 27,676 | 29,373 | 30,325 | 29,698 | 30,650 | – |
| 1.0 ECOBOOST 155 CV 8AT MHEV | – | 30,950 | 31,903 | 31,275 | 32,227 | – |
| 2.3 ECOBOOST 280 CV 6MT ST | – | – | – | – | – | 38,482 |
| 1.5 ECOBLUE 120 CV 6MT | 27,476 | 29,196 | 30,147 | 29,521 | 30,471 | – |
| 1.5 ECOBLUE 120 CV 8AT | 28,739 | 30,432 | 31,384 | 30,758 | 31,709 | – |