Since its creation in 2010, Instagram has continued to develop. Today, the social network brings together more than 1.08 billion monthly active users, including 21 million users in France. Its success places it at the third step of the podium of social networks, behind Facebook and YouTube.
> Download: The 2021 Instagram Trends Report"/>
Building on its success, Instagram is a promising communication channel for businesses. Especially for those who have a female or young target since 70% of its users are under 34 years old and 52% are women.
But Instagram is a social network that has its own codes. This means that you have to respect certain rules to break into the platform and take advantage of the visibility it has to offer. These rules relate to several points including graphic codes. Indeed, to create a harmonious feed and catch the eye in the users' news feed, it is important to respect Instagram image formats.
Instagram image formats
Instagram is an image-based social network. That is to say that on this platform the visual content (image or video) is the one that takes precedence. In addition to the quality of the content, the content must respect certain formats, everything depends on whether it appears in a publication or in a story.
Profile picture format
The profile image is not clickable, so it appears in small format. In order not to hamper its understanding, it is advisable to select an easily identifiable image such as a logo for brands or a portrait for personal brands (personal branding or influencers).
Regarding the Instagram format for the profile image, the format to respect is 150 x 150 pixels or 110 x 110 pixels.
Square image format
Historically, the format of posts on Instagram is square and the display of visuals is 293 x 293 pixels. However, the format to respect is 1080 x 1080 px.
Format of a vertical image
Today Instagram allows other formats for publications than the square format such as the vertical format and the horizontal format.
The vertical format is interesting to use because it takes up more space on the news feed. It therefore offers more visibility on the news feed than the square format.
To use the vertical format, you need a file of 1080 x 1350 pixels. The post image will however appear as 239 x 239 on the feed.
Format of a horizontal image
The horizontal format allows you to publish landscape photographs on Instagram. Strategically speaking, this format does not add more than the other formats. In addition, you have to be vigilant, because the visual is automatically cropped in square format in the feed.
This type of format is not necessarily recommended on Instagram with the exception of photography accounts. People wishing to use it should use 1080 x 608 pixel visuals although the image will be cropped to 293 x 293 pixels in the feed.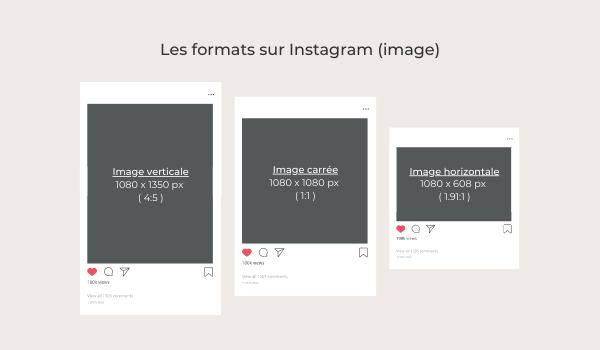 Video formats on Instagram
Videos are increasingly popular on Instagram. The platform had set up IGTV in 2018 in order to compete with Google.
In June 2021, Instagram said it no longer wanted to be seen as a photo-sharing social network. In fact, the focus is on video content with the aim of competing with TikTok, the Chinese social network. The Reels, this new format of short 30-second videos recently appeared for this purpose.
Video would therefore be the type of content to focus on to develop your Instagram account. But for videos to have a real impact, we must once again respect certain formats.
Video in story
Stories are ephemeral 24-hour content dedicated to display on smartphones. Much less worked on than the content shared via the feed, the stories are generally filmed directly via a smartphone.
Although it is not possible to schedule story content, it is often prepared in advance by brands. This makes it possible to anticipate communication campaigns for the launch of a new product, for example.
In this case, the ideal format to respect is 1920 x 1080 pixels. But other formats are accepted by Instagram like 9:16, 4: 5 and 16: 9.
Reels
Like stories, Instagram Reels are video content dedicated to display on smartphones. The ideal format to respect is 9:16 and the video cannot exceed 30 seconds.
Reals have their own tab. However, the content will be displayed in 293 x 293 format if the user decides to include it in their feed.
Video in the feed
Instagram users can post videos in the 600 x 600 pixel square format (1: 1 ratio) or videos in the 600 x 700 pixel horizontal format. It is important to note two things:
The duration of the videos in the feed cannot exceed 1 minute;
The display of videos in the feed will be automatically cropped to a square format of 293 x 293 pixels.
IGTV
IGTVs allow long videos of up to 60 minutes to be posted. Several indications should be noted on the formats of IGTVs:
An IGTV can be in a 19: 9 horizontal format or in a 9:16 vertical format;
Instagram's app does not allow posting of IGTVs longer than 15 minutes;
IGTVs longer than 15 minutes must be published from the web version of the social network;
Just like the real ones, IGTVs have their own tab;
IGTVs also have their own mobile application.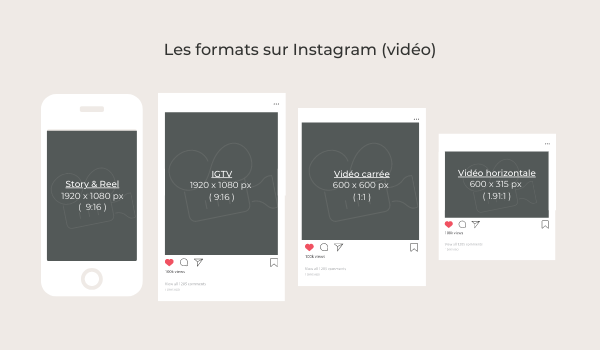 This article has just presented all the Instagram formats to follow to optimize the display of content. To go further, check out this 2021 report on engagement on Instagram.