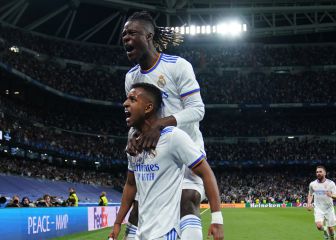 Real Madrid got into a new European Cup final after another historic comeback, even more complicated than the previous ones in this edition of the continental tournament. Against PSG he turned the 1-0 first leg in the 90 minutes of regulation, against Chelsea he needed to reach extra time to make it 2-3 that earned him a pass to the semi-finals and against City, the triple somersault, with corkscrew included : two goals in 90′ and 91′ to stay alive and another one in extra time. City was a finalist and ended up buried by an incandescent Bernabéu and by a Madrid that, in addition, showed that its future is assured.
Because the comeback came accompanied by a clear generational change, what Americans usually call a 'coming of age', the passage from adolescence to football maturity of several players who have meant a significant investment, one that at certain times is not he saw clearly, but now it is revealed to be correct. With this eleven Madrid formed when he scored the tie and 2-1, all in just over a minute: Courtois; Carvajal, Militao, Nacho, Mendy; Camavinga, Valverde; Rodrygo, Asensio, Vinicius; and Benzema.
Curiously, the first three changes of Real Madrid were the three members of its core line, Kroos, Modric and Casemiro, the engine room of the team that won three consecutive Champions Leagues (in addition to the fact that Modric and Casemiro had already been in the Lisbon title in 2014, albeit in roles at quite different levels). Ancelotti saw his midfield fatigued and his pulse did not shake to leave everything in the hands of Valverde (23 years old) and Camavinga (19).
Carletto refuses to talk about his three tenors of football creation in the past, but he does admit that the replacement is ready and that next season, he will probably deepen that succession: "Kroos, Modric and Casemiro did a great job for 70 A fantastic job, but we knew it could cost them a bit more towards the end. The future of Madrid is assured, these three are going to continue and behind them are young people of great quality".
Valverde was a bet integrated into the Madrid youth academy and underpinned with a loan at Deportivo so that he would gain ground in the First Division. It has been difficult for him to settle down, the injuries have not helped him in the least, but against City Ancelotti showed that he is a fan of the Uruguayan's qualities, lining him up in that mixed role of false right winger, in which he also happens to be the fourth middle and, if necessary, a reinforcement right side. 'El Pajarito' spoke before the first leg and was precise when assessing the magnitude of the leap required of him: "I started the season as a starter, but then I lost my position. And I don't want to lose it any more."
The Camavinga thing has surprised Ancelotti himself. He came from Rennes for 40 million and was only 18 years old, in a season that should have been one of adaptation and learning for him, and in his first months he showed aptitude, but also excessive impetus, which usually translated into avoidable reprimands. But the Champions League has shown the best version of Camavinga, and no tournament like the European Cup to measure whether or not a footballer is valid to play for Real Madrid. It is the tournament that defines the white club, it is impossible to fit into it without also doing it in the Champions League.
And Camavinga fits like a glove: Madrid's best minutes against PSG, as well as his three goals, came as soon as the Franco-Angolan entered the field; against Chelsea he entered with 0-2 on the scoreboard and, two minutes later, he saw how the team received the 0-3, but he did not shrink and generated strength to climb up to 2-3, being fundamental with a steal of the ball that it would end in a decisive goal from Benzema; and against City, he signed 45 powerful minutes despite the risks he had to take, with 20 good passes out of 26, 5 duels won out of 8 and three recoveries. Together with the two of them, Ceballos also left good minutes in extra time; its season finale is being hopeful, It remains to be seen what agreement he reaches with the club this summer, since he has played little this season and only has one year left on his contract. If he doesn't renew, his departure is more than likely.
Militao, the center of the 50 million
On defense, Mendy didn't have his best day; The 48 million investment is highly justified on the defensive side, in which the Frenchman is unapproachable, but his performances with the ball are beginning to be worrying. In any case, the arrival of Rüdiger this summer will probably displace Alaba to the left, so it seems difficult for him to be undisputed at Real Madrid 2022-23. However, he can say that the comeback was thanks to him: he took Grealish's 0-2 off the line, giving life to a drowning Madrid.
The one who will be for sure is Militao, the central defender of the 50 million who started with doubts, who finished last year as a starter due to the circumstances to embroider him and who this season has risen as the defender that Madrid went to look for Porto. He was thriving in the duels (he won 8 of 16), recovered 6 balls and caused three fouls, appearing a lot in the attack, although he was unable to finish off. He was accompanied by the best possible version of Nacho, a veteran to whom that nickname of "the one who always delivers" is tiny. And all of them, under the protective mantle of Courtois (29 years old, mature age for a goalkeeper), who closed the door on Grealish on another clear occasion for 0-2.
In the attack, it was not the best day for Vinicius, who did damage by overflowing, but who was very lost in the shot; he missed his best chance at the start of the second half, with everything going for him. But his constant hammering down the flank is a blessing for Madrid, which stifles its rivals on the left and incidentally takes advantage of those moments to breathe when it needs it most. He arrived in exchange for 45 million from Flamengo at only 18 years old, suspicions about his poor definition threatened to take its tollbut this season, at the hands of Ancelotti, he has broken into the player that Madrid knew was there: they have scored 18 goals and 19 assists this season.
Vinicius and Rodrygo, the children of the goal
Yes, a figure came out on top in the second leg against City, it was that of Rodrygo, the most discussed of the two young Brazilians this season. His love affair with the Champions League is evident: he has scored five goals in the competition this season, having only scored three in the league; He participates in a goal every 72 minutes in this edition of the European Cup, a remarkable level of influence, and he is showing himself as a shock from the bench: it was in Seville, scoring one goal and giving another, and also against Chelsea, scoring the 1-3 that gave life to the whites to reach extra time.
The 40 million it cost seemed too much for a player who is having a hard time being constant, especially in low-intensity games. But his connection with the Champions League is above any other consideration, for that alone he knows that Madrid can be his home forever: there are 11 goals and 7 assists in 1,153 Champions League minutes with Madrid. He participates in a goal every 64 minutes in the European Cup. Big words. Against City, he believed more than anyone to appear incognito in the small area and score 1-1, and then he released an unappealable header for 2-1, almost immediately. Somewhat younger than Vinicius, Rodrygo also has a place in the Madrid of the future, the one who can win his first Champions League in Paris on May 28, if he manages to beat Liverpool at the Stade de France.
[