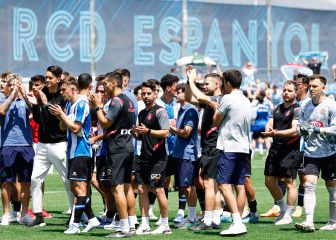 Espanyol B was left on the verge of promotion to the First RFEF, but the failure to achieve the objective will cause changes in the second team. There are players who have already accumulated at least two seasons and who prefer a loan to a First RFEF or a Second, while others consider that their cycle has already ended and that it is time to move up to the first team. The sports and grassroots football management, with Domingo Catoira and Luis Vicente Mateo in charge, already have meetings scheduled for next week.
There will be many players who will start training with the first team during the pre-season, such as Max Svensson, Rubén Sánchez, Dani Villahermosa, Jofre Carreras, Omar El Hilali or Roger Martínez, to cite a few examples. Different cases. Players like Carreras, Villahermosa or Svensson hope to convince Diego Martínez and stay in the first team after having made his debut this season in the First Division. Others like Rubén Sánchez or Omar could go out on loan in case they do not get a place in the first teamsomething complicated considering the 'overbooking' that there is of right sides.
The players themselves and their agents hope that the youth policy will change. Although this season players have made their debut on an occasional basis (Joan Garcia, Carreras, Lluis Recasens, Gori, Villahermosa, Luca Warrick or Rubén Sánchez), they have barely had continuity. Vicente Moreno, due to the urgencies to obtain salvation, was not a coach who gave too much flight to those below despite the fact that the sports management defended the idea of ​​"accelerating processes". Some of them look to their neighbour, Barcelona, ​​which out of necessity has had to resort to very young players who have managed to establish themselves in the first team or at least have a few minutes.
Although Luis Vicente Mateo has one more year on his contract, it has not been guaranteed that he will continue at the head of the quarry despite the fact that he continues to schedule meetings. After the staggered decisions that Chen Yansheng has been making in recent weeks, from the first team to the Women's, some sources do not rule out that he could also change the managers of the academy, even though they depend more on Domingo Catoira. Waiting for these news, everyone trusts that with Diego Martínez the opportunities will reach the most promising players in a firm way.
[