Key facts:
The Lightning network has achieved tremendous growth since the beginning of 2021.

Within a few months, the capacity of the network, in terms of bitcoin deposited, exceeded the figure of 3,900
The decentralized network of instant payment channels called the Lightning Network has doubled its number of monthly transactions. An exponential growth for the network, used by many bitcoin (BTC) users.
The Lightning network has grown 410% in the number of transactions, counting from the beginning of 2021, according to reports Arcane Research, a company dedicated to blockchain research. The data shows that the number of transactions has grown from 100,000 at the beginning of 2021 to 500,000 as of today.
Another great growth was the amount of bitcoins that were deposited on the Lightning network, which peaked at 3,942 BTC Starting from 2021 to the current date, which would be more than 123 million US dollars (USD), according to the CriptoNoticias calculator. These data were provided by Amboss Spaceone of the lightning network explorers.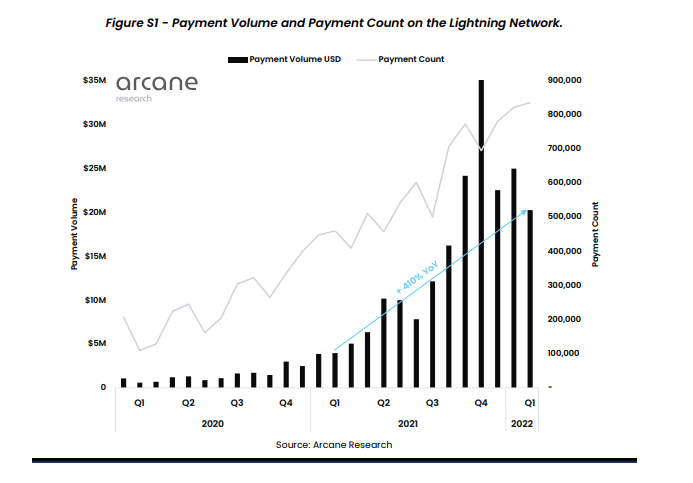 Not only has the amount of BTC on the Lightning network increased, but also the capacity of payment channels with more than 82,000 channels, according to Amboss. The number of nodes also grew from 8,288 at the beginning of 2021 to 16,260 today.
The capacity of the Lightning Network is the amount of BTC that are deposited in the channels, which indicates the liquidity of the network.
An interesting fact is that the number of transactions grew more than the amount of money deposited in the payment channels of the Lightning network. Last year many people deposited money, betting on adoption, in the network. However, this year, albeit with fewer deposits, there was more everyday use of Lightning Network payment channels.
The Lightning network grows exponentially thanks to its adoption
One of these factors growth of Lightning is the financial and educational support provided to developers of the lightning network. A recent case is that of Francisco Calderón, a Venezuelan programmer who was awarded a scholarship by the Human Rights Foundation thanks to his work with the Telegram bot Inp2Bot, with which you can exchange satoshis for fiat money, without custody, identification and directly from the same social platform.
Another factor was the integration of the lightning network to different digital platforms, such as the case of BitPay, one of the most important bitcoin-based payment processors in the market, as reported by CriptoNoticias. This allows merchants to accept BTC more quickly.
In The last factor would be the adoption of this network in different countries and regions. Latin America has become the protagonist worldwide in terms of the adoption of the bitcoin Lightning network thanks to El Salvador and its many initiatives, such as Bitcoin Beach in El Zonte, the region that has become the benchmark for the use of the network of payment channels in BTC, among other initiatives.