Among all the issues that we have to rethink, not only from the pandemic, but as an important part of life, is the way we live and practice sexuality. The challenge now is to take it to the next level.
Talking about orgasms at present is taken with a good dose of naturalness, however, when focusing on this term it is difficult to separate it from intercourse, since we assume that the only way to achieve it is through having a good lover or learning to know and caress the body to recognize those points where you feel an explosion of pleasant sensations.
And although this last idea is also correct, the truth is that the time to learn to live from pleasure has arrived, and as he explains Karina Velasco, author of the book The future of sex, Editorial Grijalbo, "it is necessary to learn to cultivate pleasure and live from it; We must change the system of living in suffering. I have understood it from my own experience and that of people close to me, my friends, who had lived unsatisfied, with stories of guilt for not feeling an orgasm. "
The fear of enjoying
Despite the fact that sexual matters today are treated with a little more openness, Karina Velasco points out that this fear of living sexuality still reigns because there are archaic beliefs that fill us with shame, guilt and fear.
As an example, she mentions that women have been taught that feeling sexual pleasure and desire is unworthy, while the pressure to satisfy the other and the insecurity of having a pregnancy or contracting a disease are factors that limit orgasmic energy.
The new way of living sex
Karina Velasco He says that research is a first step, since what we know about sexuality is less than 10% of our sexual capacity and most of us are full of repressed desires that we do not express.
"Everything we learn is through entertainment, pornography and social media, which is why we relate to sex in a disoriented and unreal way," he says.
But it also influences the disconnection that we have with ourselves, which prevents us from knowing each other and at the same time is a limitation to communicate with the couple and this is because we spend long periods of time socially disconnected and focused on mobile devices, even looking for a partner to through applications, instead of preferring to live in person with someone.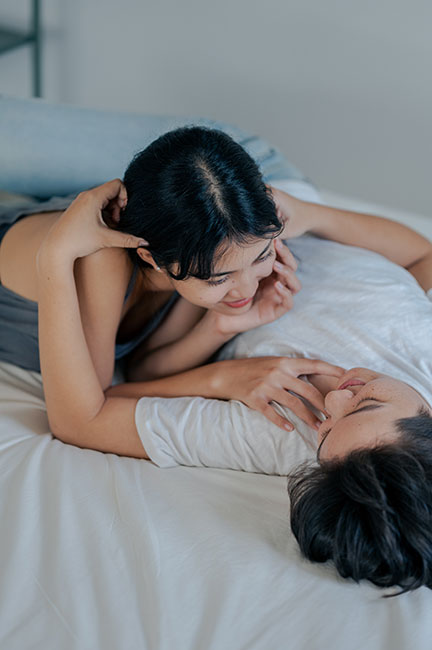 Open the door to pleasure and experience sex
In his book The future of sex, which he has co-authored with Lawrence Lanoff and with whom has also created the Yorgasmic method, which teaches how to fuse body and energy, without the ego, to not only reactivate the orgasmic energy, but also to create spiritual moments that ultimately generate well-being and integral balance.
According to Yosgasmic method, the first thing is to talk about sex naturally, away from myths, in a direct and realistic way, as a human need that establishes connections, intimacy and social union, in order to be able to live and experience it in a free way, that enriches the couple.
Karina Velasco He warns that one of the keys to awakening sexual energy is in the fact of living sexuality with an adult mentality, aware of the desire, of your own needs and desires, without fear of expressing it and less to experience it.
"We must enjoy from the moment we feel that tickling in the stomach, and the happiness we experience when we go to meet someone special. That is a path to orgasm. "
And from here begins the process of reformatting the idea of ​​sexuality, of becoming erotic and aware of what we live, of how we enjoy the whole process and not limit it to the sexual act. Enjoying the sensations, the aromas, the emotions, the connection with oneself or with the partner, without fear or shame, represents an update on how to adapt to sex.
What do you think?
By: María del Carmen López