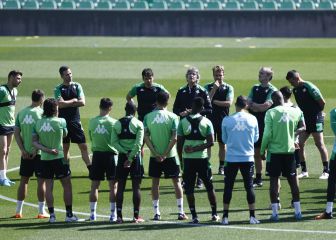 It does not seem easy to look at the present without thinking about the future. Betis and Elche intend to do it. The Verdiblancos want to obviate that next Saturday they will play the option of a title 17 years later with that Copa del Rey final. The people of Elche want to isolate themselves from that wind that speaks of planning and not of immediate certainties. Pellegrini dreams of the Champions League. Francisco triggers the desire to tie the permanence as soon as possible. And that causes that today dictates more sentences than tomorrow. As much as the big dance is yet to come. For some and for others (follow the match live on As.com).
The League rules today and has several challenges aimed at Betis and Elche. The Verdiblanco team wants more after recovering some solvency in recent days. A win at Villamarín would place them provisionally on equal points with Atlético and Sevilla. A challenge that triggers the pretensions of Pellegrini, who doubts how much to rotate and how much to fear. Elche took a breather against Mallorca and knows that they can take an almost definitive ticket to tranquility from Heliopolis. The one that at times seems to define Francisco's work on his bench, although the questions are always on his table.
The doubts in Heliopolis are evident. Pellegrini insists that the best preparation is to win. There is a final at stake four days later. Risks? It will take them half. He wants affordable breaks and trusts that the squad's response will be enough to sustain his courage. players like Álex Moreno, Canales, Juanmi or Borja Iglesias aim to leave their site to others like Miranda, Ruibal, Tello or Willian José. Playing without looking sideways seems like a utopia.
In Elche there is a small thread of euphoria and Francisco wants to give continuity to that state of happiness. He changed to a system of three central defenders and everything indicates that he will repeat after the good result signed against Mallorca. Strength in the center and planes on the sides as a philosophy of life. Mojica and Fidel threaten a Villamarín who grasps the present and longs for the future.
[