Possible penalty in favor of Madrid by the hand of Diego Carlos

Real Madrid claimed a possible penalty for the hand of Diego Carlos in the area in the 17th minute, shortly before Sevilla's first two goals. The center-back did not get along with Bono in a corner kick and ended up touching the ball with his arm, in a play in which Iturralde González understood that Cuadra Fernández should have awarded a penalty.
"I think that He throws his hand very clearly and it's a penalty. It's not that he hit Diego Carlos in the hand, it's that he throws his hand upeither. If Foulquier's whistle yesterday at Valencia-Osasuna, Diego Carlos's must whistle today," analyzes the AS and Cadena SER referee.
"It's a penalty. One of the essential conditions is that the arm is above the shoulder. Bono goes for the ball, it escapes him and Diego Carlos goes for the ball with his hand almost above the shoulder. And one of the fundamental conditions is that it be above the shoulder. Another thing is whether we like that type of hands to be called or not, but that is another type of debate. How the hands are being called so open and so high is a penalty. No warning ", Iturralde explained in more detail at the break of the match.
Iglesias Villanueva, VAR referee, did not consider it appropriate to call Cuadra Fernández to review the play.
Possible foul by Lamela on the free kick barrier with which Rakitic makes it 1-0 (21′)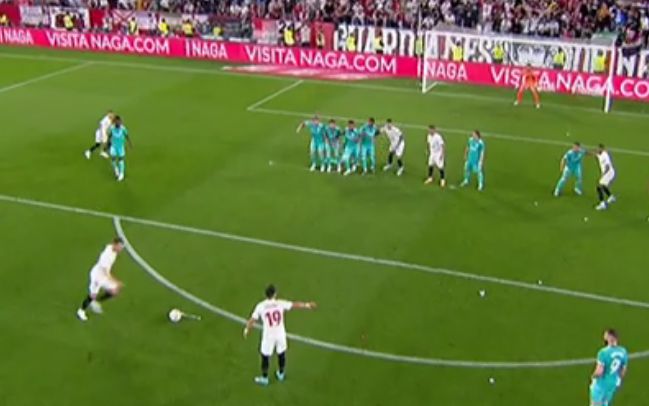 "The Real Madrid players complain because Lamela pushes the barrier and according to the rule he has to be one meter away, he cannot be next to the barrier. And just as Rakitic shoots, he pushes the barrier and moves away. Lamela doesn't have to be there. You can't push the barrier, you have to be one meter away. The goal should have been annulled and an indirect free kick should have been given in favor of Real Madrid", analyzes Iturralde.
Possible foul by Camavinga on Martial not sanctioned in which the Frenchman played the second yellow card (37′)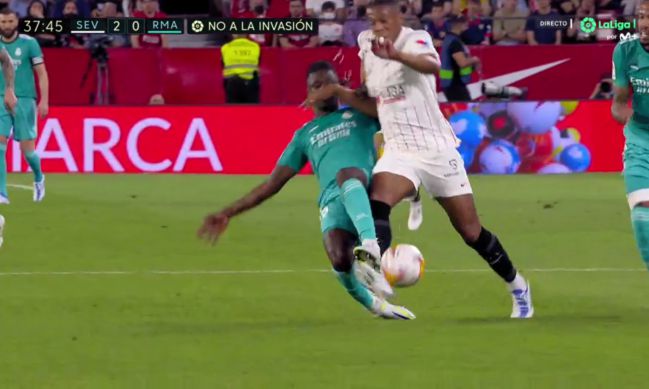 "For me it's a foul and a second warning. But the referee doesn't see the foul, he runs from behind and believes that Camavinga hit the ball. It should have been a foul and a second warning, because of the foul and because he left in a promising attack. Either way."
Vinicius's goal disallowed by handball in a decision ratified VAR review (74′)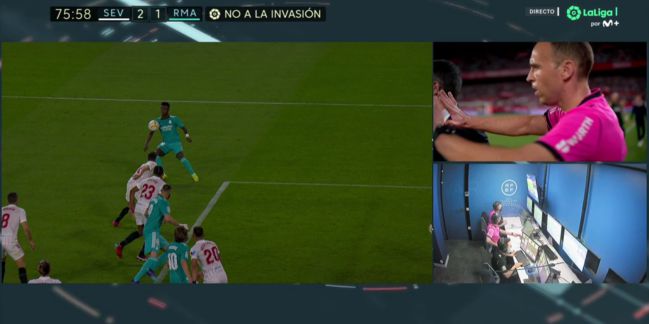 "What cannot be is that this play, which is very doubtful, because it can be argued that it is a hand and that it is not, the VAR warns him. Why does the VAR call him, which came for very obvious, clear and manifest", comments Iturralde.
"It is a play in which the VAR does not have to enter. The VAR came for obvious, clear and manifest errors. Those of Madrid will see that they touch it with the shoulder and those of Sevilla touch it more with the biceps. If the VAR called is because Iglesias Villanueva sees that he touches it with his shoulder. And once again we are talking about consistency. Two referees, the same image, one sees that he hits his hand and the other that he does not hit him. Very difficult to explain. I With the images I see more that he hits him with his shoulder, so it would be a goal," he added.


[