The spanish electric scooter RAY 7.7 is already on sale for 7,500 euros, a price that by taking advantage of the Moves III Plan and scrapping an old vehicle can be reduced to 6,200 euros. Of course, in 2022 it will amount to 8,500 euros.
Equivalent to a 125cc model, it can be driven both with A1 card as with B And, since it is focused on a wide audience, it presents an accessible format for all types of pilots, as was seen in the test carried out in May: contained dimensions with a wheelbase of 1,452 millimeters, a weight of 165 kilos and a height adjustable seat (800, 785 or 770 millimeters) to adapt to the size of the person riding the handlebar.
The RAY 7.7 uses a motor 10.7 kW (14 hp) which has power peaks of 17.5 kW (23 hp), allowing you an immediate reaction at whatever speed, as well as accelerating from 0 to 50 km / h in 2.8 seconds. In any case, you can choose between three driving modes:
City: designed for the city, with moderate acceleration and high regenerative braking.
Sport: It uses all the power with the peaks equivalent to a 300cc for a sportier driving (accelerates from 0 to 100 km / h in 7.7 seconds).
Flow: it dispenses with regenerative braking so that the motorcycle "runs", so it is the right mode for motorways and motorways.
Approves one autonomy in mixed cycle of 150 kilometers, although the scope of RAY 7.7 It varies depending on parameters such as the type of route or the weight of the rider. Taking as reference a person weighing 70 kilos, at a sustained speed of 100 km / h, he can travel 110 kilometers; at 80 km / h it reaches 140, and at 50 km / h it can circulate 160 kilometers.
Regarding charging methods, with Schuko connector for domestic sockets it can be connected to a 1.8 kW charger or a 3.3 kW one. Refill the battery of the RAY 7.7 completely supposes 4 hours and 20 minutes in the first case, and 2 hours and 35 minutes in the second.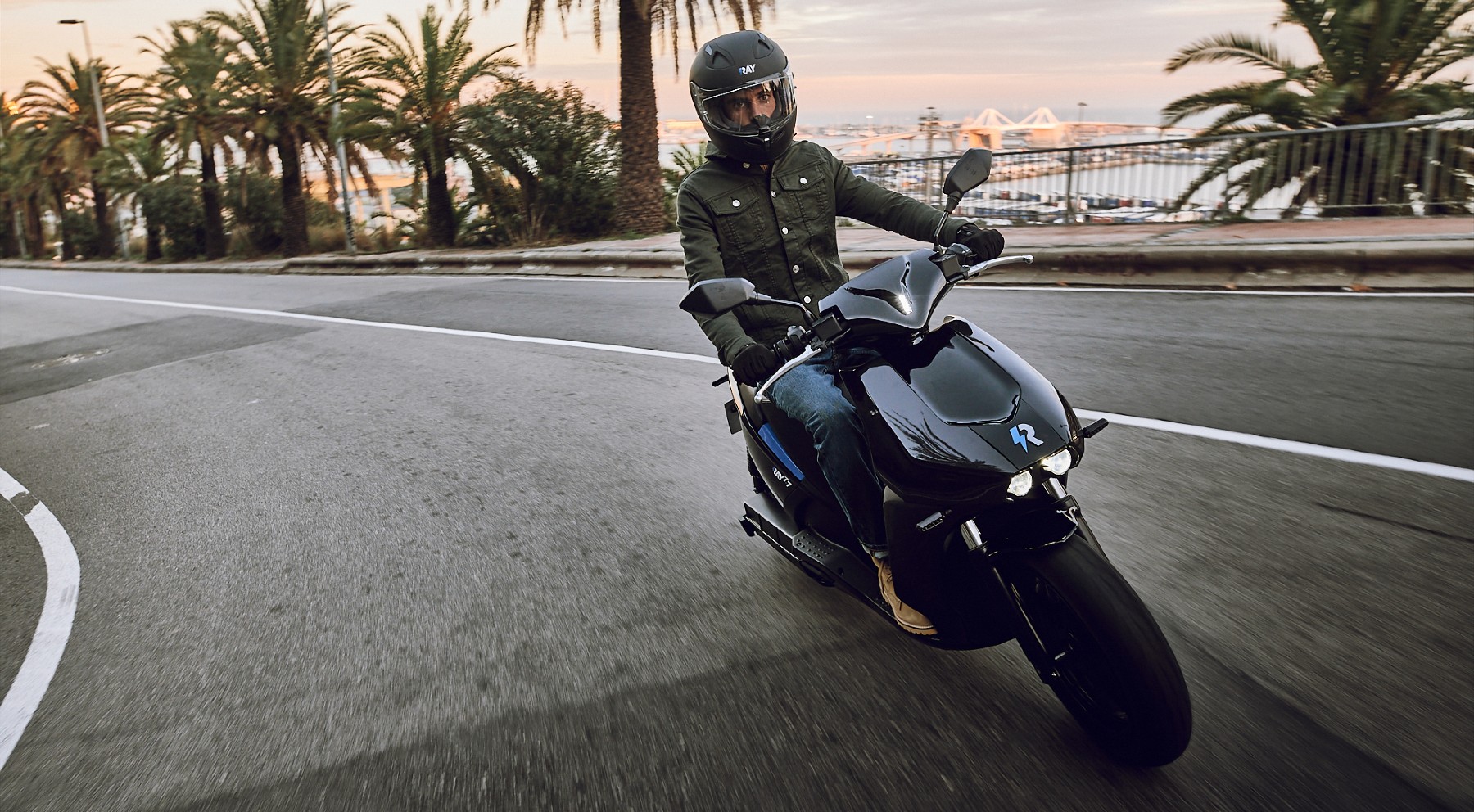 In addition, it provides the RAY App, so much for Android as for iOS, from which you can access a wide variety of functions: navigation, battery status, settings and programming of the load, location of the scooter and statistics of the last trips.
The 7.7 is available in four different colors, with standard 1.8 kW charger or 3.3 kW fast charger (always with domestic Schuko type connector) and you can install the following accessories: Type 2 connector, front windshield screen and 33-liter rear trunk. Also, as a limited offer a RAY helmet is given as a gift with the purchase of the motorcycle.