Vehicles James bond They seem hell-bent on getting off the big screen. If a few days ago it was Land rover who announced the availability of special equipment for the Range Rover inspired by Agent 007, is now Triumph the one that presents a version of his Tiger 900 Rally Pro in the style of the one used in 'No time to die ', the last installment of the cinematographic saga.
Are already 25 the movies starring the British secret agent, in all of them with a significant presence of cars and motorcycles as the center of attention for incredible action scenes and chases. In the one that now premieres, the models appear Tiger 900 and Scrambler of Triumph, who wanted to take the opportunity to launch a series limited to only 250 units for everyone, numbered and with a certificate of authenticity.
The Tiger 900 Bond Edition is based on the already known Rally version, but with a good number of details that make it truly exclusive. To begin with, it is immediately distinguished by its painting Matt Sapphite Black with golden graphics and the 007 logo in the warehouse. In addition, the handlebar post has a specific finish and it appears the serial number limited of each unit manufactured.
The black color is predominant in the Bond Edition, appearing on the chassis, the side covers, the skid plate, the passenger footpegs, the engine covers … An undoubtedly striking and distinctive look, qualities that are completed with a custom animation 007 logo when the ignition is turned on and thereby the TFT instrumentation display. The designation of the series appears from the same on the saddle of the Tiger, which is heated for the driver and his passenger.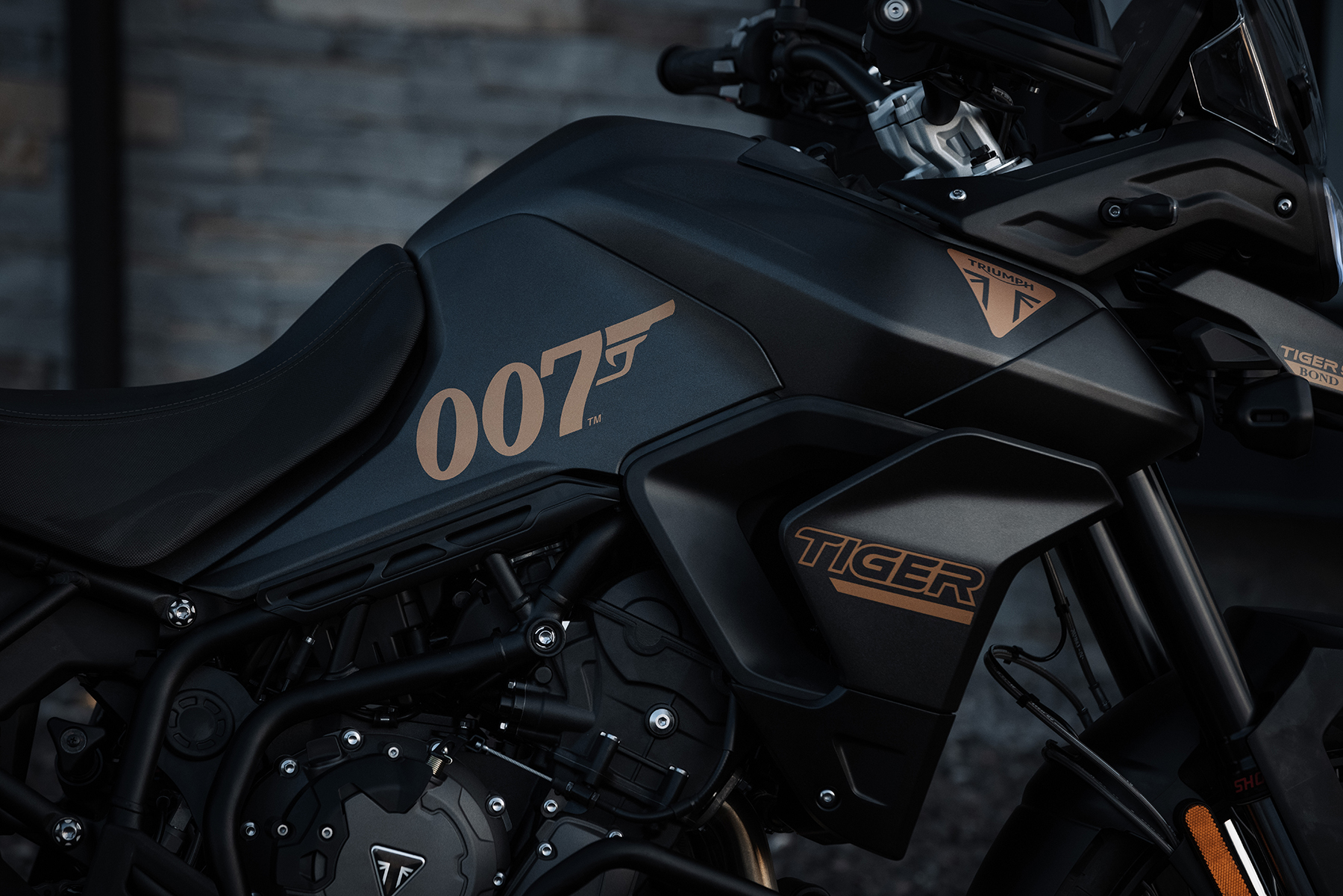 The equipment is completed with an additional set of tires for a more country use (Michelin Anakee Wild) together with those of origin Bridgestone Battlas, in addition to an exhaust silencer of the renowned brand Arrow made of brushed stainless steel, with clamping clamp and terminal in carbon fiber.
In the mechanical section there are no changes compared to the conventional version, including the 888cc three-cylinder engine, water-cooled and a power of 95 hp. The tubular chassis houses a stock front fork and rear monoshock Showa, while the brake system relies on calipers Brembo that press two front discs and one rear disc.
The weight of the Tiger 900 Rally (characterized by its 21-inch front rim, ideal for off-road use) is 201 kilos, with the seat located at 850mm ground. The price of the Bond Edition is 18,800 euros and you can now place orders for the motorcycles (there are few units available for the Spanish market) that will be delivered next February.