There are some motorcycles that imposed at first glance. Their appearance is almost intimidating and inviting to think how will they behave once they are up and running. This category includes the last generation, the third, of the Rocket, He is no more within the range Triumph and that rises a step (or perhaps two) on the scale of admiration that is capable of awakening in its wake.
It is a machine impressive in all respects. Its dimensions are generous, long, wide and heavy. Can even get to scare for the effect it causes its engine, not in vain that of largest displacement ever made on a series production motorcycle. Its 2,500cc are almost the least of it, what dazzles is the prominence it claims in the whole, draws attention to the first glance and especially on its right side, where the three exhaust outlets appear.
Yes, because despite its cubic capacity it is a three-cylinder propeller. A specialty of Triumph, which dares with that asymmetric mechanical configuration that scares many others. They are so confident in their knowledge of three-cylinder thrusters that they even make them available for extreme demands of competition, as exclusive supplier of Moto2 World Championship.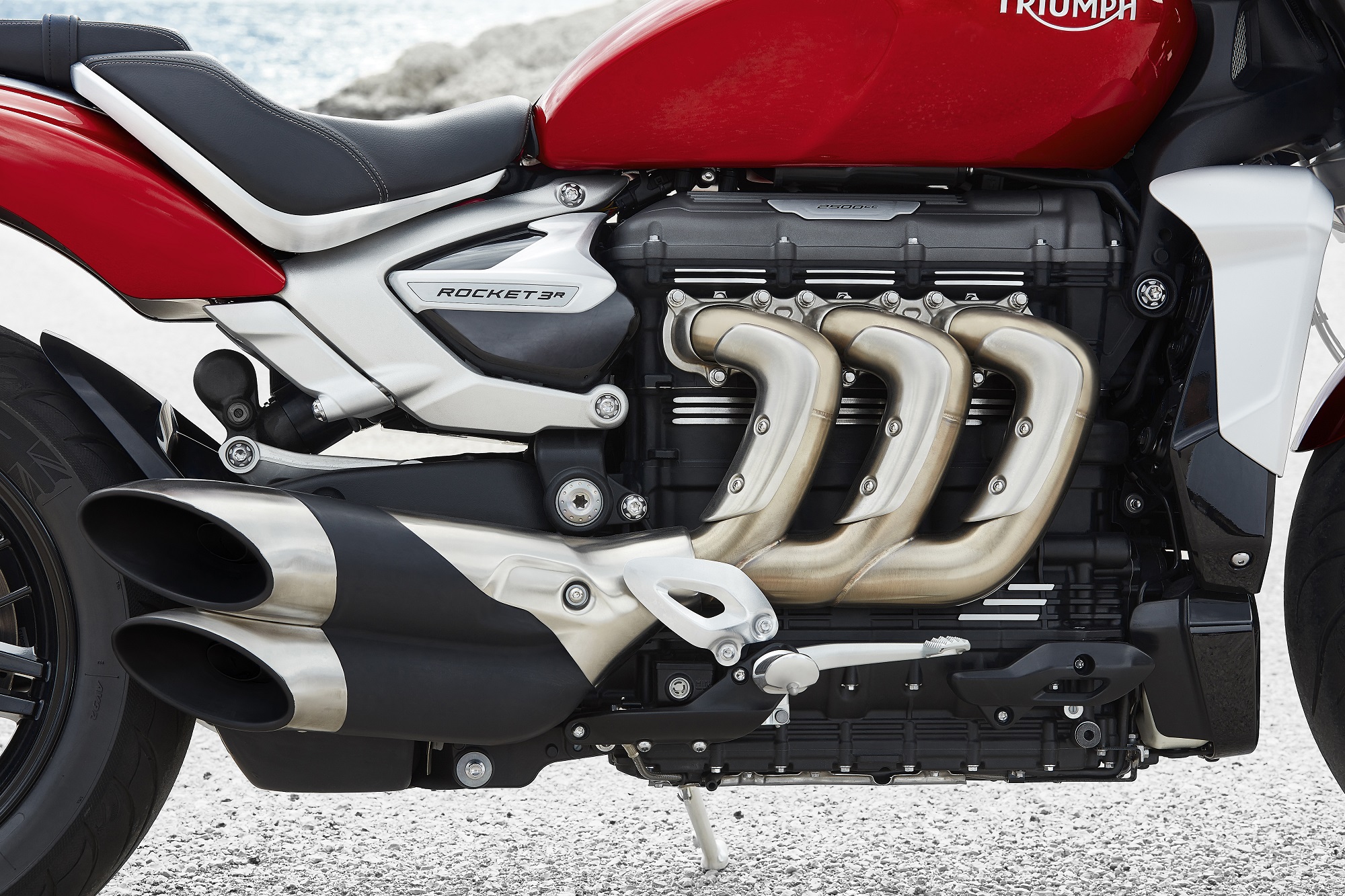 The Rocket 3 engine, of course, is very different from racing. However, it perfectly represents the excellence with which this engineering can work. It is simply a spectacular engine. We could refer to your 167 hp maximum power or to 221 Nm of torque, although sticking only to the cold figures would be a large part of reality. It is a motorcycle of sensations and the ones it offers are incomparable.
There are models on the market much more powerful. Of course faster too. But get on the Rocket 3 and perceive that we do it at a special machine It is a matter of minutes, almost seconds. We could relate all its technical characteristics in these lines, although it is not so worth it with how much this bike has to count. Your data is collected in detail on the website of the British brand, little more can be provided in this regard.
So let's talk about those feelings, I would say handlebar feelings of the Rocket 3. When you measure 1.70 meters and weigh a little more than 70 kilos (at least when you are in shape), get on such a device the truth is that it intimidates. A huge motorcycle in all its parameters, although to begin with it scares something less to the reach smoothly with your feet on the ground.
A nice surprise
When stopped, all cats are brown, so it's time to start and check behavior of such a mastodon. First second Third… Full power at any regime, forcefully pushes the slightest hint at the gas fist. And how it runs! Best pay attention to the speedometer, exceeding legal limits is imperceptible and with a very rewarding sense of security. The set exhibits the poise of his 294 kilos, we will see what happens when it has to be stopped or tilted …
It is gratuitous to say that this Triumph it is not a sports car. The British brand itself, and many others, have more suitable proposals for burns of asphalt. That said, it highlights the way such a mole can perform in any terrain. The first challenge we face is a roundabout, we will see how it brakes and how it turns. Simply awesome! It is not about dragging the footpegs, which you can, but the behavior touches the faultless, no stranger before the turn, thanks to its powerful brakes and solvency in the straight, during the same, not even at the exit thanks to the operation of the traction control and the different modes of use.
Is a trend that remains in any type of layout. In the very twisty ones you can see that it is a long and heavy motorcycle, but in the fastest mixed type, its solvency is admirable considering the prejudices it can arouse the Rocket 3. On expressways or fast roads roll on rails, a real killer of kilometers only penalized by a aerodynamic protection quite scarce (And that in the most road-going GT version, in the R it is null).
Although its powerful engine is most enjoyed in the two-way nationals, Those mid-pace tracks where corner exits invite to accelerate with joy. Then it's about an unbeatable motorcycle among those of his style, of which draw a smile in the driver's face for its enormous acceleration capacity.
So many qualities mentioned (together with the technical and equipment deployment that is included in its technical sheet) have, how could it be otherwise, a price. Specific, 23,800 euros. It is certainly not a low amount, but the truth is that the Triumph Rocket 3 GT is worth it.
Another issue is your market positioning. Although powerful, it is not a sports car. It is comfortable but not enough for long trips. Of course it is not a motorcycle for the city, for its size and weight. What is the last Rocket for then? To be happy and enjoy. And that may be enough for many and above all, it is priceless.