Just over 800 blocks need to be added to the chain, which must happen in less than 6 days, for Taproot to be activated in Bitcoin.
The most important Bitcoin network and software update of the last 5 years is coming in a very short time, but the proportion of participating nodes has not yet been updated to receive it.
According to the web portal arranged by the developer Luke Dash Jr. to carry out the counting of nodes that have been upgraded to the Bitcoin Core 0.22 client, the first to support Taproot, these barely they are around 50%, something that we also noticed in CriptoNoticias a few days ago.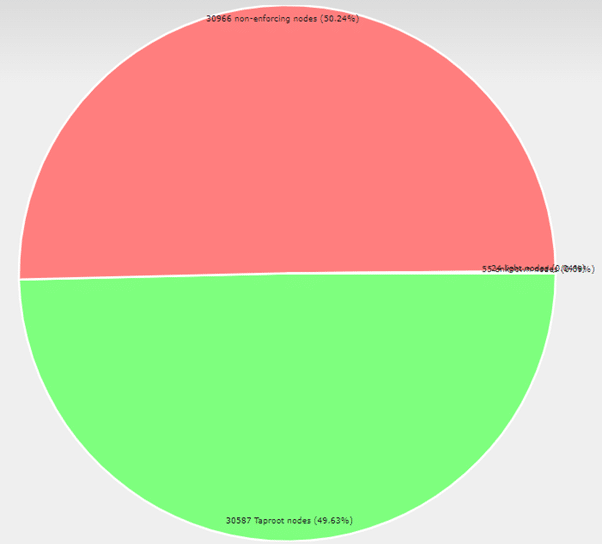 The risks of a fork and split of the Bitcoin chain are unlikely
The proximity of the Taproot activation date, which could be next Saturday, November 13, if block 709,632 is reached that day, worries some developers and other members of the Bitcoin community.
The main reason is regarding whether the difference between the nodes that activate Taproot and those that do not, could cause or incentivize that a chain division (chain split). The short answer is "No", although it does have some flats.
As the bitcoiner explained Nicolas Bourbon To CriptoNoticias, for a chain split to happen, the nodes need to accumulate enough processing power to build a longer blockchain than the current one. This is achieved through proof of work exercised by the miners.
Considering that they demonstrated their support for Taproot earlier this year, Bourbon does not think it likely that the miners want to run a different software and reject the blocks that include Taproot type transactions.
On the other hand, Taproot is included in Bitcoin as a soft fork, which implies that this update is compatible with previous versions of the Bitcoin software and the past history of its blockchain.
Therefore, an outdated node does not have the power to reject a version of the chain that includes blocks with transactions of the Taproot format, without being left out of the Bitcoin consensus.
Bourbon bounded that nodes that are not up-to-date will not be able to receive transactions from Taproot, such as those that a user could send from their purse or wallet, but these nodes can accept and relay to the network the blocks that include these transactions and are added to the chain by the miners.
For his part, Luke Dash Jr. explained to CriptoNoticias that chain splits should not be confused with a strong fork, as this is the particular version of a different software and incompatible with the predominant version in the largest number of nodes
An old node is a forced fork in relation to each soft fork [los otros nodos]. So if we have many old nodes, the rules are not applied consistently, and pressure is created from the economic sector. [de Bitcoin] to support a strong fork [versión diferente del software] to eliminate Taproot.

Luke Dash Jr., Bitcoin developer.
Dash bounded that the emergence and acceptance of an alternative software or hard fork is unlikely, but if a Bitcoin economic sector decides not to upgrade to Taproot, could incentivize two different chains to be created (chain split).
CriptoNoticias recently reported that some nodes have been having problems with Taproot transactions, in tests carried out by developers. Therefore, Bitcoin users have been suggested to take certain precautions regarding this upcoming update.