The adoption of the Bitcoin Lightning network seems to continue to grow, as a recent list showed that there are already 20 cryptocurrency exchanges that allow deposits and withdrawals through this micropayment network.
a listing collected on David Coen's Github, a software engineer working for Edge Wallet, shows which exchanges currently support the Lightning network.
From the top 5 largest exchanges in the world, in terms of market capitalization and volume, only 1 has Lightning support: Bitfinex. Within the same top, there is also Kraken, which is a very particular case since in December 2020 they made public the intention to add Lightning Network, but to date this objective has not been met.
Another exchange in the top 10 list is Bitstamp, which is one of the oldest to add support for the Lightning network, since the activation dates back to 2019.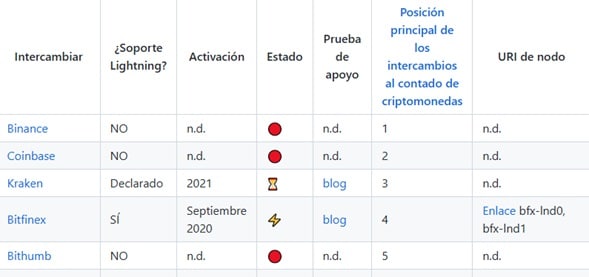 NiceHash, a platform for buying and selling mining power, was also added to the list. This has support for the Lightning network since mid-2020.
While it seems that the big exchanges are not attracted to the idea of ​​adopting the Lightning network, the smaller and newer ones seem to be seduced by offering these types of improvements to customers. Of the total of the 20 exchanges that operate with the Lightning network, 8 enabled this feature in 2021, demonstrating the growing interest in this technology, as recent reports from CriptoNoticias have shown.
An example of these new exchanges that are adopting the Lightning Network is Belo, which, at the end of last November, announced that it would allow its users to be able to deposit and withdraw immediately with the Lightning Network.
Lightning Network: More Bitcoins, Less Fees
The Lightning network is a second layer protocol, which is considered a scalability solution since it allows the transfer of bitcoins without waiting times, and with commissions of up to 1 sat (0.00000001 BTC). Although they seem to be all advantages, it is difficult to discern why an exchange decides not to adopt these types of tools.
Although the argument that it is a fairly new technology can be accepted, which is totally true, the exchanges that are already working with it have not presented any type of inconvenience at a technical level, as is the case with Bitfinex.
However, by not adopting this type of scalability solution, which saves users ridiculous fees, there seems to be a business on the fees charged for withdrawals on-chain with bitcoin.
According to a report by CriptoNoticias last year, it was shown how many of the exchanges kept part of the fees charged to users, which, according to the companies, were paid to the miners.
An example of this was a transaction carried out in Buda. The report showed how the exchange had kept almost 50% of the commission charged for withdrawals.
It seems that not adopting the lightning network is not about a security measure, but about getting a deal on withdrawal fees.