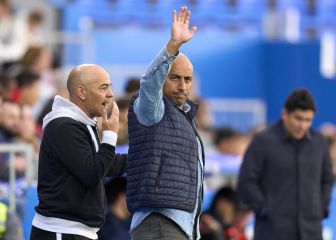 What are the team casualties?
Recio, Gaku due to suspension and Javi Eraso. Right now he has not yet been discharged and we are writing him off. Also Fede Vico.
Do you think that the victory against Huesca will help you to face the last games much better? Do you think there was something liberating about it?
Winning always helps and gives you a bit more confidence, yes.
Are the reactions of Real B and Amorebiera an example that those of us who saw the team already saved were wrong? Do you still see risks?
We are not saved yet. What I said several weeks ago was confirmed, that there are teams fighting and suffering that are going to fight until the end. Teams like Sporting or Málaga, at the moment, are not as calm as we can be right now. It's going to be nice between now and the end of the season.
Focusing on proper names, is Cissé the greatest joy you have taken from the squad since you arrived? Perhaps the player whose evolution he is most proud of?
Cissé has been a pleasant surprise, yes. Taking into account that he is a kid who has started with the subsidiary, he has been growing thanks to his work, thanks to his teammates as well. He has been one of the good surprises, yes.
Leganés is going to be a kind of judge in this final stretch as they face rivals who are playing for the Playoff or direct promotion.
It's nice because in the end you always have to play something but we think about the game in Cartagena. It's going to be nice, complicated. We will have the opportunity after facing a team like Eibar, Almería. That is going to be a good thermometer to know where we are from here to the end of the season and for the following seasons.
What kind of match do you expect?
Cartagena is an attractive team in its field, things always happen there. They are attractive to the viewer. I hope it's a nice match, yes.
How far do you think Leganés can go in the standings and in terms of points?
We can reach 61 points, we can go that far and we are going to try. The higher possible, the better for everyone. For the coaching staff, for the players, for the club, for the fans, it is much better to finish as high as possible.
Now that salvation is a fact, what has disappointed you the most since you've been at Leganés?
It is not a fact yet. What has disappointed me the most? At the moment we are within the objective that was set for us upon our arrival, so no disappointment in that regard. It is a pity, more than a disappointment, not to have taken the train from Las Palmas and Oviedo at one point. A pity, but no disappointment.
Seeing where you took the team and how far you were able to go, is there anything you would change or do differently?
That is more a question for the end of the season, to give feedback, but not to think about the past and eat your head, more to be able to grow and improve in the future. Any coach always asks himself those kinds of questions, that feedback that is very good to improve.
Do you think that the fact that the team is seventh since your arrival is being undervalued?
Anyone remember, how cool!. Totally yes. I consider that the fact of having taken the team in that situation and where we are right now has been underestimated. But it is the interpretation of each one, we inside know what we have done and what we want to do between now and the end of the season. It's nice to hear a positive question like that.
[