In Bitcoin (BTC) mining, as in music, there are those who are loyal to the "old school", or so it seems. There are miners who, right now, maintain operations with equipment that is almost a decade old. The trend is worthy of study, since historical maximums have been reported in the use of one of these long-lived devices in the middle of 2022.
According to charts provided by Coin Metrics, a blockchain analytics firm, usage of Bitmain's Antminer S7 miners hit records this week. It is a milestone in a team that has been on the market for about 7 years and that it seems to be showing higher performance than before, in terms of hashrate.
The date was shared on Twitter by Lucas Nuzzi, who is the Network Data Product Manager for Coin Metrics. For him, what the charts it is nothing more than the sustainability of the hardware over time, something that he described as "amazing".
According to Nuzzi, the use of the S7, whose launch date was August 2015, grew exponentially in the recent months of 2022. It is interesting, since this miner has a hashrate of just 4.73 TH/s and an electrical consumption of 1,293 W . Namely: It is an extremely old team with little profitability.
In fact, and according to ASIC Miner Value, Bitmain's Antiminer S7 is one of the teams that currently leaves the least profits. Rather, it accumulates losses of up to USD 76 per month.
But that doesn't seem like a reason for miners to stop using these machines. There is no longer a clear line of when hardware becomes obsolete, as explained by Nuzzi.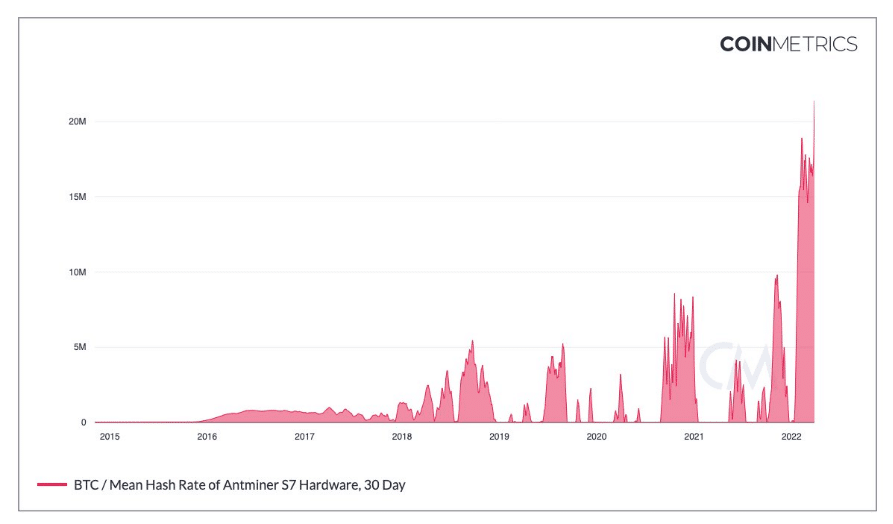 There are doubts towards Coin Metrics
After disclosing the graphs, several users and bitcoiners questioned the veracity of the Coin Metrics data, based on the fact that it is, again, a team with almost 7 years of experience in the market that would have no chance of finding and solving blocks the way newer hardware would.
For example, Sjors Provoost, who is a Bitcoin developer, said on Twitter that the graphs raise serious questions about the origin of the hash power concentrated in the S7.
"Did they make 90% of these machines in the last few years alone? Or was it 90% inactive until this year? Or were they only trading 10% of the time? How reliable is the analysis of Coin Metrics », he questioned.
Following the line of incredulity, he stated that there are unlikely to be the number of S7 miners needed for the reported all-time high for the signature. "Machines have to exist in the first place to use that power," he said.
coincided with Digieconomistwho highlighted an oddity in the calculations of Coin Metrics, since they add up to about 4 million active Antminer S7 (according to the graph), when between 2015 and 2016 only 323,000 units were sold in total.
"Bitmain stopped producing S7 quite some time ago. They never sold enough for these numbers to be in the realm of possibility," he said.
Other voices, however, defended the possibility, such as that of miner Dan Bedford:
"Many people are confused as to how an ATH is possible in the use of S7 miners. I wonder if they ever heard of "renewable energy" and how the smartest miners are investing in their own infrastructure to sustain their operations" Hardware Mining Bitcoin Miners said on Twitter.
Bitcoin mining with old equipment has already been seen
That there are people using S7 to mine Bitcoin, although surprising, is part of a trend that has been registered in the industry. Turns out, In Venezuela, in Latin America, the most prevalent equipment for mining is Bitmain's Antminer S9which currently has almost five years in the running.
This miner, which has a hashrate of 13.5 TH/s, and a power consumption of 1,323 W, was launched in September 2017 and is currently It is one of the least profitable when mining.
Citing data from the same page, this equipment produces daily losses of USD 0.82. Monthly, it could generate profits of up to USD 90, which would quickly be dissolved by the costs of electrical energy in countries where the service is high.
In Venezuela, however, miners pay USD 10 to USD 12 per month for electricity, which makes it conducive to using these miners for large-scale operations.
However, CriptoNoticias sources indicate that the S9 equipment is the most used in Venezuela, either by preference or by the inability to afford a newer one. In any case, they are used in a country that has grown in its mining activity and that is the headquarters of several companies dedicated to the trade.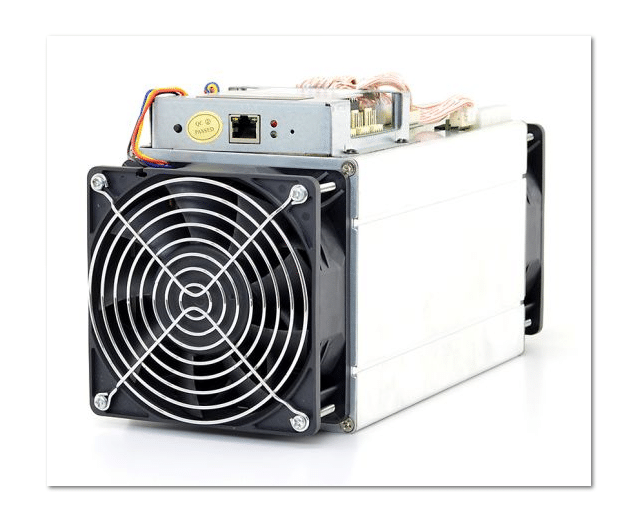 In fact, and if you delve into social networks, it is easy to find advertisements for Venezuelan companies that offer equipment repair and sale services, among which the S9 usually stand out. A whole second-hand market has been formed in the Caribbean country, where mining Bitcoin is a profitable activity.
Thus, the use of old-fashioned miners to process transactions on the Bitcoin network is nothing more than a sign of how the industry holds up and how the Proof-of-Work consensus is made to prevail. thanks to the hardware that, although they do not generate as many profits, serve to secure the protocol.
Update: This note was updated with the number of years of Bitmain's S7 equipment in the market, which is actually 7 and not 8 as published at the beginning.