Key facts:
Stronghold shows profitability figures above other companies.

The ecological approach contributes, in this case, to lowering the costs of operations.
Bitcoin miners overcome the difficulties imposed by the bear market with different strategies. The most common tend to start from activities derived from sales or hodling of the capital reserves of each company. But these are not the only ways to approach a price crisis. A company that derives most of its energy resources from green projects is doing well financially.
Stronghold Digital Mining is a company that operates a facility that generates power from coal waste in Pennsylvania, United States. This allows lower operating costs while helping to reduce the environmental impact that 20th-century coal mining left on the region, where it is estimated that there are about 800 abandoned mines of this type.
To put this fact in context, under Pennsylvania law, power generation from waste coal is considered a Tier II alternative energy source, the same as large-scale hydropower. In fact, according to a report of the company, during the first months of the year they eliminated 279,000 tons of residual coal and they returned 179,000 tons of reusable ash to the deposits of this product.
At the same timethe mining company manages two electricity generation plants. Another point in favor of cost reduction, because you do not need to outsource the payment of electricity supply to a private or state company.
In addition, the state of Pennsylvania grants a subsidy to this company for carrying out ecological activities.
These factors contribute to Stronghold showing interesting bitcoin (BTC) balance and earnings numbers, heading into the bear market.
Among the most profitable Bitcoin mining companies
According to an Arcane report, published a month ago, when the bear market seemed to be in its most critical phase, Stronghold was the public Bitcoin mining company that generated rewards at a lower cost.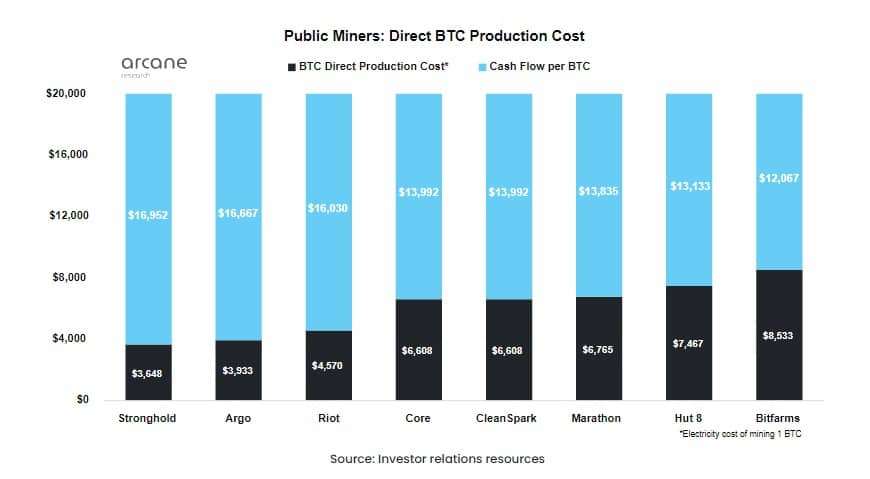 The cost of receiving 1 bitcoin (BTC) reward was equivalent to USD 3,648, leaving a cash balance equivalent to USD 16,952. This cost per bitcoin received is 50% lower than the average of other companies such as Marathon, Core Scientific and Clean Spark and close to 70% of Bitfarms.
Cash is king in the bitcoin bear market
Another important factor that the Arcane report highlights has to do with cash flow from operations. Miners with the best cash balance are better positioned to meet future expenses, for example, the delivery of mining equipment and the payment of acquired debt or operating expenses.
As can be seen in the following table, the miner in this sample who has a better cash flow, in relation to the cost of the mining reward they obtain, is precisely Stronghold.
In terms of volume it is not comparable to that of other miners who have more capital. But for a company that has a green goal, that ratio is interesting: $4.8 million cash flow from operations and $1.5 million cost.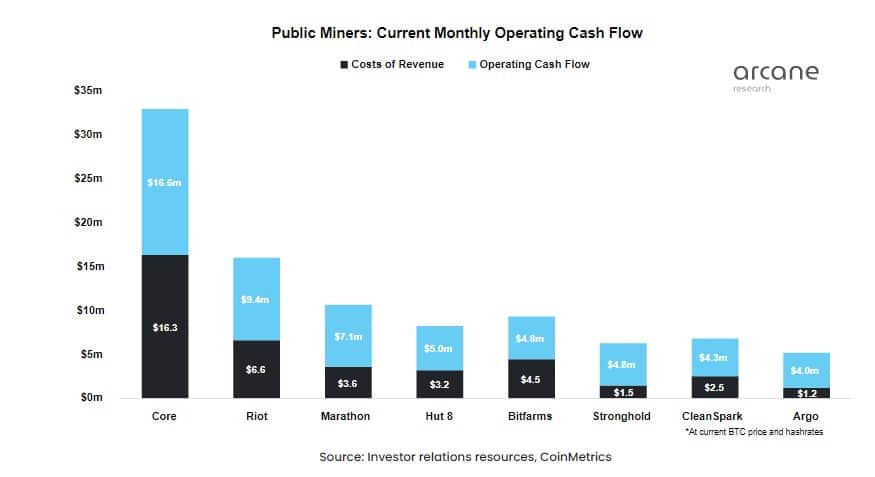 These figures can be translated into the liquidity capacity of each company. It's about data important when considering the acquisition of new equipment to determine the positioning of the company in the futurean area where Stronghold is in the middle, relative to the other companies in this sample.
In fact, according to the Arcane report, this mining company would already have its orders for new equipment paid for, in the same way as Marathon and Riot, Clean Saprk and Argo. This forecast shows that the different strategies to face the bear market have been working.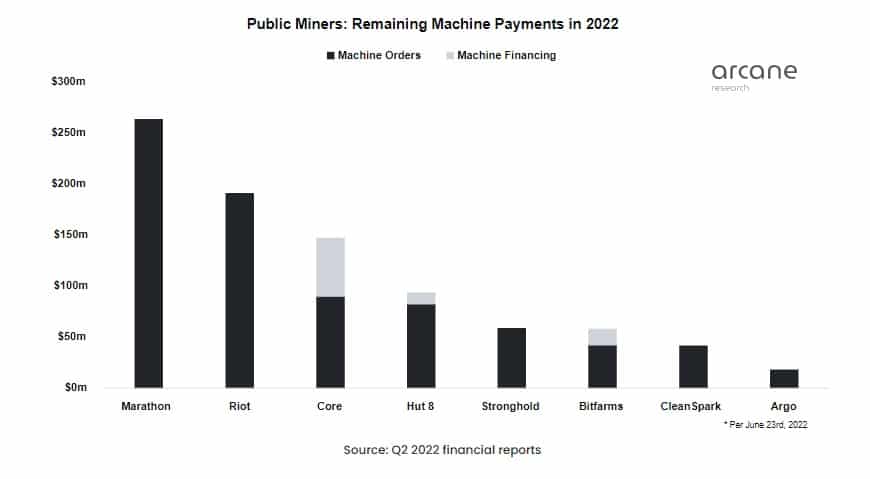 In its report most recent quarterly Stronghold states that as of May 12 they received 32,800 miners, with a hashrate capacity of 3.0 EH/swith the expectation that its installed capacity at the end of the year will be 4.1 EH/s.