The American video game and electronics company, GameStop, has launched a wallet for Ethereum. It supports applications on that network, including decentralized finance (DeFi) and non-fungible tokens (NFT). Like Metamask, it is an extension for the Chrome browser.
The software has been in development for a year. In May 2021, GameStop called Solidity, React, and Python specialists to work on this product, which is now available in beta mode. In it gamestop website It is promised that a version for iOS mobile phones will also be accessible soon.
CriptoNoticias installed the extension in Chrome (which is obtained in the web store of Google). Here are some observed features of the GameStop wallet.
The first thing to note is that it is a self-custody wallet. This implies that the user is given the private keys that give him access to the funds. In fact, the first thing that the installer of this extension must do is accept the following condition:
"I understand that this is a self-custody wallet and that I am responsible for my funds and assets. GameStop can NOT access my wallet or reverse the transactions I made.

GameStop Wallet, Ethereum wallet.
GameStop Wallet is available only for two networks: the main blockchain of Ethereum and Loopring, a second layer solution that enables faster and cheaper transactions.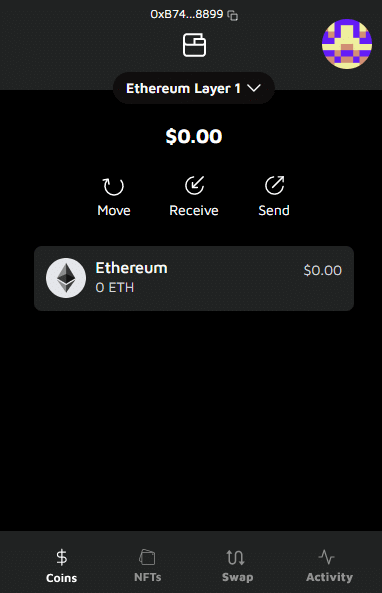 In this, at least for now, the product is at a disadvantage compared to the software with which it intends to compete. Both Metamask and other wallets support compatibility with any internet-friendly network. Ethereum Virtual Machine (EVM). These networks include Polygon, RSK, and BNB Chain, none of which are supported by GameStop.
Another negative point, according to the research carried out, is that —unlike Metamask and other wallets— it is not open source software. This means that a user, in a particular way, is not enabled to audit the program by himself.
A favorable point of the recently launched wallet is its NFT section. There, the user can quickly see all the collectible tokens they own, differentiated from the rest of their coins.
Also, GameStop has included a service of swapi.e. token swap. For this, it uses the technology provided by 0X, an Ethereum liquidity aggregator.
Other features of GameStop Wallet for Chrome Browser include: Ledger hardware wallet support; ability to add an unlimited number of accounts; and ability to export or import accounts to or from any Ethereum wallet (for which the seed or keywords are required).
Verdict: a simple but limited wallet
In short, GameStop Wallet is a simple and hassle-free wallet for Ethereum, compatible with decentralized applications.
At the moment, in terms of its versatility and functionalities, It is not up to the level of players with more years in the market. Anyway, as mentioned, it is in beta phase, so its development has not stopped.