This week we have had the opportunity to meet the new generation of Range rover. It is what we call a flagship with all the letters, a car of those that take away the hiccups, both for presence and price. Although its external appearance could disappoint more than one in terms of evolution, under the skin there are many and profound news.
It is available in short and long body (LWB), with options of four (Executive seats), five and seven seats. As you would expect in a product of its size, the various finishes are joined by a extensive catalog of customization possibilities hand in hand with SVO (Special Vehicle Operations), who work miracles at the Oxford factory.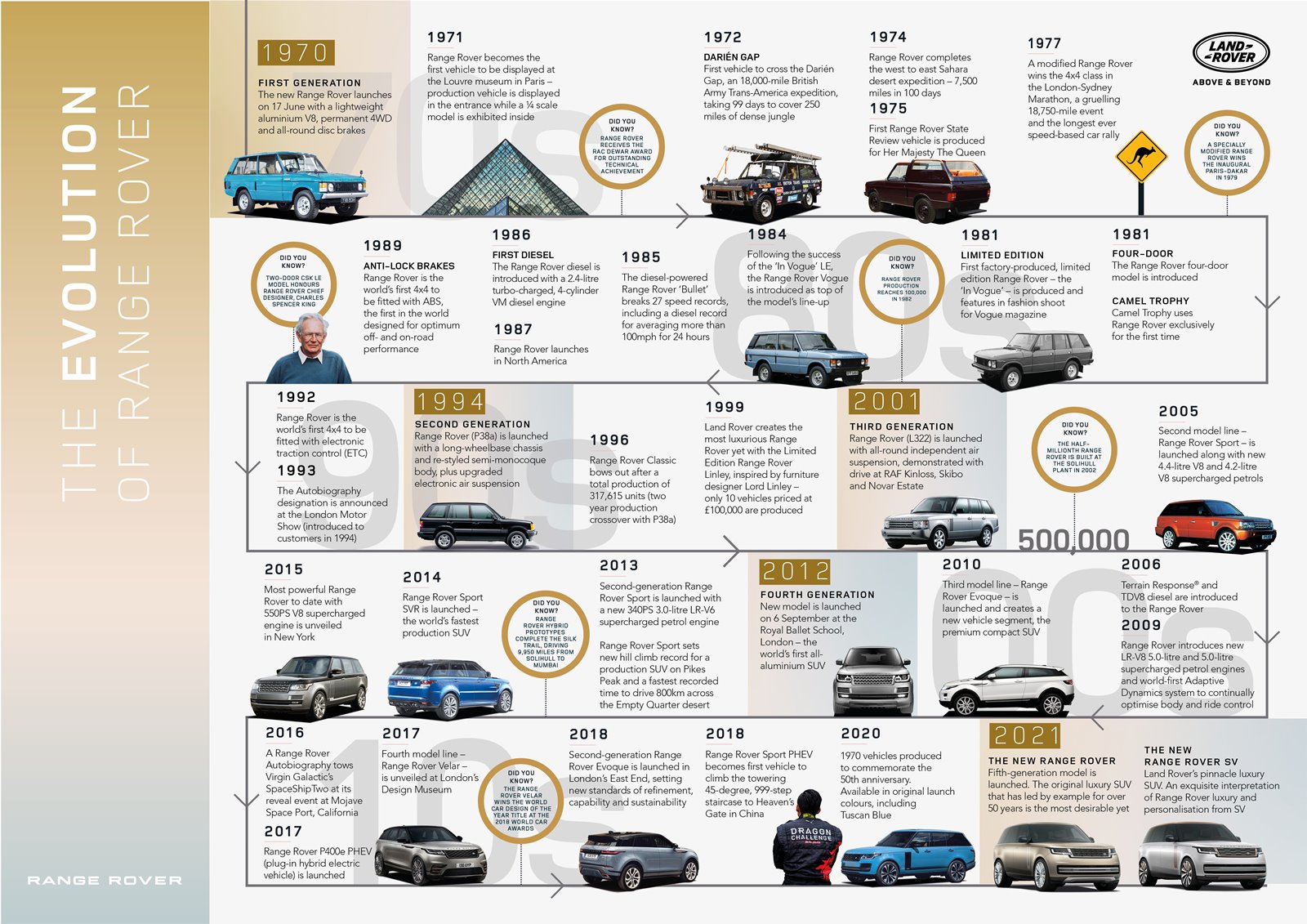 Since 1970, the Range Rover has always been the brand's calling card, the signature of excellence. When it was born, it was the germ of luxury SUVs. Today it is one of its greatest exponents. You just have to see it. Range Rover is a symbol of refinement, Discovery of practicality and Defender of capabilities off road (Although this gem is not short either).
Y he is not the leader of the family by chance, it is because it is that car with which you can go directly from the hunt to the opera with just a hosepipe in the car wash. We are going to review all the new features that it incorporates and, incidentally, to see if the most reluctant ends up convincing their design with the live images.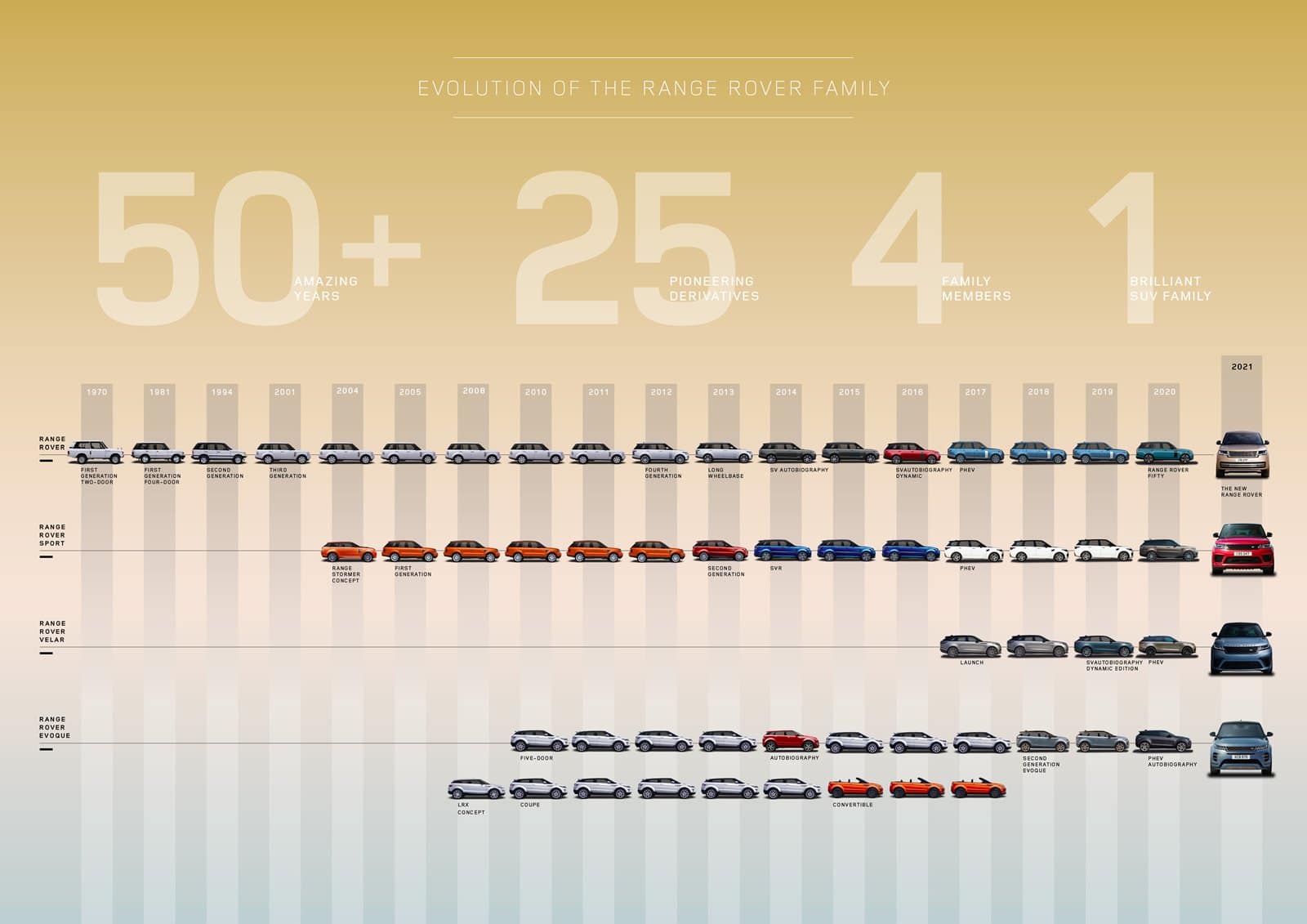 Evolution in design
We start from the base of a new platform. At the front are new digital Full LED imaging headlights that are capable of detecting up to 16 different objects. The aerodynamic work is also striking, with a shallow grille and a simpler rectangular lower air intake to optimize air flow.
Aerodynamic drag is just 0.30. The profile has subtle changes, such as revised gills, new colors, revamped designs of alloy wheels up to 23 inches and flush door handles. In dimensions, it has grown slightly, reaching the 5,052 mm long (5,252 mm the LWB), 2,047 mm wide Y 1,870 mm high.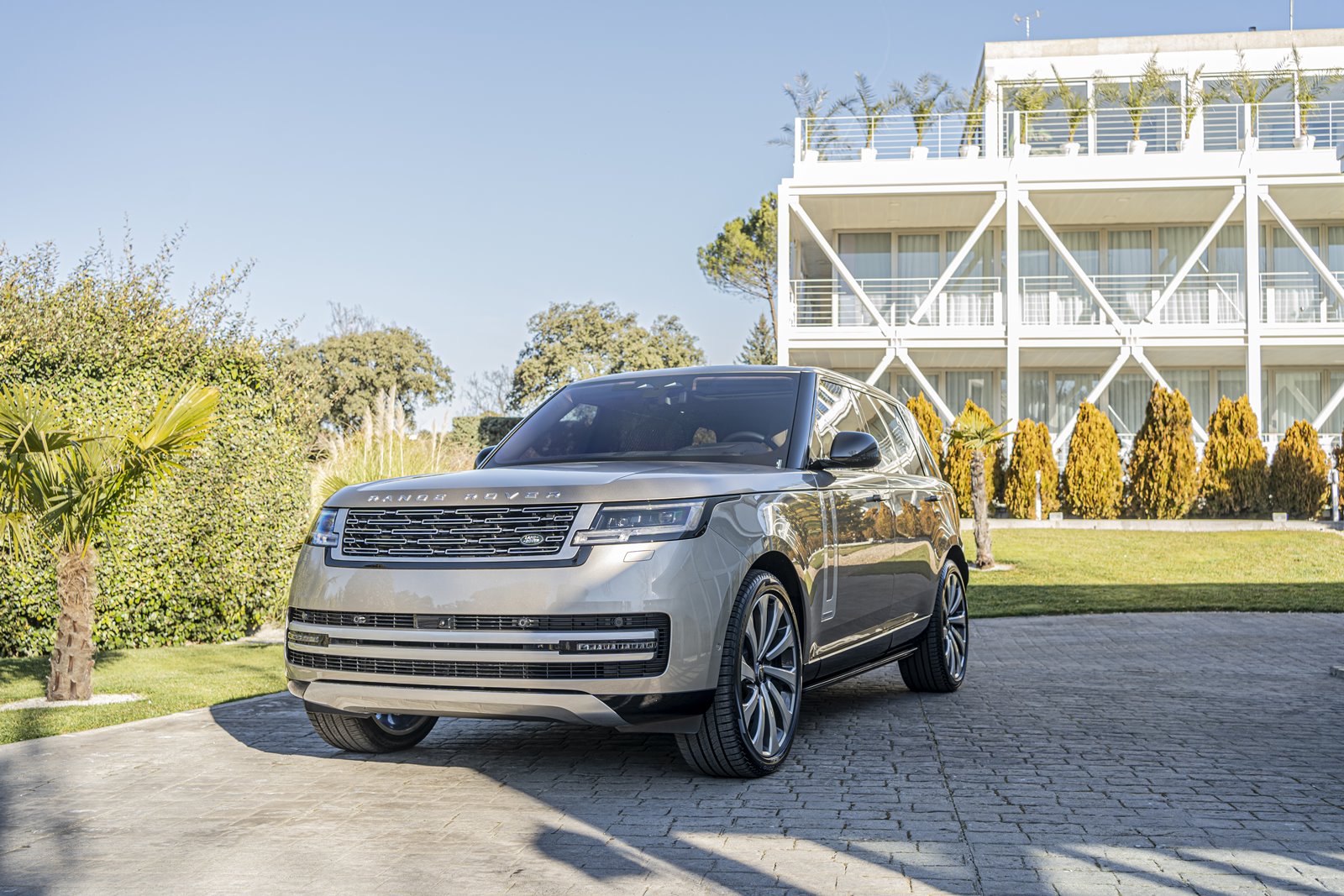 The wheelbase increases by 75mm to 2,997 mm. A living room on wheels in any of its versions. The most striking changes have been carried out at the rear. We can see some thin vertical pilots that merge into a horizontal black panel under the rear window. The standard electric gate maintains the double opening.
Moving inside, the most notable changes are to level of quality and technology. The digital instrumentation with display of 13.7 inch. For the Pivi Pro infotainment system we find a touch screen of 13.1 inch. This features haptic feedback for the first time. At the rear we can equip another two 11.4-inch screens.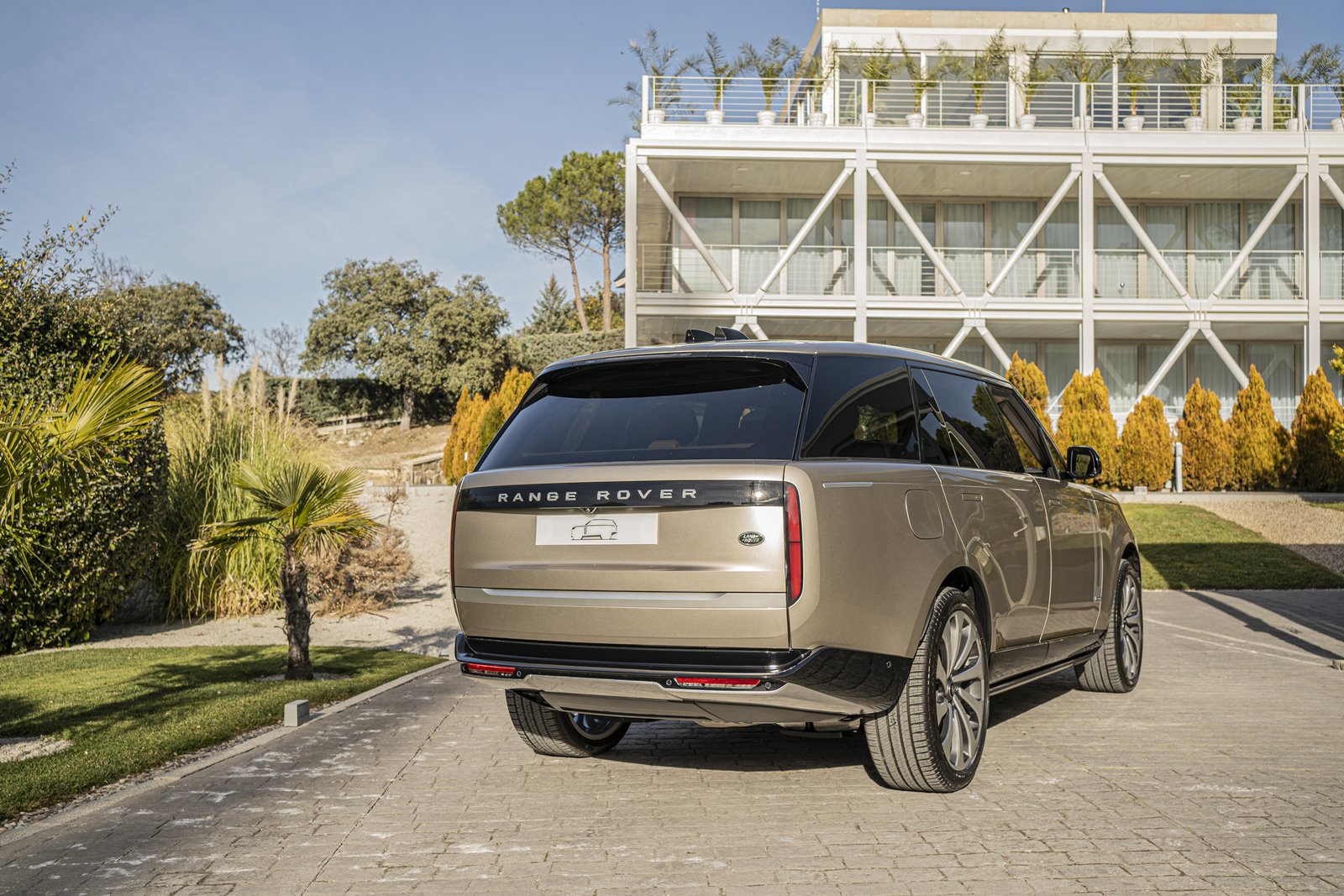 As you can imagine, the offer of comfort options is overwhelming.
The materials for the interior are first class (wood, ceramic, leather, porcelain, aluminum …). So are the possibilities for comfort equipment and soundproofing. Up to 13 of the 38 speakers in the Meridian hi-fi system are actively involved in the exterior noise cancellation. It is a true sanctuary of peace.
Notably the seven squares are real. Of course, there is a lot of comfort and technology in the third row of seats. No less interesting is the fact that quem, with all the squares spread out, we still have 316 liters of cargo space. In the tailgate, when opening the trunk, a backrest unfolds so that we can sit comfortably.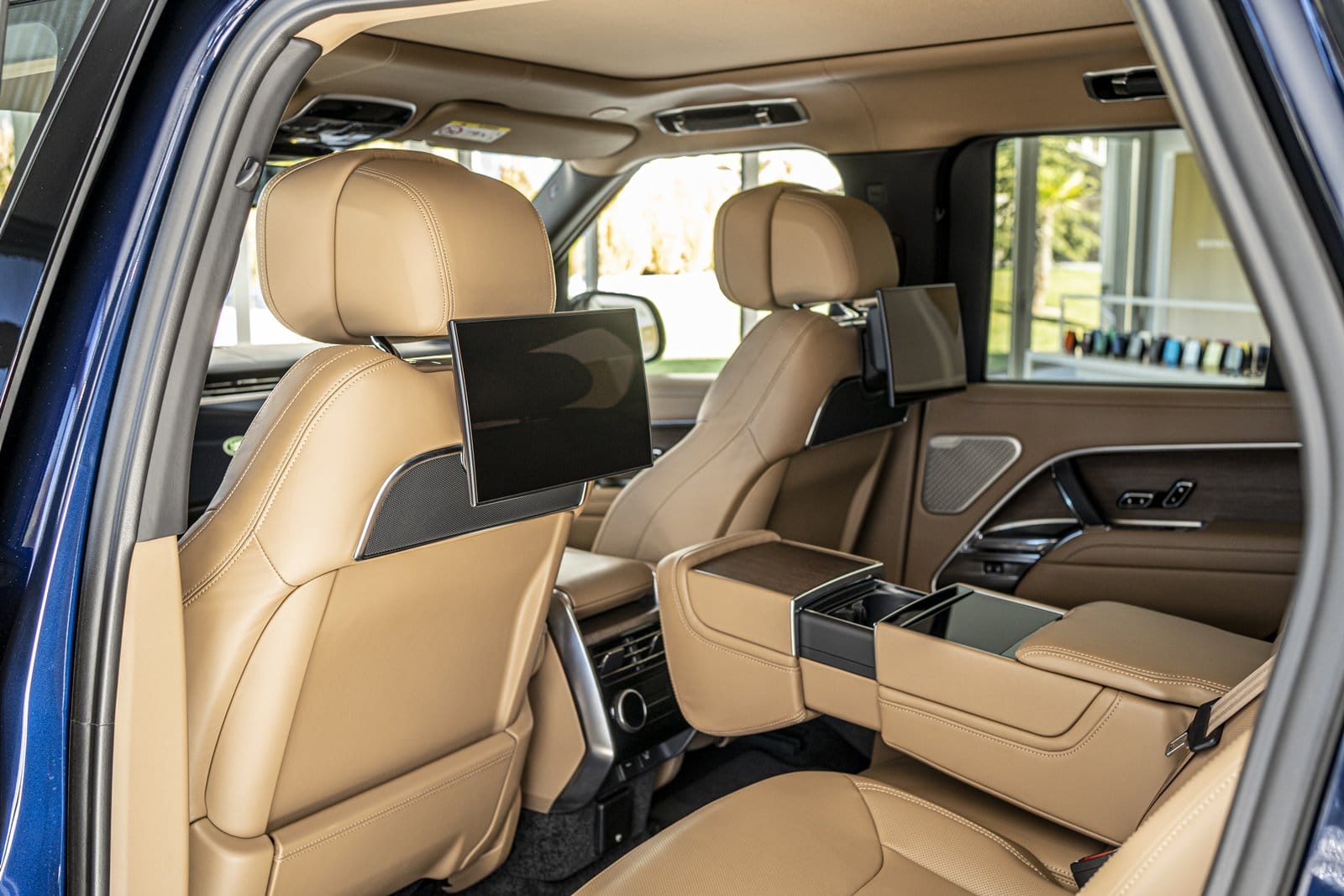 Outstanding technology for the 2022 Range Rover
If there is one thing that makes the new generation of Range Rover stand out, it is for the technology that it houses in its guts. Let's see some of the most interesting:
Directional rear axle (rear wheels rotate up to 7º).
Predictive Dynamic Response Pro (provides more agility, comfort and stability).
Noise cancellation system (there are microphones inside and outside the vehicle that detect the noise to be canceled).
Purification Pro system in air conditioning to eliminate viruses, bacteria, bad odors, germs …
Wide connectivity with its own 4G card, Apple CarPlay, Android Auto, Amazon Alexa (connected to the house), updates over the air …
Radars and sensors that monitor a perimeter of up to 70 meters.
Doors that open and close automatically with obstacle detector.
Digital lights with image projection.
Terrain Response 2.
Predictive electronic air suspension.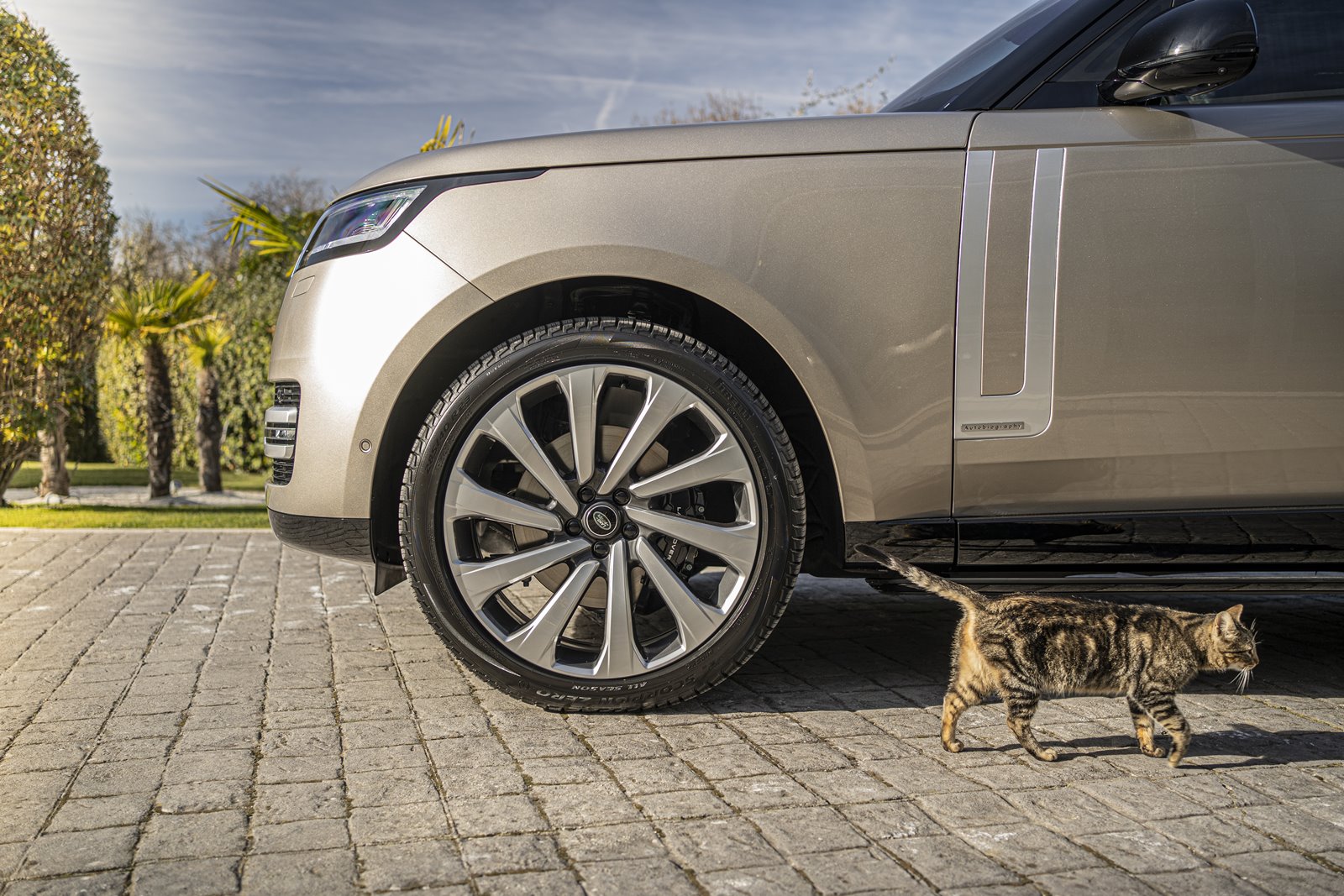 Various finishes for the 2022 Range Rover
The new luxury SUV is available in the trims I KNOW, HSE Y Autobiography. They are joined by First Edition. It will only be available during the first year of production. Based on the Autobiography, it includes exclusive specifications and a wide range of equipment. Exclusively offered with a finish Sunset Gold Satin.
One step above is the new Range Rover SV, an exquisite interpretation of Range Rover luxury and customization. Manufactured by division Special Vehicle Operations, is available in standard bodies (SWB) and long wheelbase bodies (LWB), and includes the exclusive SV Serenity and SV Intrepid design styles.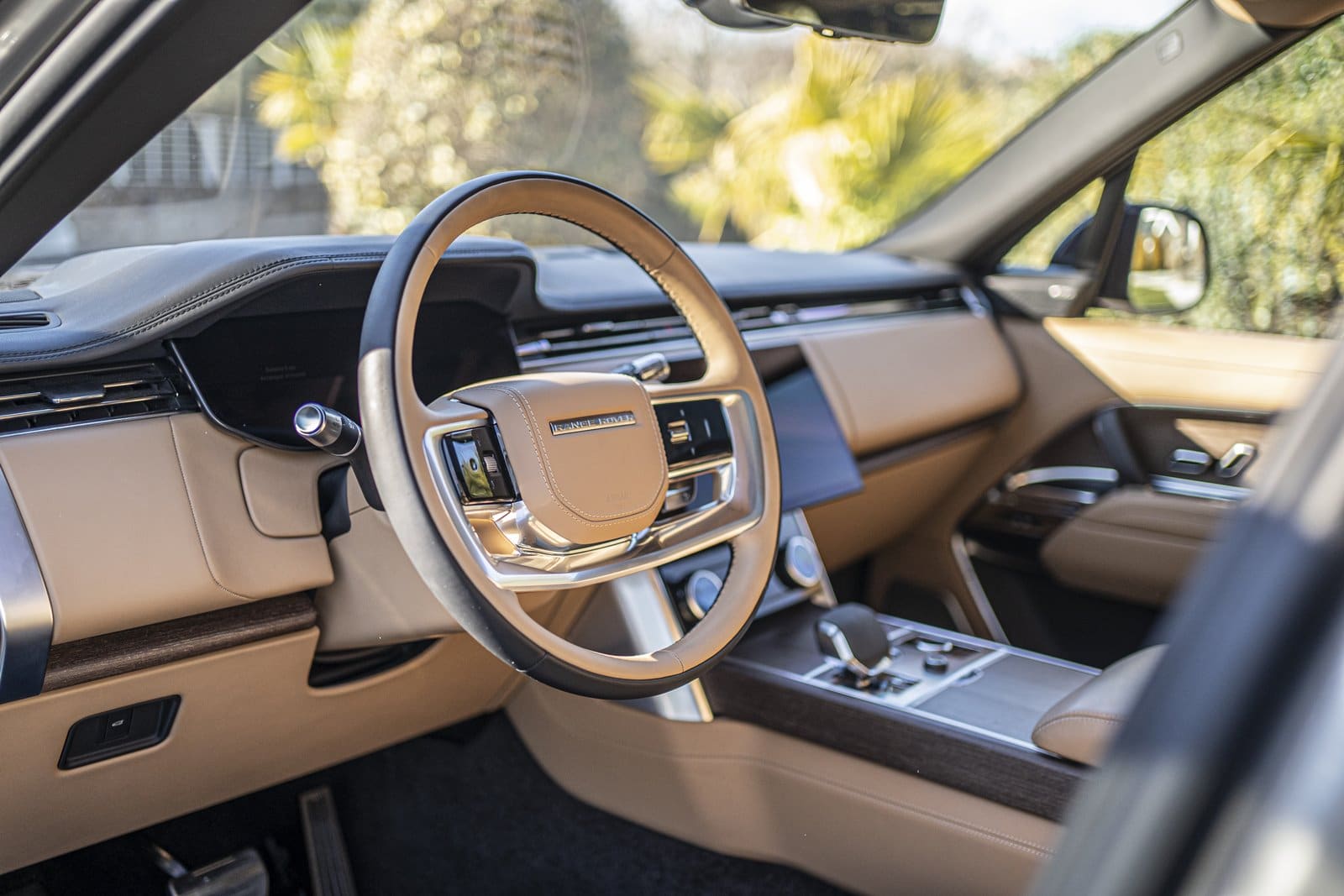 A four-seat SV Signature Suite configuration will also be available. The standard bodies (SWB) and long wheelbase bodies (LWB) are available with four and five seats. It is the Range Rover LWB that is available with a third row of seats to offer comfort up to seven adults.
The recommended prices for the Range Rover 2022 range without discounts or promotions are the following:
Short Battle (SWB)
D300 3.0D i6 AWD MHEV: 143,300 euros
D350 3.0D i6 AWD MHEV: 147,250 euros
P530 4.4 V8 AWD: 157,650 euros
Long Battle (LWB)
D350 3.0D i6 AWD MHEV: 151,250 euros
P530 4.4 V8 AWD: 161,650 euros
Long wheelbase (LWB) 7 seats
D350 3.0D i6 AWD MHEV: 154,350 euros
P530 4.4 V8 AWD: 164,700 euros
New platform, more engines
The 2022 Range Rover is based on the new MLA-Flex architecture. It gives the company's flagship the ability to accommodate internal combustion, plug-in hybrid and electric mechanics. It will be in 2024 when the Land Rover family welcomes a fully electric model Based on the 2022 Range Rover.
In the range of plug-in hybrids we find the P440e and the P510e. They combine Land Rover's inline six-cylinder Ingenium gasoline engine with a lithium-ion battery from 31.8 kWh tools and a 150 kW electric motor integrated into the transmission. This combination allows the engine to offer up to 100 km fully electric driving.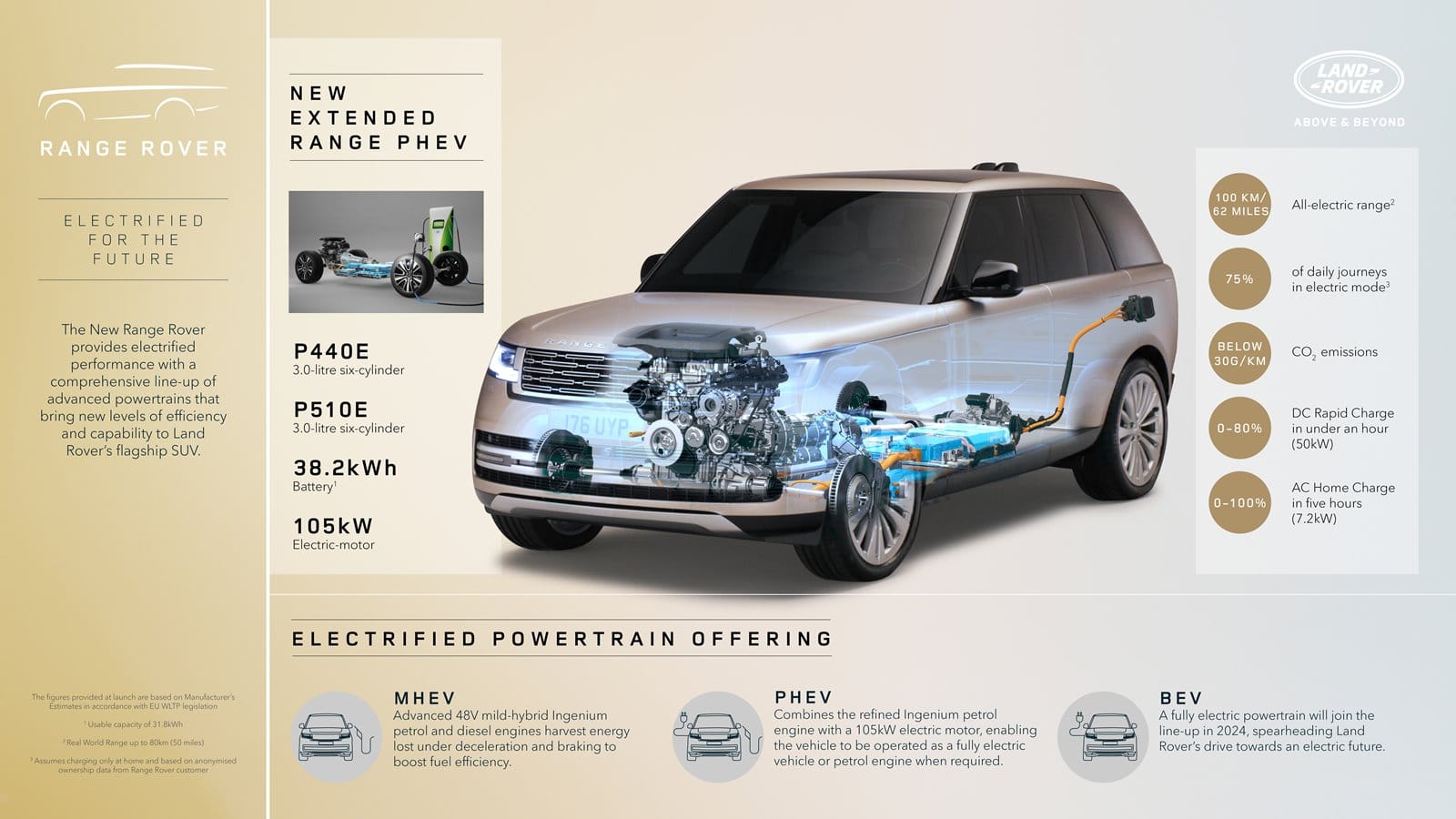 Thanks to the instantaneous electric torque, the new P510e goes from 0 to 100 km / h in 5.6 seconds. The new PHEVs can reach the 146 km / h in EV mode. In this way, customers can enjoy the new Range Rover in fully electric mode on most of their trips. The battery does not detract from habitability or cargo space.
The PHEVs are joined by the new six-cylinder mild-hybrid Ingenium diesel engines, D300 Y D350. The powerful new gasoline emblem, the 4.4-liter twin-turbo V8 engine P530, offers increased performance and refinement and is 17% more efficient than Range Rover's previous V8 engine. Eroga 530 hp (390 kW) of power and 750 Nm of maximum torque.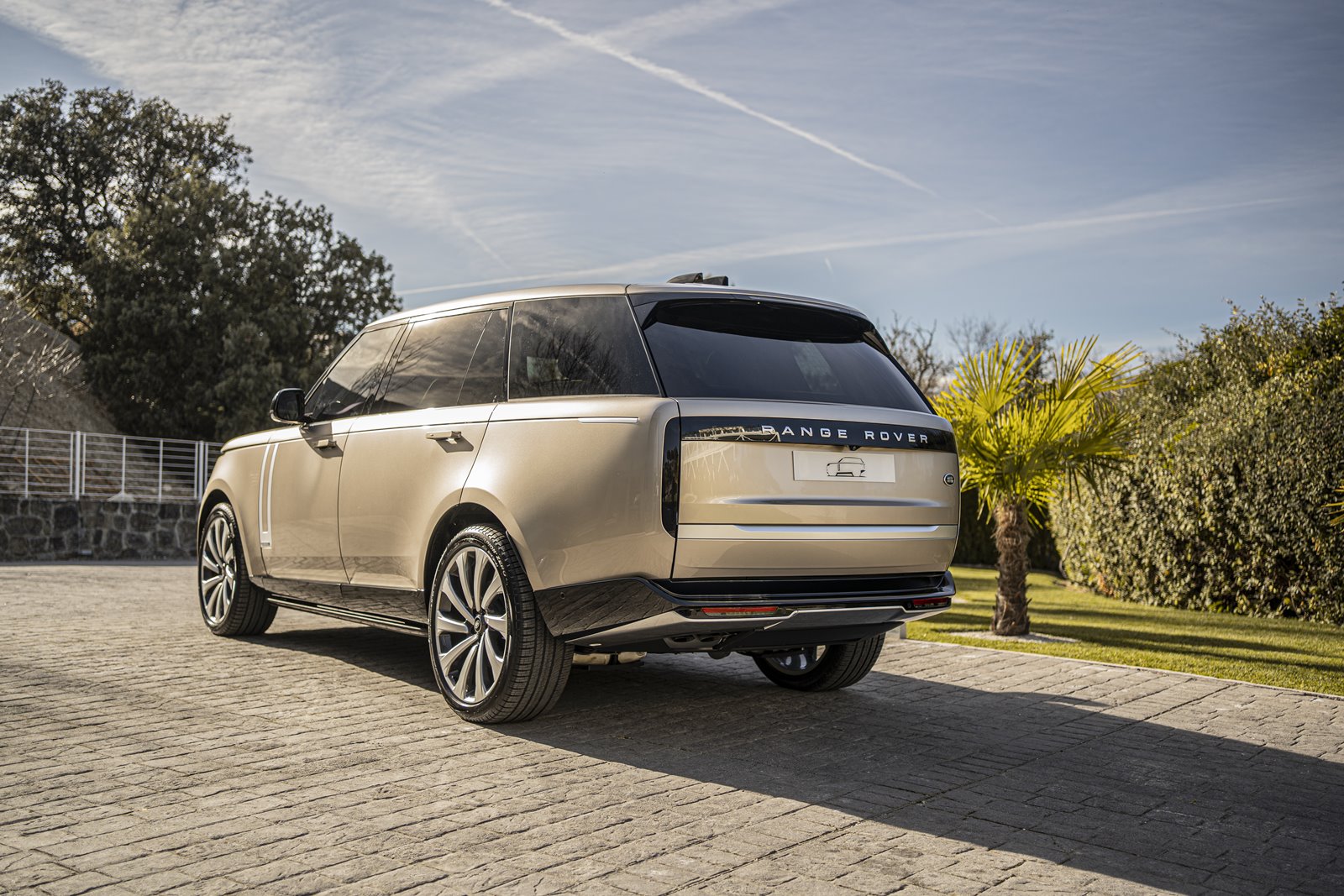 The ZF eight-speed automatic transmission It is standard. The same goes for four-wheel drive and the well-known Terrain Response 2 with various driving modes. Added to them is an active rear differential to help out on rough terrain. All-wheel drive is mechanical even on PHEVs and can send up to 100% of torque to the rear axle.
Image gallery