The Land Cruiser Wagon remains one of Toyota's most important products in many international markets. This is the case of Australia, South Africa, the United States, Russia, Saudi Arabia, Kuwait, Pakistan or Nigeria. The good news is that in some of them customers will be able to opt for the Jaos Land Cruiser 300.
Born in August 1951 and ten generations later, the Land Cruiser 300 equips a more robust and lighter platform, something that along with many other improvements It has allowed to reduce the weight about 200 kg. It maintains its off-road configuration and has all the necessary aids to guarantee the best behavior on and off the road.

Those who want to go one step further can opt for the sporty cut variant, the Toyota Land Cruiser GR Sport. As you know, this has been developed as a base vehicle for the Dakar Rally. However, this does not provide such a radical preparation to get off the asphalt as it does Jaosa well-known Japanese specialist.
Jaos's Toyota Land Cruiser 300
The visual modifications include an extension of the front bumper guards. They are complemented by carbon look fenders and door handle protectors. On the roof rests a luggage rack with integrated auxiliary lights. Finishing off the look are some black decals for the side sills and rear bumper.
But without a doubt it draws attention under this one Battlez Muffler ZS-2 silencer with dual exhaust pipes. In addition, the Land Cruiser benefits from a new set of Jaos Tribe Cross wheels in size 20 inches. Show off a finish Matt Gun Metallic and are shod with 285/55 Toyo Open Country R tires for added grip in off-road driving.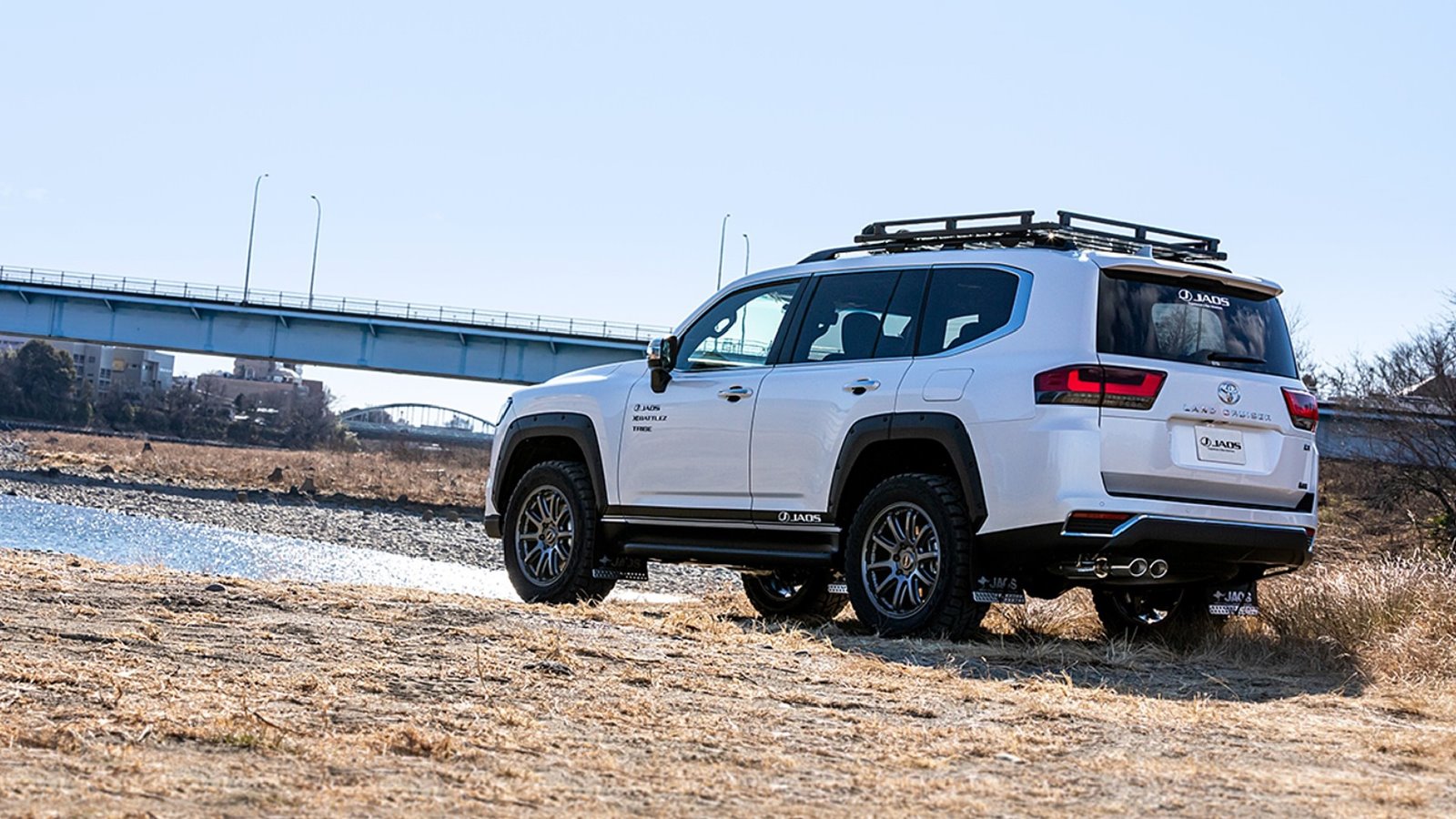 Finally, Jaos has improved the original suspension with Battlez Ti-W coilover shocks. Thanks to this, it has managed to increase the ground clearance of 235 mm of the original model by an additional 40 mm. Under the hood the new Land Cruiser 300 can be ordered with two mechanical options, a diesel and a gasoline.
The range starts with the 3.3-liter turbodiesel block V6 with 309 hp. It is newly developed and promises to contain consumption. In gasoline we have the 3.5-liter supercharged engine and inline six cylinder. develop 415 hp of power In both cases they have a 10-speed automatic transmission and all-wheel drive with reduction gear.
Image gallery